The Edge
Get more with myNEWS
A personalised news feed of stories that matter to you
Learn more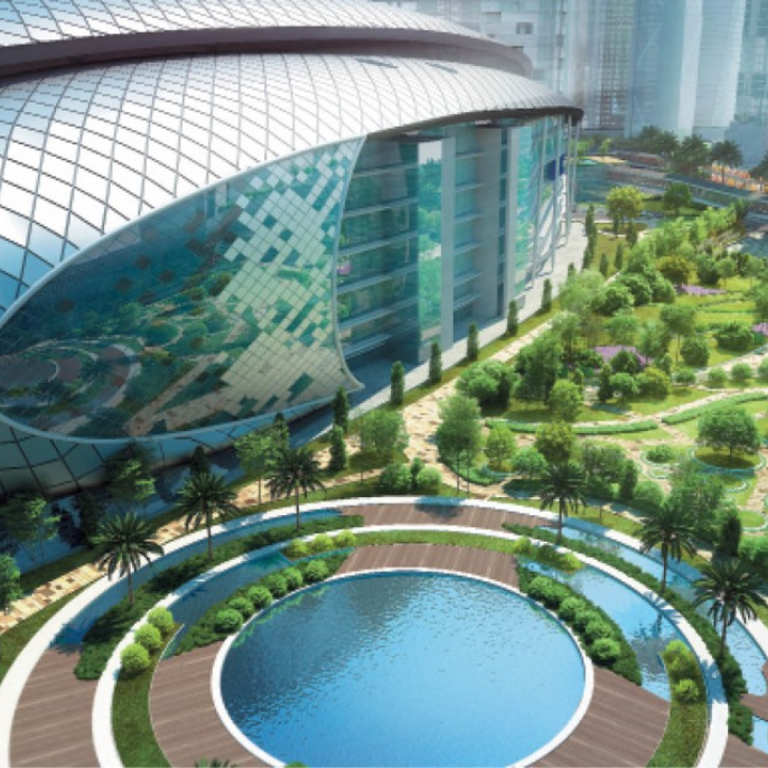 KL Metropolis' first residential tower to be launched next month
By Wong King Wai
Naza TTDI Sdn Bhd launched the KL Metropolis Show Gallery at Naza Tower at Platinum Park in Kuala Lumpur on Oct 18 with much fanfare. At the event, an overview of KL Metropolis was presented by SM Faliq SM Nasimuddin, deputy executive chairman of Naza Corp Holdings Sdn Bhd and group managing director of Naza TTDI Sdn Bhd.
He was accompanied by his brothers, Datuk Wira SM Faisal SM Nasimuddin who is Naza Group of Companies joint group executive chairman, and SM Nasarudin SM Nasimuddin, Naza TTDI Group chairman, and other family members.
Business partners and guests were given the opportunity to tour the show gallery and given a glimpse of the masterplan for the RM20 billion (US$4.8 billion) KL Metropolis, which will take shape on 75.5 acres in Mont'Kiara over the next 15 years.
Some may recall that when the project was announced in October 2011, it stirred some controversy. Among the questions raised were whether the prized tract was unfairly traded at a steep discount, did Malaysia need another exhibition centre and does Naza TTDI have what it takes to make it work.
Faliq, in his opening address, recalls that he was in his mid-twenties when the project was announced. "Our focus is simple — make sure the plans are in place, make sure the launches go well. This is just the beginning. I am quite excited as there are a lot more things coming up for KL Metropolis."
He admits that market conditions may not be favourable at the moment but remains optimistic.
"For us, when we launch a project, we have to be quite certain that the take-up will be good. There is no point launching a project when the sentiment is quite poor. There is a lot of talk from our regular buyers about buying into KL Metropolis [and] that is why when we launch our first tower, it will be dedicated to our current database," he says.
The residential tower is located within Met 1, one of eight precincts in the project.
"We will be soft launching Met 1 residences in November but the official launch will be in January. It will have about 616 units. We have been seeing interest for this component so that will kick off first," he says. "The gross price range is RM1,000 (US$240)to RM1,100 (US$264)per sq ft, before rebates. The units range in size from 650 to 1,600 sq ft, with 60 per cent being the smaller units," Faliq says.
He believes the market situation will improve in the middle of next year.
But what if his prediction is wrong?
"If I am wrong, we have a Plan B, and see how it goes. I personally feel the market could be better. I feel that after the budget announcement [on Oct 21] and the whole MRT starting operations, investors might find it a bit more exciting to invest in certain locations. If I am wrong, we have to relook our plans," he says.
The master plan unveiled
KL Metropolis in Jalan Tuanku Abdul Halim (also known as Jalan Duta) features the Malaysia International Trade and Exhibition Centre (MITEC) and eight precincts: Met 1 to Met 9.
Faliq says MITEC is 99.99 per cent completed and awaiting the certificate of completion and compliance (CCC) before it is handed over to the government. The exhibition centre has a gross floor area of one million sq ft, 11 exhibition halls and other facilities. The largest exhibition centre in Malaysia, MITEC is able to accommodate 40,000 visitors.
The first event to be held there will be in March next year.
Met 1, besides the residential component, will have two blocks of office towers and two retail malls with a net lettable area of 81,000 sq ft. Met 1 will take up 4.29 acres and has a gross development value (GDV) of RM1.3 billion(US$0.31 billion).
The other precincts will feature other products. Met 2 will offer strata offices and a hotel; Met 3, a lifestyle mall and signature tower, luxury condo, 5-star hotel and Class-A office tower; and Met 5, residential blocks, offices and a hotel. Met 6 will have offices, Met 7 will look at a medical facility targeting medical tourism, Met 8 will have two strata office towers and Met 9 will showcase a high-end, 5 or 6 star, hotel.
Two of the precincts are being jointly developed with partners: Met 5 with Hap Seng Land Sdn Bhd and Met 8 with Triterra Metropolis Snd Bhd respectively.
Met 5 covers 8.95 acres, with a GDV of RM3.8 billion (US$0.9 billion), and is scheduled to launch in the first quarter of next year. Met 8 will occupy 2.47 acres, has a GDV of RM700 million (US$168 million), and is expected to be launched in the second quarter of next year.
Another joint venture within KL Metropolis is Arte Mont'Kiara with Nusmetro Property Sdn Bhd. The RM1.2 billion (US$0.2 billion) project features three towers comprising simplex and duplex suites, and serviced residences. It is slated for completion in 4Q2019.
Faliq says the company is in talks with three to four hotel operators and local and regional investors. He sees the hotel component as a crucial element and hopes that something will be finalised in 1Q2017.
To encourage residents and users to walk more within the project, partial air-conditioned walkways, including elevated and subterranean walkways, will be built.
A proposed MRT Line 3 station is also likely to be constructed in the area. Naza TTDI is working with the government to identify a site for the station, which could be underground.