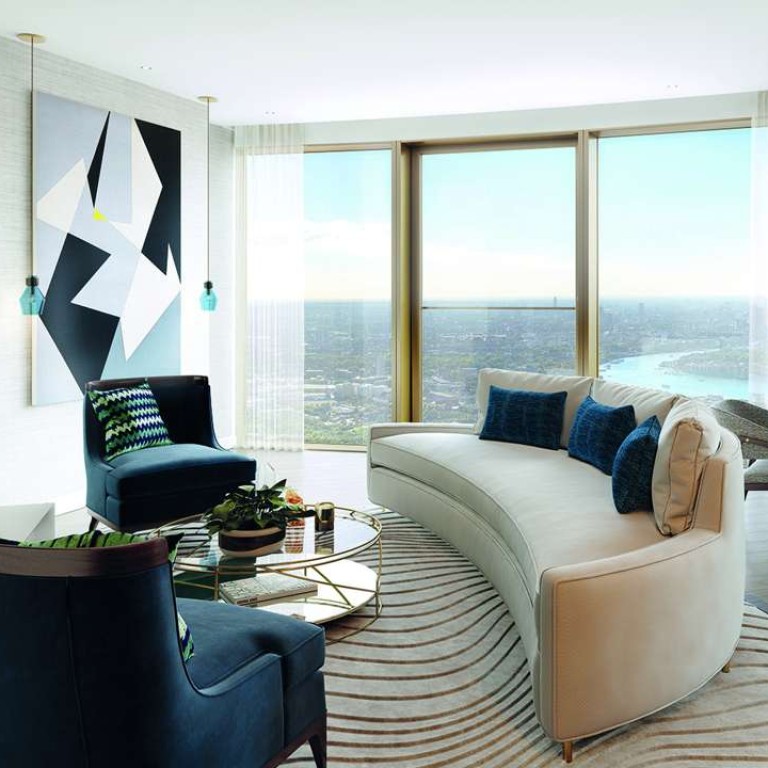 China's Greenland launches sales for tallest residential building in Western Europe
The £800 million Spire London development is set for completion in 2020
Greenland Group, the third largest developer in China, is expecting heightened interest from Hong Kong investors in its new £800 million residential development in London following increases in stamp duties for properties in Hong Kong.
The development, dubbed Spire London, will be the tallest residential tower in Western Europe at 235 metres and 67 storeys. It will have 765 apartments priced from £685,000 (HK$6.65 million).
Spire London is scheduled for completion in 2020, according to a statement from Greenland, and will be located along the waterfront and be adjacent to Canary Wharf, an international financial centre in the UK.
Sales promotions for the development were launched in the UK and mainland China, and since September more than 1,180 people have expressed interest in buying units.
The development will exhibit in Hong Kong in two weeks, with real estate services firm Jones Lang LaSalle (JLL) acting as the sole agent.
Many Hong Kong investors are looking to diversify assets into London after the Hong Kong government more than doubled the stamp duty for non first-time home buyers to 15 per cent, which will dampen overheating secondary property markets.
The stamp duty change has created "some turbulence in the local market", pushing investors to look abroad, JLL's head of international properties Mandy Wong said. Around 150 buyers expressed interest in overseas real estate markets at a JLL exhibition over the weekend, up from an average of 80 clients previously, according to Wong.
Both the local stamp duty rise and currency benefits of a weaker post-Brexit British pound have led to an "unprecedented" number of people asking about properties in London, according to Peter Gibney, director of central and east London residential development at JLL.
While many developers have held off on development launches in the UK since the Brexit vote in June, Greenland took the opposite approach, which has "paid dividends" with better-than-expected sales in China and the UK, according to Gibney.
London developments are attractive to international buyers because the city offers security as a safe haven for assets where "steady gains can be achieved," Gibney added.
"It's the fundamental factors that really underpin London residential property, which is a driving force particularly for Greenland wanting to be part of that story," he said.
Qian Wenhao, managing director of Greenland (UK) Investment, said in a statement; "This important launch reflects the confidence that Greenland Group has in both the London economy and the London property market."
London's real estate market has a significant undersupply of homes and has experienced a shift away from a pure investor's market to one where there are more owner-occupier clients, which Gibney said can be seen with Spire London so far.
"Over the next 6 months, I would still say London would be the market that would attract the Hong Kong buyers," Wong added.
The Spire London building is inspired by the imagery of three petals or leaves, according to Larry Malcic, senior vice president and design principal for HOK, the architectural firm for the building.
Spire London features curving facades that allow each unit to have panoramic views of the city, and will be unlike "anything else on the London skyline", he said.
While London buildings have traditionally had singular uses, Malcic said, Spire London also offer amenities such as a cinema and infinity pool on the 35th floor.
This article appeared in the South China Morning Post print edition as: Greenland starts sales for London housing project