The Edge
Get more with myNEWS
A personalised news feed of stories that matter to you
Learn more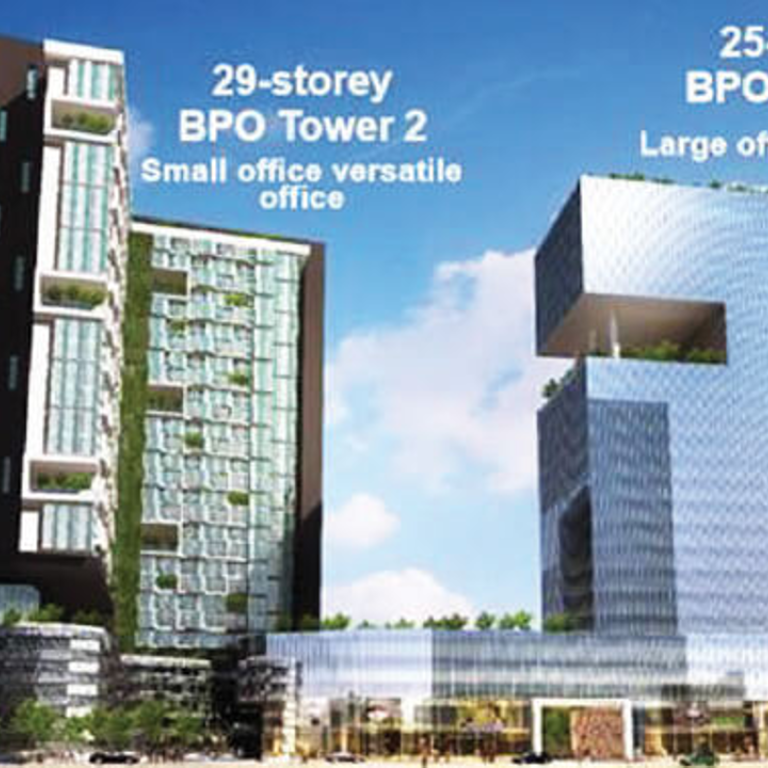 Malaysian property projects worth US$2.5 billion on hold
Soft market prompts Singapore developer to reassess joint-venture projects
By Sangeetha Amarthalingam
The Business Processing Outsourcing Prime (BPO Prime) and Penang International Technology Park (PITP) projects worth a combined RM11.3 billion (US$2.5 billion), which involve the Penang Development Corp (PDC) and Singapore's Temasek Holdings Private Ltd, have been deferred due to current property market conditions.
The BPO Prime project with a gross development value (GDV) of RM1.3 billion (US$0.29 billion) in Bayan Baru, Penang was to be completed in 2019.
However, it has been postponed indefinitely, inadvertently pushing back the commencement of the PITP project, slated to begin after the BPO Prime project.
On May 23, 2014, Penang's investment arm PDC signed a memorandum of understanding (MoU) with Temasek and Economic Development Innovations Singapore Pte Ltd (EDIS). The MoU was also to facilitate the setting up of a joint-venture company (JVCo) with PDC holding a 51 per cent stake with the remaining stake held by investors, including Temasek. EDIS will provide project management services to the JVCo. The JVCo is in the midst of being set up.
The Penang government said in 2014 that the PITP and BPO Prime will be completed over the next five to 10 years.
"[The] BPO Prime will be part of the efforts by the state government to fulfil Penang's destiny as one of the 31 BPO hubs of the future," it added.
On July 31, 2015, PDC signed a RM1.3 billion JV agreement with Temasek and EDIS to develop the BPO Prime that would be built on a 2.8ha piece of land, currently housing PDC in Bayan Baru on the island.
Invest-in-Penang Bhd (investPenang) said the BPO Prime project is an integrated and multifunctional development, providing high-quality BPO space amid a green urban setting. It would feature two towers, 29 and 25 stories high respectively.
EDIS senior development director Eng Gim Hwee said BPO Prime is "very much market-driven" in terms of meeting the demands of BPO tenants and buyers of quality residential developments. "Given current property market conditions in Malaysia, we are monitoring the situation before deciding on the next steps," he told The Edge Financial Daily via email.
EDIS is involved in two key areas in BPO, he said, noting that the first was to drive a global investment promotion strategy that would bring overseas investors to Penang.
"Here, EDIS is working with investPenang to attract overseas investors to Penang and help them set up operations. The global investment promotion strategy is ongoing. As the programme involves a process of engagements and the programme only started in 2016, it is too soon to comment on its [investment] results," he said.
According to the EDIS webpage, it is a privately owned international economic development company that works with governments and investors to leverage Singapore's development experience for the benefit of other countries.
In the development of BPO Prime, EDIS is involved in the design and development of BPO Prime as an integrated residential and commercial development based on a "live-work-play" concept.
"These efforts are intended to introduce Grade A offices and a good residential development that will attract multinational corporations to set up operations in Penang.
"As we are monitoring current market conditions on these sectors, we are unable to comment on the demand and supply situation and the next steps for the project now," he said, when questioned on the property demand in Penang.
EDIS also said as BPO Prime is currently in the design stage, it is unable to share the projected return on investment.
On PITP, which sits on an 83.4ha piece of land, Eng said the project will only take off after BPO Prime.PITP, when completed, will feature two advanced technological parks, residential and commercial units, a medical hub and a green lung.
Meanwhile, investPenang general manager Loo Lee Lian said Temasek and EDIS have yet to indicate a time frame for the construction of BPO Prime. "They are reviewing the design due to the current market condition. The [business] model is for the residential units to be sold and the commercial units — for lease, and it is supposed to encompass a 'work-play and live' concept, so that those who work in BPO can stay there. So it is a comprehensive package altogether. It is integrated.
"I think they have asked valuers to look at the property market again, especially the residential segment in Penang and [other parts of] Malaysia," Loo said in an interview with The Edge Financial Daily.
She said the state is focusing on developing Bayan Lepas into a BPO zone with Multimedia Super Corridor (MSC)-status buildings such as One Precinct, SunTech and Mayang Mall in the vicinity.
"Penang remains a very attractive site for BPO and investors want to go to a second-tier city (first-tier being Cyberjaya and Kuala Lumpur) because it is cheaper and smaller-sized.
"We never depend on one single solution. We always have multiple solutions. We will leave it to EDIS to do their review on the market. Everyone is being prudent. Let them do the analysis, and we will decide then.
"From our point of view, we can always find another alternative for investors. This is only one of the elements of the BPO," Loo added.
Recall that Penang Chief Minister Lim Guan Eng reportedly said in 2015 that the state aimed to tap into the global shared services and outsourcing (SSO) sector that had doubled to RM12.8 billion (US$2.88 billion) in 2013.
"In Penang alone, the cumulative investments for SSO companies with MSC status between the years 2009 and 2014 have reached RM4.1 billion (US$0.92 billion)," he said then.
Global tech researcher Technavio-Infiniti Research Ltd expects the global market share for shared services to grow at a compound annual growth rate of more than 14 per cent by 2020.
The sector provided more than 8,000 high-income jobs to locals who served regional and global markets, with numbers expected to increase by 60 per cent from 2015 to 2018.
The collaboration with Temasek marked the first venture with PDC. As at March 31, 2016, Temasek's net portfolio value was S$242 billion (US$170 billion), according to its website.