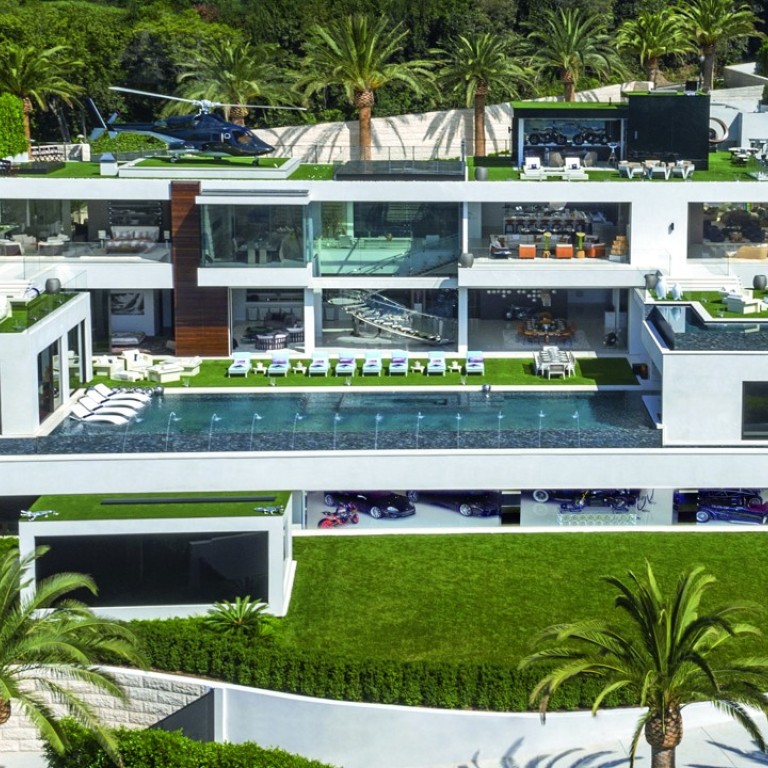 Revealed: The ultra mansions of the very, very wealthy
A 38,000 sq ft mansion called The Billionaire in Bel Air comes with 12 luxury cars and motorbikes, a staff of seven (prepaid for two years) and 7,000 films preloaded into a cinema covered in Hermes leather. You can sign the papers, move in and throw a dinner party that night
Jeff Hyland, arguably one of Los Angeles' most powerful real estate brokers, knew that he was in the throes of a phenomenon while at a recent property event in London.
"People were saying to me: 'We don't understand why the Los Angeles market is so hot'," Hyland said. "Miami has a four-year supply. Nobody wants to build in Paris. [New regulations stipulate that low-income housing needs to be included in luxury developments.] They think Los Angeles is on fire. I said to them: 'You're absolutely right'."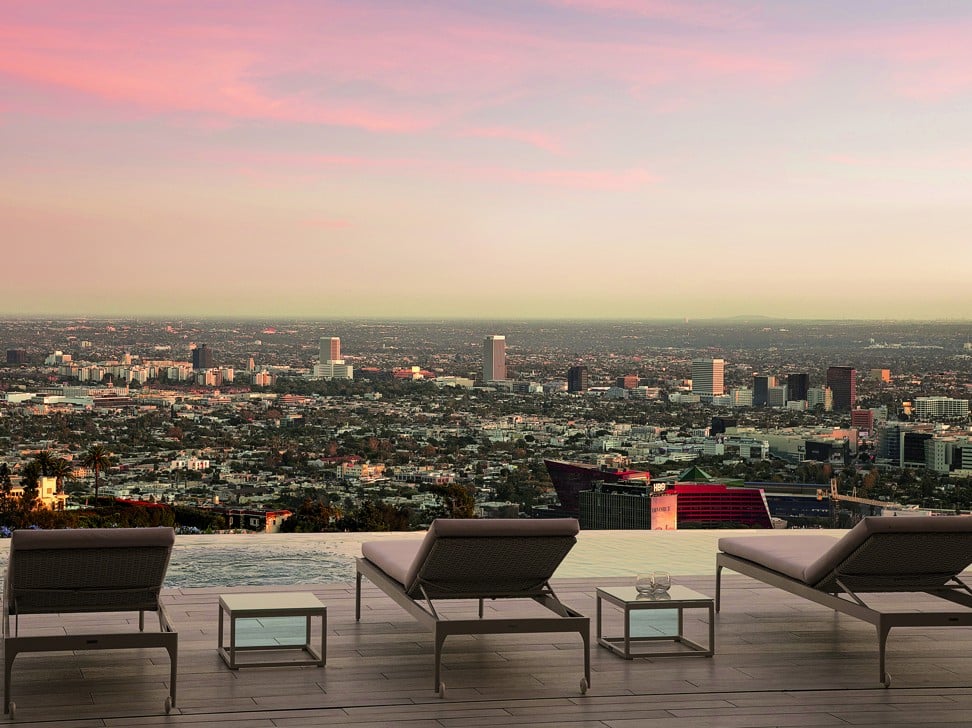 Hyland is co-founder and president of Hilton & Hyland, which currently holds the listings for some of Los Angeles' priciest and most attention-grabbing homes, which are listed at between US$100 million and US$250 million.
These are the houses that are among the most expensive in the United States and the ones people want to talk about – even if the vast majority of high-net-worth individuals can only admire from afar.
"You can put up two hands and count the number of US$100 million estates that are available," Hyland said. "Each one is so unique that no two are alike. It's a completely different set of rules. If you're in the US$30 million range and can't do the deal, you can go around the corner and buy a similar house. When you're talking about US$100 million and up, if you're in love with the house, you've got no other place to go."
Currently, the most expensive house for sale in the US is called, fittingly, The Billionaire, located atop a hillside in the rarefied setting of Bel Air. Priced at US$250 million, it was built by Bruce Makowsky, a handbag entrepreneur who sold his business to trading company Li & Fung in 2008 for US$330 million.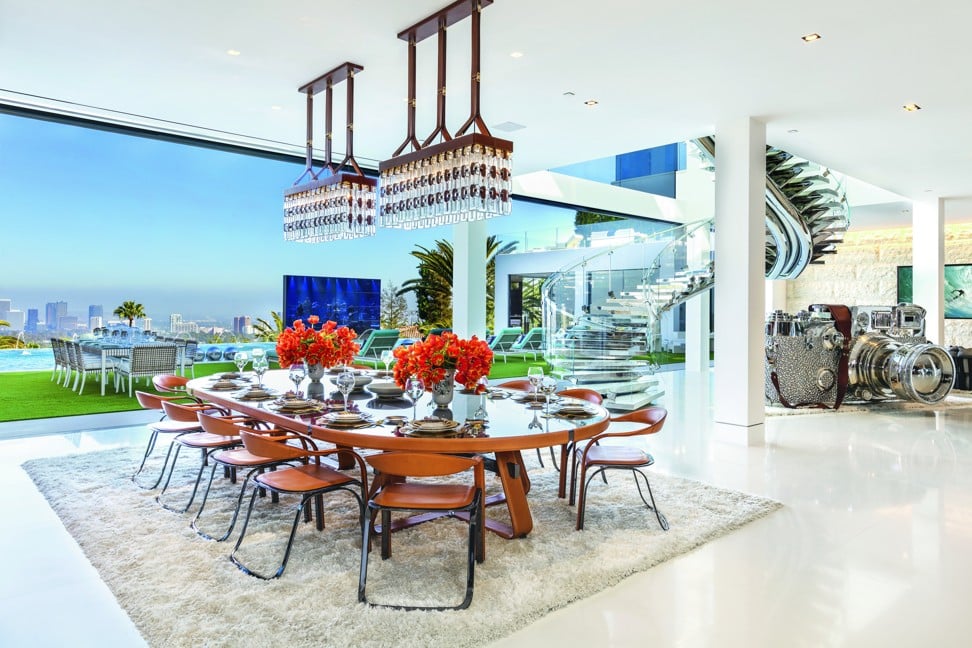 Makowsky went on to become a real estate developer and founded BAM Luxury Development. He realised that billionaires jetting about in US$150 million Gulfstreams or vacationed on US$200 million yachts were still relegated to US$40 million mansions.
Why, he mooted, isn't there something just for them?
So earlier this year, he unveiled the 38,000 sq ft mega-mansion that is more than just a house: it is accompanied by an entire lifestyle – the kind that billionaires like to live.
Included in the sale price are 12 luxury cars and motorbikes (worth US$30 million), 150 art installations and 7,000 films loaded in a cinema where the seats are covered in Hermes leather.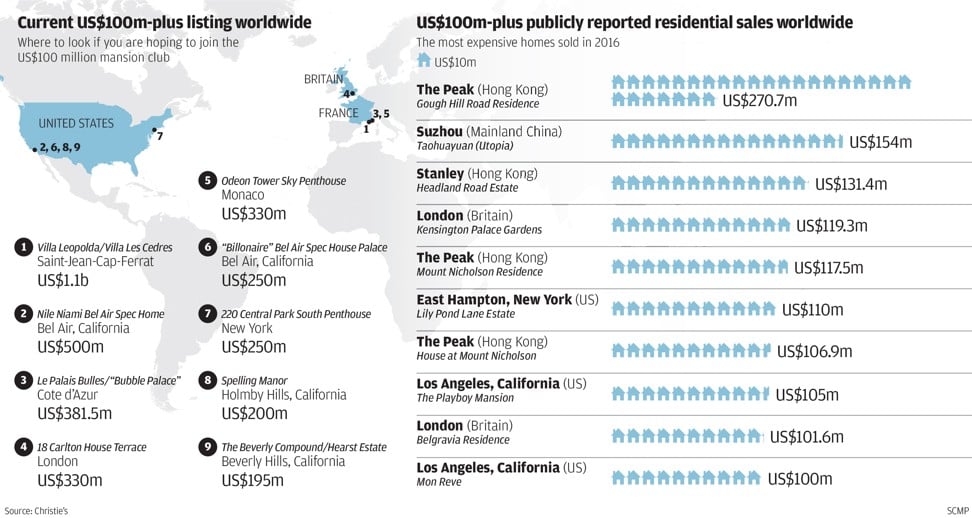 You can sign the papers, move in and throw a dinner party that night; the dining table comes with Roberto Cavalli dinnerware worth US$3,500 per person.
And you do not even have to worry about bringing over the butler. The Billionaire comes with a staff of seven, with salaries covered for two years from the purchase date. Makowsky and his team are headquartered in a house next door (which used to belong to Elizabeth Taylor, of course), so if something is not quite right, he will dispatch an expert over in a golf cart, post-haste.
The fascination around the property (as of this writing, it is still on the market) will be repeated when next year a house worth twice that much comes on the market in the same neighbourhood.
That property, called simply The One, is now under construction by Nile Niami, a Hollywood producer of straight-to-DVD films from the 1990s. Niami may not have won Oscars, but he has found a calling – and fortune – in the alluring trade of real estate.
The half-billion-dollar house, projected to be the costliest in the world, is next door to homes occupied by Jennifer Aniston and Elon Musk.
It is on 1.6 hectares of prime residential property. The house itself is about 100,000 sq ft (the master bedroom alone will be 5,500 sq ft, double the size of the average US home).
Tantalising details continue to emerge about the property, which is expected to be finished next summer: a garage will hold 30 cars. An Imax cinema will seat 45 of your closest friends, who can also stay over in three smaller homes on the spread.
One swimming pool not enough? The house will have four, including infinity pools. There will be a nightclub and a casino, too: it is not so much a house as an entire personal resort.
"We got lucky," Niami said. "Everything changed with regards to the zoning and permit process in that location. There is no land available anywhere [in Bel Air] like that. You'll never be able to build [this house] again. Anybody can replicate a US$300 million or US$500 million yacht. Not this. It's like the Mona Lisa. No matter how much money you have, you can ever have this house again."
With the rise of this new, incredibly priced segment of properties, there appears to be a sense of who is outdoing whom in the Los Angeles market.
Makowsky, prior to building The Billionaire, previously sold a US$70 million house to the creator of Minecraft, Markus Persson, who beat out a very enthusiastic Jay Z and Beyonce for the 23,000 sq ft property.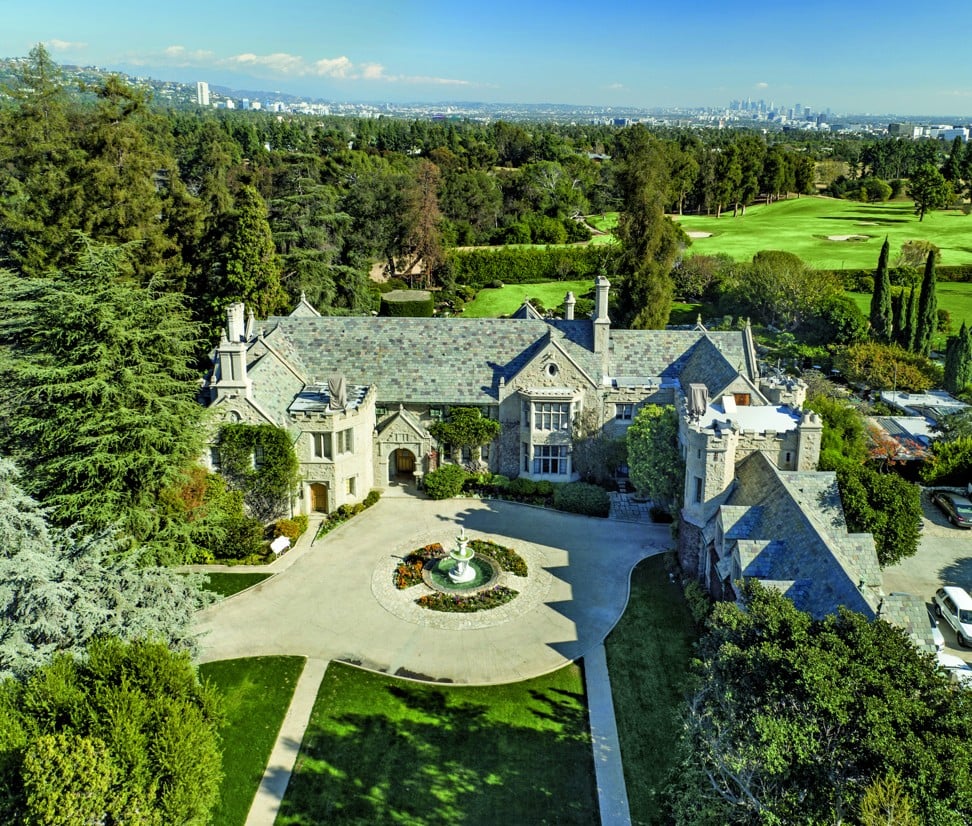 In 2014, that sale made big news in the local real estate industry. But that was then.
Last year, the owner of a private equity firm bought Hugh Hefner's legendary Playboy Mansion for US$105 million. A US$195 million home once owned by publishing titan William Randolph Hearst came on the market late last year. On the heels of that listing, a French chateau-styled home called The Manor, once the abode of mega television producer Aaron Spelling and his wife Candy, went on the market for US$200 million.
By comparison, Niami's other house – a sexy Beverly Hills spread he is calling Opus – is a relative steal at US$100 million, especially given that it comes with a gold Lamborghini, a Rolls-Royce, a pair of Damien Hirst paintings and a portrait of Muhammad Ali by Andy Warhol.
Ideally, the prospective buyer will be a fan of both. The promotional video for Opus is heavily produced and certainly bears some of the marks of a Hollywood background. Scantily clad women are seen cavorting around the Opus at night, often in slow motion.
Despite the hefty price tag, Niami said many well-heeled potential buyers had dropped in to visit. These are not just gawkers either. You have to be prequalified to even get in the door.
"We're having so much interest in this house," Niami said. "There are maybe five showings per week from people who are qualified and can afford to buy it. They're from all over the world – Americans, a lot of Saudis, Russians, a few from Hong Kong."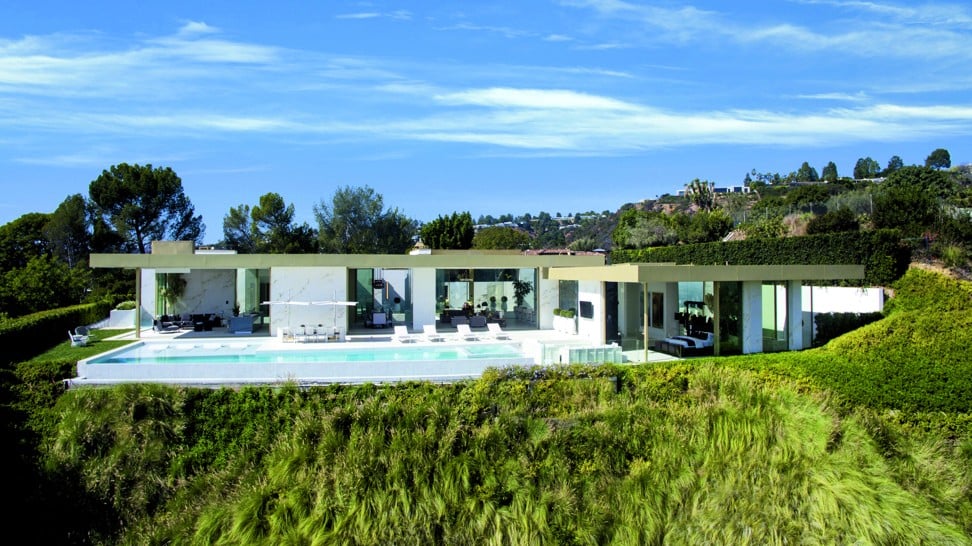 One thing he can say conclusively: the ultimate buyer will be young – think between 30 and 50 years old.
"We're not getting the 80-year-old guys," Niami said. "These are new millennium buyers. They're under 50 and single. That's our demographic. They've made their money and they want to live the California dream."
The California dream is, ultimately, what these high-net-worth buyers are buying: the gilded, alluring vision of a quintessential Hollywood life.
"Look at that view," Makowsky said, sitting for a moment on one of the custom-made loungers poolside at The Billionaire and gazing out at the perfectly pristine morning.
Views from his house extend to the city, the beach and the mountains. At the touch of a button, the walls virtually disappear, the music comes on; a liveried waiter can be summoned to uncork one of the thousands of bottles of wine in the wine cellar.
"I mean, who wouldn't want to wake up to this? Who wouldn't want to live like this?" he said.
Brokers say they are seeing an encouraging interest in these ultra-high-priced homes from Chinese investors, who are already putting hundreds of millions of dollars into the Californian economy by way of other holdings.
So much so that Chad Roffers, chairman of New York-based Concierge Auctions, which specialises in high-priced properties worldwide, is planning a six-week roadshow taking in Guangzhou, Shanghai, Beijing and Hong Kong to show 15 iconic properties to a curated list of Chinese.
"They are the newly minted wealthy, or they have wealth that's built up over time and now they want to spend it or diversify," Roffers said.
The people he typically sells to have the power to buy properties sight unseen, using little more than virtual-reality technology.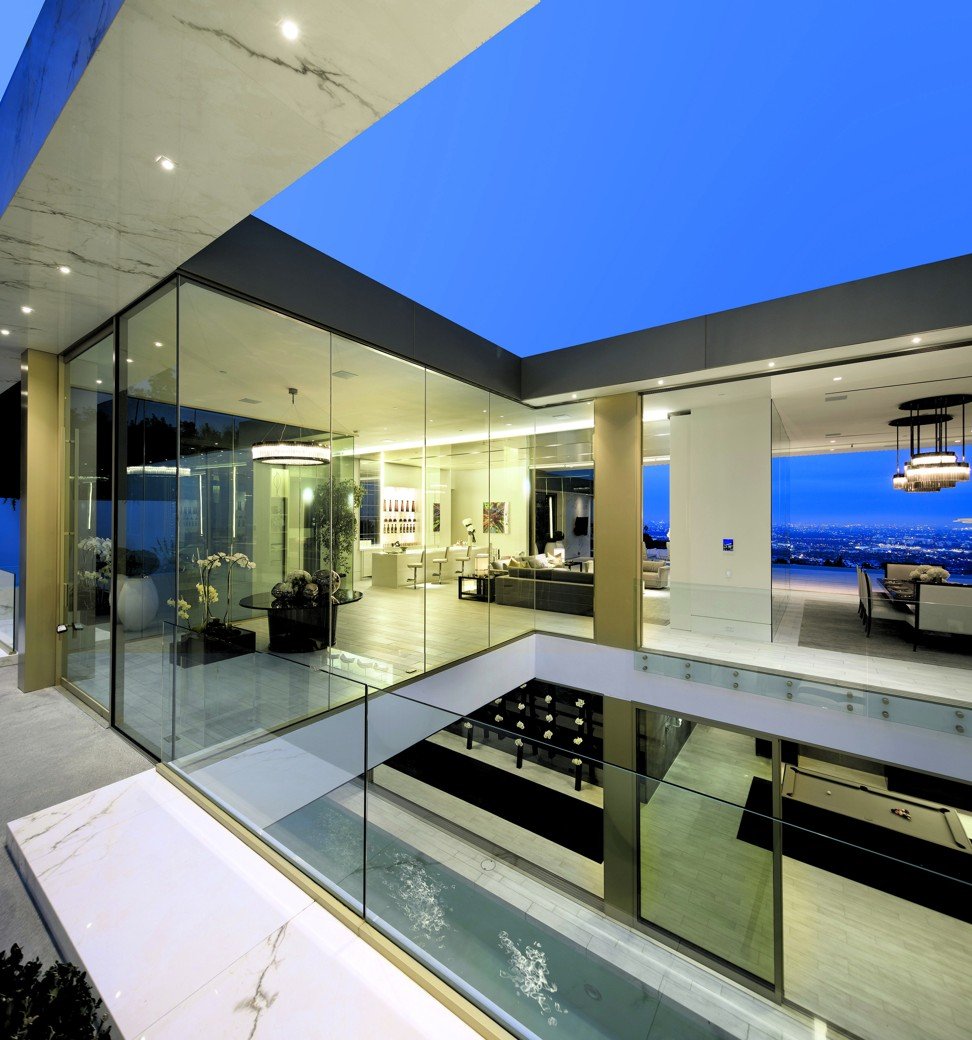 "That US$100 million-plus home, the home for the billionaire, that's a new category," Roffers said. "There are fewer products there. And if someone can buy a US$50 million or US$100 million house, they will build exactly what they want to build. But there is something that is very appealing about the spec house, one that is absolutely perfect and is move-in-ready."
It might be easy to dismiss some of the talk around this segment. But in its "2017 Luxury Property Report", Christie's noted that there were 10 such properties sold in 2016 for a total value of US$1.32 billion.
This was up from five such homes sold in 2015. Currently, 33 luxury properties around the US$100 million mark are listed for sale, up from 19 two years ago.
Roffers reckoned that all the accoutrements that came with this new clutch of nine-figure homes were as enticing as the homes themselves. For that kind of money, developers believe they should throw in everything.
"People developing those properties have got their finger on the pulse of what the average billionaire wants," he said. "They are very good at what they do. And there's demand there."
Hyland said accessibility – the idea that anyone can be accepted into Los Angeles glitterati circles – was an overlooked draw.
"In the 1920s, people felt they needed to have an iconic estate, or something French provincial, to let people know that their background was moneyed, even though it was all new money. But today, in the Los Angeles market, nobody cares. People don't look at your background. They look at the art that's on your wall, where your second home is or whether you have a G5 or a G650 [Gulfstream private jet]. Those are the little things that add up. So you get an accessibility here that you would never get anywhere else."
Those selling the US$100 million to US$250 million houses could afford to wait, even if they did not sell overnight, Hyland said. (Typically, they do not.)
"If you're going to put a US$150 million house on the market, either it will sell immediately or it might take three years. But for anybody at that price point, it's OK. It doesn't matter," he said.
This article appeared in the June issue of The Peak magazine, available now at selected bookstores and by invitation
This article appeared in the South China Morning Post print edition as: The unique mega mansions for the billionaires