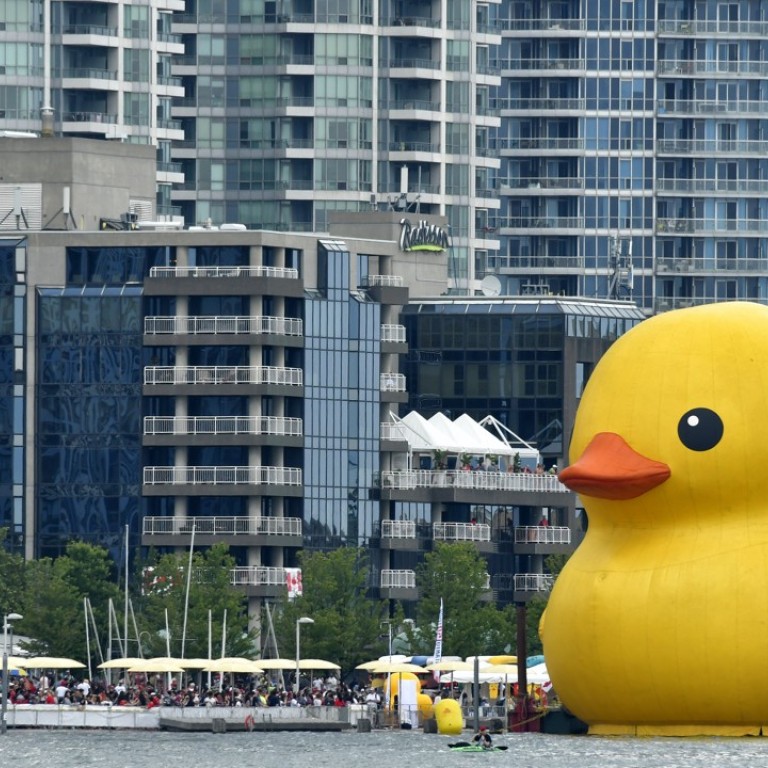 Poll: Canada's roaring housing market set to cool, but only a bit
Canada's roaring housing market is likely to cool off a bit later this year and into next thanks to government measures aimed at cooling demand in major cities, and the prospect of higher interest rates, a Reuters poll showed.
But there are few signs yet that the recent sharp slowdown in activity and price falls in Toronto, the financial capital, is set to spread nationally, at least not until interest rates rise further from near-record lows.
Having climbed in nearly a straight line over the past decade on cheap credit and robust demand from home and abroad, Canada's property market - now a driver of economic growth - is forecast to generate 8 per cent house price inflation this year.
That forecast is barely down from 9 per cent in a poll conducted in May. House price inflation is due to ease further to 3 per cent in 2018, according to the quarterly Reuters survey of a few dozen analysts, including all of Canada's big banks.
Tighter provincial government rules aimed at two of Canada's biggest cities, Vancouver and Toronto, including a foreign buyers tax, and the hefty deposit withdrawal at Canada's biggest non-bank lender, Home Capital Group, earlier this year, has poured a bit of cold water on the market.
The Bank of Canada also raised interest rates by 25 basis points in July - its first in nearly seven years.
"It depends on how quickly we get follow-up rate hikes, how much these other mortgage regulatory changes end up doing on their own," said Avery Shenfeld, chief economist at CIBC, asked about the national outlook.
"At some point we do think that is going to cool prices in some of the most overheated parts of the country, but we might not see much action in terms of national house price measures, at least not until interest rates go up further."
The average Canadian household owed a near-record $1.67 for every dollar of disposable income in the first quarter, one of the highest ratios in the world.
After touching an annual rate of over 30 per cent earlier this year, home prices in Toronto have tumbled by more than one-sixth, with resales down over 40 per cent in July compared with a year earlier.
Toronto house price inflation for the year is set to cool further to 11 per cent for 2017 and 5.5 per cent in 2018, the latest Reuters poll showed. But only a handful thought prices would fall enough to bring them down on the full year.
A majority said the Toronto correction is likely to last somewhere between three to 12 months. Few ventured a guess on how much prices would fall, but estimates for the peak-to-trough fall were as big as 30 per cent.
"The government policy changes both in British Columbia and Ontario have been very helpful in cooling the market and taking the froth out of both Vancouver and Toronto housing markets," said Sal Guatieri, senior economist at BMO Capital Markets.
"Buyers and sellers now have come to the conclusion that what we were seeing in both markets prior to the correction was quite an aberration, very unusual and clearly quite unsustainable," he said.
But if Vancouver's spectacular boom, sharp slowdown and rebound is any guide, the cool-off in Toronto may not last.
Having slowed sharply due to stricter government measures, demand has already bounced back in Vancouver. The average price for all home types was up 8.7 per cent to just over $1 million in July compared with the previous year.
House price inflation there is expected to accelerate further to 10.5 per cent this year, more than double the pace estimated in May.
While most analysts said they didn't yet have enough data to corroborate whether Toronto would go the same way, their base case scenario was that it would. Supply constraints are also likely to resume pressuring the market higher, economists said.
"The beginning of a decline in listings reinforces our view that home prices in the Greater Toronto Area won't decline substantially from now on. Resale transactions are at their lowest level since the financial crisis but employment is at an all-time high," said Sebastien Lavoie, chief economist at Laurentian Bank Securities.
Canada's unemployment rate fell in July to 6.3 per cent, its lowest since October 2008 when the global financial crisis was just starting to take hold.
A slower pace of homebuilding nationally is also expected to lead to further house price gains. Housing starts are predicted to average 203,000 per quarter this year, down from 222,324 in July.
Estimates, collected Aug 18-30, were based on a variety of housing market indexes.
This article appeared in the South China Morning Post print edition as: Canada housing market set to cool after highs