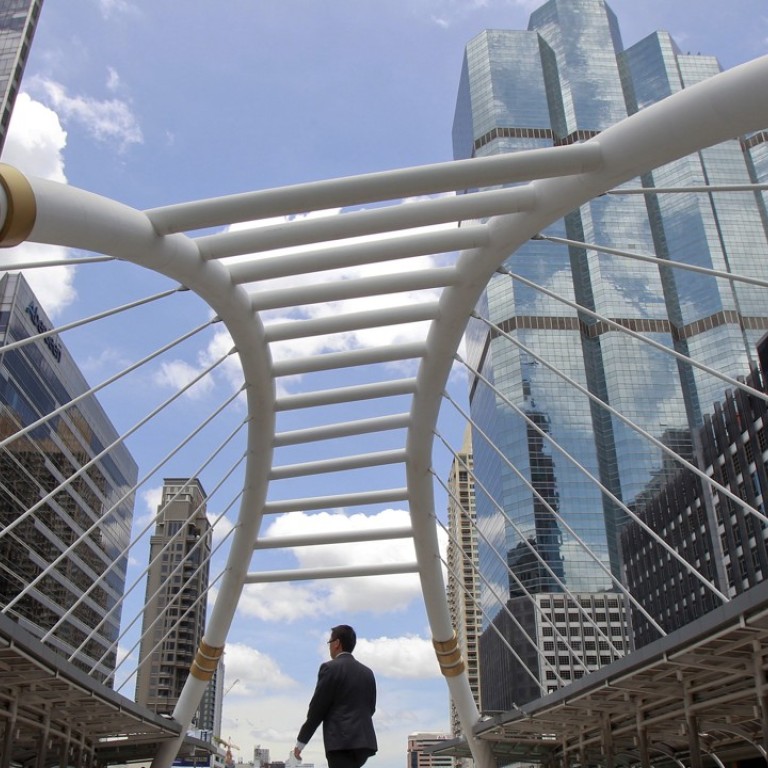 CBRE Thailand bullish on the kingdom's office market
Thailand's property market will keep growing as land and residential prices soar, just as office rents have risen consistently over the past three decades despite two major economic crises in 1997 and 2008, according to property consultancy CBRE Thailand.
"Each cycle took 10 years, but the second one in 2008 was not caused by Thailand," said Aliwassa Pathnadabutr, managing director of CBRE Thailand. "The property market today is in the third cycle and still on the rise. We see no risk factors at the moment for the next dip."
The highest jump in land price per square wah (43 sq ft) was 190,000 baht (US$5,804) in 1988 for a plot on Sukhumvit Soi 19. Last year a plot on Lang Suan Road was sold for to 3.1 million baht per sq wah.
The average condo price has jumped from 35,000-38,000 baht per sq metre in 1991, when Thailand's first luxury condo (Somkid Gardens in the Chidlom area) to 400,000 baht per sq m currently in the Phrom Phong-Thong Lor area.
Aliwassa said the peak year for condos in the first cycle was in 1993, when residential units at All Seasons Place for 65,000-88,000 baht per sq m, more than double the price at Somkid Gardens in 1991.
Land prices in the first property cycle peaked in 1996 at 400,000 baht per square wah on Lang Suan Road after the floor area ratio permitted for building construction increased from 6:1 in 1992 to 10:1 in 1994.
In the second cycle, land prices peaked in 2006 when a nine-rai (156,816 sq ft) site owned by the British embassy on Phloenchit Road was sold for 950,000 baht per square wah. After the deal, land prices offered in the area soared to over 1 million baht per square wah.
Condos in this cycle peaked in 2007 after Sukhothai Residences achieved record average prices of 235,000 baht per sq m.
Currently, there are nearly 140,000 condo units in downtown Bangkok, up from 3,000 in 1988. Total Bangkok condo supply is now more than 645,000 units, Aliwassa said.
The office sector in Bangkok boomed in 1988 as many multinational companies flocked to the city. Total office supply in that year was less than 1 million sq m, with monthly rent of 250 baht per sq m.
As vacancy rates dropped to zero, monthly rent rose to 400 baht per sq m in the same year. Rent doubled to 800 baht per sq m in 1992 at Diethelm Towers, the highest achieved in the Thai capital at the time.
In 1997, office vacancy sharply increased to 40 per cent and monthly rent dropped by more than half to 350 baht because of the Asian economic crisis that forced many companies to shut down.
"After 1997, there was no new construction of office buildings in the market," Aliwassa said. "Construction on some office towers like Q House Lumpini began but was frozen and not acquired."
Some office towers were converted to residential buildings, including Ascott Sathorn and The Lakes on Ratchadaphisek Road, while monthly office rentals stabilised at 350 baht during 1997-2000.
In 2004, office vacancy fell to 30 per cent from a high of 40 per cent in the preceding years. 2004 saw many frozen office buildings resume construction. In 2013, vacancy dropped below 10 per cent for the first time in 20 years.
Average rent in 2013 was 900 baht per sq m per month, with the higher end of the range at 1,000 baht.
This year the highest rent rate so far is 1,500 baht per sq m per month, with an average of 1,200 baht in prime locations – up 400 per cent from 1998. Total office supply is nearly 9 million sq m.
"The Thai real estate market will continue to face constant change, from e-commerce in retail to co-working spaces in the office sector," Aliwassa said.
This article appeared in the South China Morning Post print edition as: Growth in Thailand market shows no sign of abating