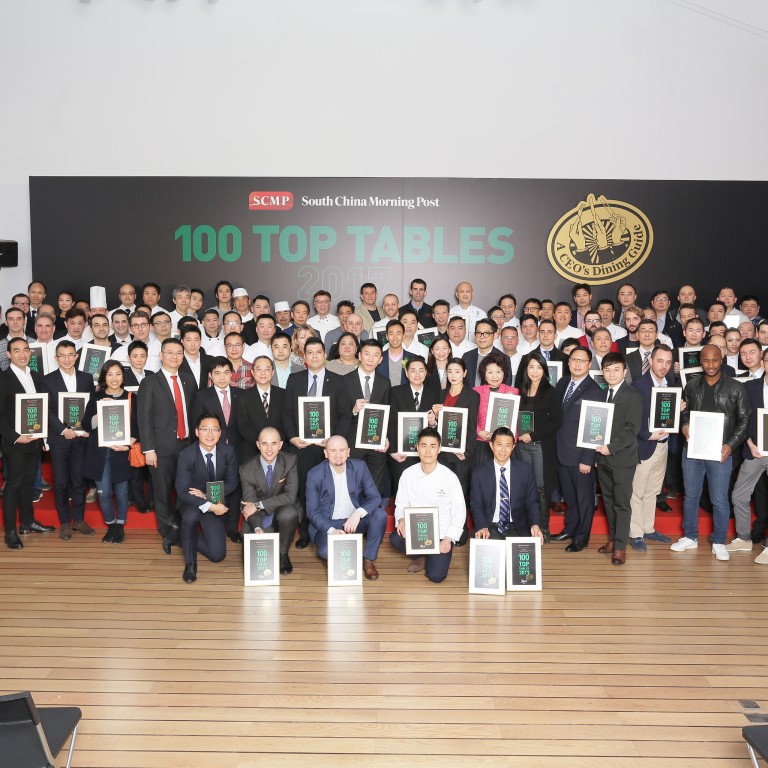 Culinary celebration of Hong Kong's top restaurants
Chefs, restaurateurs and hotel executives gather for launch party of the latest edition of the guide
Hong Kong's culinary elite came together yesterday to celebrate the launch of SCMP's 100 Top Tables 2017 - A CEO's Dining Guide, now in its fifth year. The event, held at the Hong Kong Maritime Museum in Central, was attended by chefs, restaurateurs and hotel executives from Hong Kong and Macau.
Opening the Top Table awards presentation was South China Morning Post Publishers CEO Gary Liu, who congratulated the winners.
"My wife and I are new transplants to Hong Kong, having moved here from our home in New York City at the start of January. This city has already shown us a great deal of its treasures, [such as] the magnificent hikes, soaring penthouse vistas ... and the food … oh, the food.
"We have eaten it all," Liu said.
"I want to thank you, personally, for creating and sustaining such culinary vibrancy in our city. It is such an honour to celebrate this achievement with you today."
Winnie Chung, editorial director, Specialist Publications, Advertising and Marketing Solutions, then talked about the first five years of 100 Top Tables - A CEO's Dining Guide.
"It's hard to believe that it's been five years. It seems like only yesterday that we were huddled in our meeting room to discuss launching a dining guide that would be different from any other in the city," she said. "We had many ideas. But ... we knew there were four important pillars to keep in mind when we were doing the shortlisting: outstanding food, impeccable service, memorable culinary experiences and suitable ambience, ranging from chic casual to traditional fine dining."
Attending this year's book launch and award presentation was Rhoda's executive chef and culinary director Nathan Green. "We are stoked to have been awarded a Top Table award from SCMP. Hong Kong's dining scene is one of the world's best; the Rhoda team and I are proud to be recognised along side many of our awesome peers," Green said after winning the award for the first time.
Gina Tam, hotel manager of The Pottinger Hong Kong, was also happy to receive the award for a third year. "We are very honoured to receive such an accolade for the third time. We will continue to devote our efforts and passion to delivering the most delicious, modern Italian cuisine at Gradini," she said.
Also present was Tam Kwok-fung, executive Chinese chef, Jade Dragon at City of Dreams, Macau; chef Lam Yuk-ming from Studio City's Pearl Dragon; Robin Zavou, executive chef, Mandarin Oriental Hong Kong; chef Lau Yiu-fai from Yan Toh Heen; InterContinental Hotel, chef Nicolas Boutin of Épure French fine dining; restaurateur and chef Philippe Orrico of ON Dining Kitchen and Lounge, Bryan Nagao from TOWN; and fine dining Nordic restaurateurs Björn Frantzén and Jim Löfdahl.
The selected restaurants were presented with a framed certificate for their outstanding cuisine, services and venue.
Copies of 100 Top Tables - A CEO's Dining Guide will be distributed to South China Morning Post subscribers and are available at retail outlets, airport lounges, airport stores and Pacific Coffee from today. The listing are also available online
here
.
Here is the full list:
Chinese
Above & Beyond
Ah Yat Harbour View Restaurant
Canton Room
China Tang
Chiu Tang
Cuisine Cuisine (Mira)
Deng G
Dong Lai Shun
Dragon Noodles Academy
Duddell's
Dynasty
Elite Dining
Howard's Gourmet
Hutong
Lung King Heen
Man Ho Chinese Restaurant
Man Wah
Ming Court
Mott 32
One Harbour Road
Sha Tin 18
Shang Palace
Sing Yin
Spring Moon
Summer Palace
T'ang Court
The Chairman
The Chin's
Forum Restaurant
The Sky Boss
Tin Lung Heen
Yan Toh Heen
Yè Shanghai
Yee Tung Heen
Western
Arcane
Chez Ed
Fishsteria
Foxglove
Frantzén's Kitchen
Hugo's
Mandarin Grill + Bar
On Dining Kitchen & Lounge
Rhoda
The Continental
The Verandah
Town
Café Gray Deluxe
French
Belon
Akrame
Amber
Amuse Bouche
Caprice
Épure French Fine Dining
Gaddi's
Ivy
L'Atelier de Joël Robuchon
one-thirtyone
Restaurant Petrus
Pierre
Seaasons by Olivier E
Skye
Tate Dining Room & Bar
Italian
81/2 Otto e Mezzo Bombana
Angelini
Carbone
Gaia Ristorante
Gradini
Grissini
Nicholini's
Operetta
Sabatini Ristorante Italiano
Spiga
Tosca
Japanese
Inagiku Grande
Kashiwaya
Nadaman
Nobu
Rozan
RyuGin
Sushi Shikon
Sushi Ta-Ke
Sushi Tokami
Wagyu Kaiseki Den
Steak and Grills
Buenos Aires Polo Club
Alto Bar & Grill
Flint Grill & Bar
Gaucho
Grand Hyatt Steakhouse
Lawry's The Prime Rib
Morton's of Chicago
Mr & Mrs Fox
Steak House winebar + grill
East/West
Bo Innovation
AQUA
Ronin
SEVVA
Ta Vie
The Ocean
Tri
Wagyu Takumi
Macau
Shinji by Kanesaka
81/2 Otto e Mezzo Bombana
Don Alfonso 1890
Dynasty 8
Feng Wei Ju
Golden Flower
Guincho a Galera
Jade Dragon
La Chine
Lai Heen
Mizumi (Wynn Palace)
Pearl Dragon
Robuchon au Dôme
The 8
The Manor
The Tasting Room
Vida Rica
Wing Lei
Yamazato
Zi Yat Heen