Serviced apartments hit 'sweet spot' for expats feeling the pinch in Hong Kong
As more employers cut back on rental allowances, reasonably priced serviced accommodation offers distinct advantages to expatriate employees
Expat packages aren't what they used to be for workers posted to Hong Kong.
Real estate services firm JLL reports that only 14 per cent of its expat clients enjoyed a monthly housing allowance of more than HK$100,000 last year, down from 23 per cent in 2013. Close to 60 per cent received less than HK$50,000, compared with about 40 per cent three years ago.
It's also more likely that any rental allowance is now built into one's pay package, rather than the previous practice where the company would often provide a home. When employees have to fund their own accommodation, they are less likely to splurge on high-end digs, according to Clara Chu, senior director, residential leasing at Colliers International.
"Companies have changed their strategy," Chu says. "They don't want to spend HK$100,000 [per month] even for senior executives." The "sweet spot", she says, is HK$20,000 to HK$40,000, now the most in-demand price range, for business travellers on short-term assignment, and newcomers seeking temporary accommodation while they look for a residential apartment.
Employers have also tightened their belts when it comes to housing size. For a single or couple, a studio or one-bedroom unit is now considered acceptable. Generally, Chu finds, only when there's a family in tow might the allowance be more flexible.
These cutbacks might have put the squeeze on the luxury sector, but for those who are more budget-conscious, cheaper doesn't have to mean cheerless. Quality serviced apartment properties with ample facilities and often more space are to be found if you look around, especially in the New Territories – a non-traditional location which Chu says tenants are now "more open" to considering.
One popular option among Colliers' clientele is Vega Suites in Tseung Kwan O. Its apartments are larger than ones usually be found in inner-urban locales (from 372 sq ft studios to three-bedroom suites of 1,560 sq ft), and the property is part of an integrated development with a major shopping mall, PopCorn, an MTR station and two international business hotels. A green terrace with a barbecue corner is provided for guests' enjoyment.
"Companies with offices in the eastern part of Kowloon, or even Island east, are happy to put their staff in Vega Suites because it's convenient and of high quality," Chu says.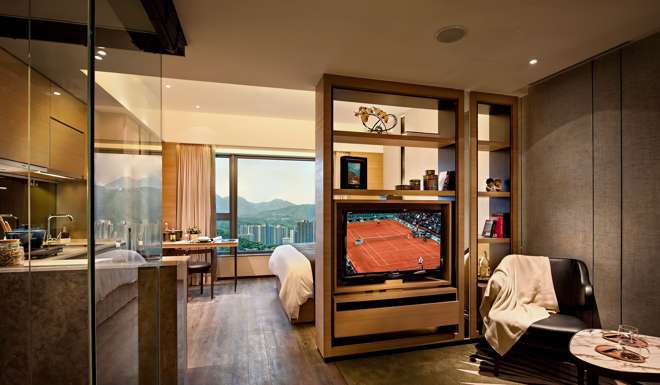 Vega Suites is part of Signature Homes, the luxury residential leasing arm of Sun Hung Kai Properties. Monthly rental starts from HK$21,000 up.
Bay Bridge Hong Kong By Hotel G, situated on Castle Peak Road, Tsuen Wan, has been given a makeover "tailored for millennial travellers". It's about seven minutes away from the nearest MTR station, accessible by free shuttle bus, but only 30 minutes from the airport. It has a new fitness centre, trendy restaurant and bar, and outdoor pool and Jacuzzi.
Room sizes range from 440 sq ft to 880 sq ft and come with either a sea or city view. A deluxe studio rents for HK$16,000 per month for 440 sq ft and a one-bedroom unit, 660 sq ft, HK$22,000.
Horizon Suites Ma On Shan is geared for relaxing pursuits. Capturing views of Tolo Harbour and green hills, the property is close to the hiking trails of the 2,880-hectare Ma On Shan Country Park, and the various recreational offerings of Clearwater Bay Golf and Country Club. The property has a fitness centre, pool (with children's pool), playground, mini-theatre, coffee shop and restaurant. Monthly rates for a two-bedroom harbour view suite start at less than HK$20,000 based on an annual rental agreement (more for one month only).
Even cheaper are the serviced apartments at Harbour Plaza Resort City, Tin Shui Wai. It's situated near the fast-developing commercial districts of Yuen Long and Tuen Mun, and scenic natural attractions such as Hong Kong Wetland Park. Adjoining a 2 million sq ft park, the twin-tower property has extensive recreation and sporting facilities, food and beverage outlets, multifunction venues, and a shopping plaza with 200 retail outlets.
A shuttle bus service ferries residents to Tsim Sha Tsui shopping district and Hong Kong International Airport. Other transport options are the Shenzhen Bridge and West Rail network. Apartments starting at 408 sq ft are priced from HK$13,800 up.
This article appeared in the South China Morning Post print edition as: Cosy alternative for expatriate staff