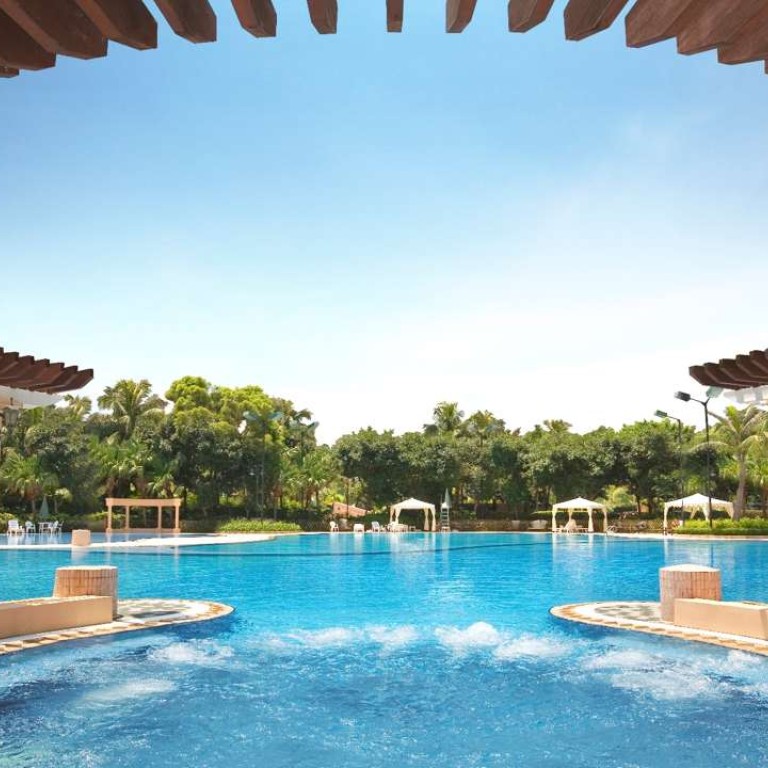 Live in peace: serviced apartments in the New Territories offer resort-style living and convenience
Serviced homes in suburb offer excellent facilities, more space and are close to Hong Kong's excellent public transport
Browse for serviced-apartment properties in Hong Kong, and you'll be spoiled for choice in and around the traditional business and shopping districts.
On Hong Kong Island, neighbourhoods within Central, Sheung Wan, Causeway Bay and Wan Chai offer the majority of options. Satellite central business districts, such as North Point also have their share.
In Kowloon, the business and shopping districts radiating from Tsim Sha Tsui are well-served by properties catering to corporate and leisure travellers. In some you can stay for as little as a day; in others the minimum is one month.
But venture further, and the New Territories offers a handful of properties well worth considering. The commute might be a bit further to city offices – but it is still conveniently accessible. The operators argue that these far-flung locations offer something their central business-district counterparts cannot: primarily, more space.
Resort-style marina living, for example, is something you can only find at Castle Peak Bay, in So Kwun Wat. Here, serviced apartments are in the mix within Hong Kong Gold Coast Residences, a Sino Group waterfront marina, residential and hotel development. Relaxed leisure is the order of the day. Grouped around one of Hong Kong's largest free-form pools, the apartments overlook Gold Coast Yacht Club, and adjoin the Mediterranean-style Gold Coast piazza with 13 food and beverage outlets, and shops and supermarkets. Various restaurants are also provided within the hotel.
"It's not downtown, but still well-connected," says Hilda Lai, deputy general manager. Central is within 30 minutes' drive, and the Shenzhen Bay Port 15 minutes. Residents can rent an on-site car park – a rarity for any serviced-apartment property – and use regular shuttle services to nearby MTR stations.
The units have two to three bedrooms and fully equipped kitchens – including washing machines - in sizes ranging from 735 sq ft to 935 sq ft. Housekeeping service is provided twice-weekly.
"What sets us apart is the wealth of amenities associated with our residences," Lai says. With the 20,000 sq ft clubhouse, there is a pool, seven tennis courts, two squash courts, a barbecue area, and a 50,000 sq ft manicured lawn, where families can picnic and children can run. Activities include a fortnightly jumping castle. Residents can even book a private cruise on the resort's 58-foot luxury yacht.
"We have the sandy beach on our doorstep and are near Tai Tam Country Park with the famously scenic [hiking route] MacLehose Trail. Active people can also do mountain biking," Lai says.
Corporate clients seeking a resort lifestyle for their families make up a majority of the residents, and being close to Harrow International School, Gold Coast Residences also attracts those from the academic community.
Luxury serviced apartments are also available within Hyatt Regency Hong Kong, Sha Tin – the first globally-branded hotel in the New Territories.
With 132 rooms and suites designed for extended stays, the property is positioned as Hong Kong's urban resort, featuring views of Tolo Harbour, Kau To Shan mountains and Sha Tin racecourse.
"Other attractions nearby include the Ten Thousand Buddha Monastery and Che Kung Temple, as well as the beautifully landscaped Hong Kong Science Park and the Chinese University of Hong Kong," says Serena Chu, manager – Long Stay Suites. "You'll find everything you want close to our hotel."
Making the most of its tranquil, green location are top-notch resort facilities. An open-air relaxation area includes a 25-metre heated outdoor swimming pool, a whirlpool, sun deck, tennis court and Camp Hyatt, a resort-style children's club. Overlooking the pool area is a fully-equipped fitness centre, next to changing rooms that feature a whirlpool, sauna and steam room.
Located at University MTR station, Hyatt Regency Hong Kong, Sha Tin offers direct rail access to central business districts and Shenzhen. Access to the downtown is provided by a complimentary shuttle bus service between the hotel and Hong Kong Science Park, Sha Tin, Airport Express Kowloon Station (Elements) and Tsim Sha Tsui.
The size of the long-stay suites varies from 700 sq ft (deluxe king room) to 1,650 sq ft (two-bedroom deluxe executive). Long-stay guests are mostly business travellers and expatriates staying for temporary residence of around one month, Chu says. The minimum length of stay is 14 days.
This article appeared in the South China Morning Post print edition as: NT offers space and tranquillity