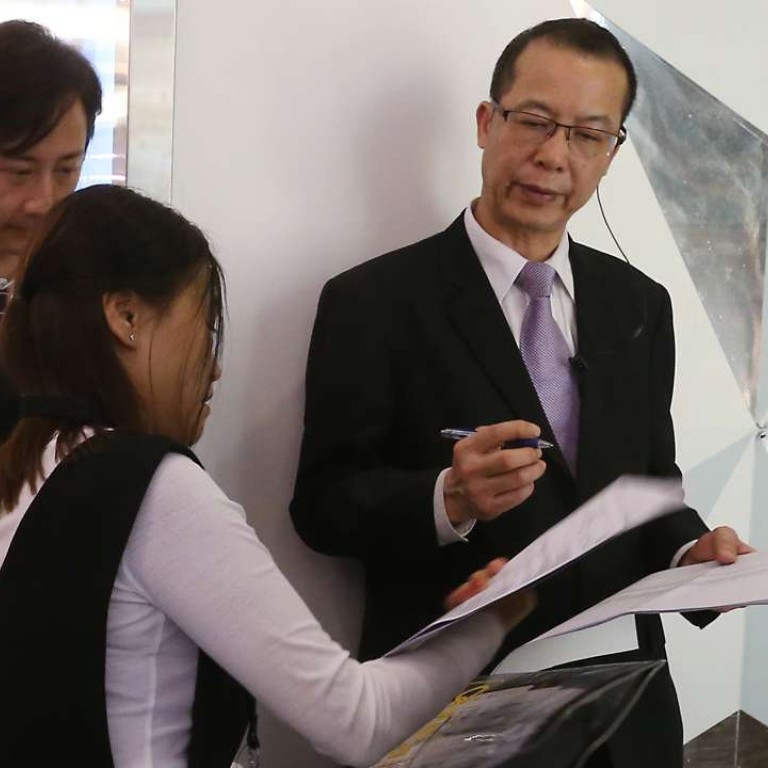 Tiny Hong Kong flats are all the rage as developers take advantage of huge demand
Homes cost less than HK$4 million on average, making it easier for buyers to get mortgages of up to 90 per cent
Size certainly mattered this year, and predictions are that Hong Kong will be flooded by tiny flats in the forseeable future. Small flats were all the rage in 2016, with property developers tempting buyers with these micro homes.
Most developers concentrated on building small homes of 400 sq ft or less and they sold like hot cakes, as factors, such as restrictions on the size of mortgages approved by the banks and the impending interest-rate hike, restricted buyers' finances.
Denis Ma, head of research, Hong Kong, at international property consulting firm JLL, says another reason for the rising trend of mini flats in Hong Kong is that the average home prices have soared beyond the reach of most Hongkongers, prompting developers to scale down the size of homes.
"Right now, it's a game of how much a buyer can afford," Ma says.
King Yip, managing director of Hong Kong Mortgage, says one reason local developers are focusing on micro flats is that these homes are priced at less than HK$4 million on average, making it easier for buyers to get a mortgage – loans of up to 90 per cent in some cases – from banks.
According to a recent research report by JLL, as many as 5,000 of the small flats are expected to be built every year until 2019, almost triple the average in the past decade.
Property developer Emperor International Holdings exemplifies the popularity of small flats. According to its filing with the Buildings Department, the plan is to launch a project where each unit measures 61.4 sq ft.
The development – unnamed as yet – is located at 17-19 Yik Kam Street in Happy Valley. The new building will be built on the site where a 21-storey commercial building stands at the moment.
The measurements do not include the space allocated for a kitchen and bathroom in each unit, according to the department.
Thomas Lam, head of valuation and consultancy at Knight Frank, said in an earlier interview that this would make Emperor's flats the smallest in Hong Kong.
Adding kitchen and bathroom space, Emperor's apartment will still be smaller than Wisdom Gaining's AVA62 project in Jordan, the record holder for tiny flats.
Each AVA62 unit measures 152 sq ft – including a balcony – and is selling for HK$20,000 per square foot, or an average of HK$3 million.
Last September, Henderson Land opened sales of its One Prestige project in North Point. The developer put a price tag of HK$3.9 million, or HK$23,975 per square foot, on a 163 sq ft flat on the fifth floor. One Prestige flats will range from 163 sq ft to 170 sq ft, and cost HK$3.87 million to HK$4.78 million, an average of HK$25,248 per square foot. After factoring in a maximum 5 per cent discount, the average price would be HK$24,000 per square foot.
Another popular property project that has attracted scores of buyers is Mont Vert in Tai Po.
Mont Vert offers a clubhouse, sea views and the scenic greenery provided by the surrounding Tai Po hills.
But the smallest unit size in Mont Vert is 172 sq ft, which according to news reports is only three times the size of the cells in some Hong Kong prisons.
The main space doubles as a bedroom and living room, with a kitchen and bathroom tucked away in the corners.
So is this trend of micro apartments sustainable next year or is it a market-driven necessity?
Ma believes the trend will continue in the foreseeable future.
He argues that the government has vowed to build a certain number of flats each year and for that to happen it has to release land, which is scarce in Hong Kong. So with the scarcity of land in mind, developers will continue to build small flats in the foreseeable future.
Location is another factor behind the popularity of small unit developments. Ma points out that similar to New York and London such developments are targeted at young professionals, whose main aim is to spend the minimum to ensure maximum convenience. Hence, even though these developments are located in far-off suburbs they are close to transport hubs such as the MTR or bus stations.
"Ordinarily these developments are meant for people on the move, single and young professionals, whose main aim is to reach the CBD [central business district] as fast as possible, or to be near the CBD," Ma says.
This article appeared in the South China Morning Post print edition as: Big move for micro homes