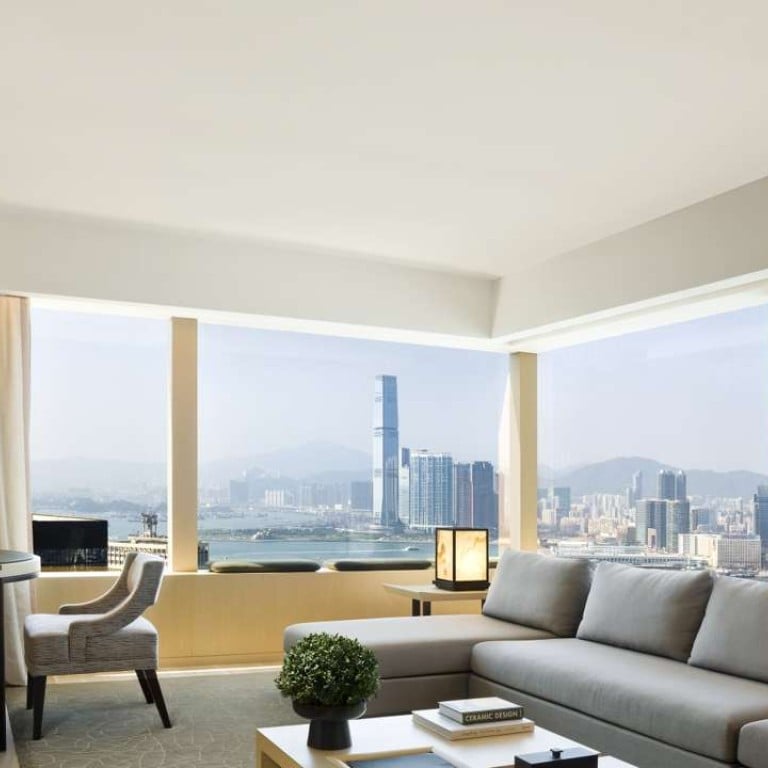 Designer interiors bring extra glamour to Hong Kong's luxury serviced apartments
Celebrity designers Joyce Wang, Philippe Starck and Vivienne Tam apply 'wow factor' interiors
If you could get one of Hong Kong's top interiors architects to make over your flat, what would it look like? Take a peek inside some of the city's designer serviced apartments to see.
The new Apartment Suite at the Landmark Mandarin Oriental, Hong Kong provided a blank canvas for award-winning architect Joyce Wang, of Joyce Wang Studio, whose celebrated hospitality and luxury residential portfolio includes Hong Kong restaurant Mott 32, winner of the 2014 World Interior of the Year.
Designed in the style of a luxury private apartment, and launched in January, the glamorous new 1,500 sq ft suite showcases Wang's trademark elegant aesthetic and detailing.
The entrance leads to an open plan living area filled with furnishings custom-designed in a palette of gold, caramel and royal blue, with natural wood floors and specially commissioned artworks.
Sumptuous furnishings include a velvety-soft, three-metre wide curved sofa with matching armchairs, a richly textured, hand-tufted rug and onyx-shaded chandelier. The centrepiece of the study area is a large bespoke desk with trademark Wang translucent acrylic base.
A cocktail bar adds chic to the dining space, its "wow factor" being a bespoke perforated brass chandelier paired with a six-seat crackled gesso-finish dining table that imitates the natural beauty of bark.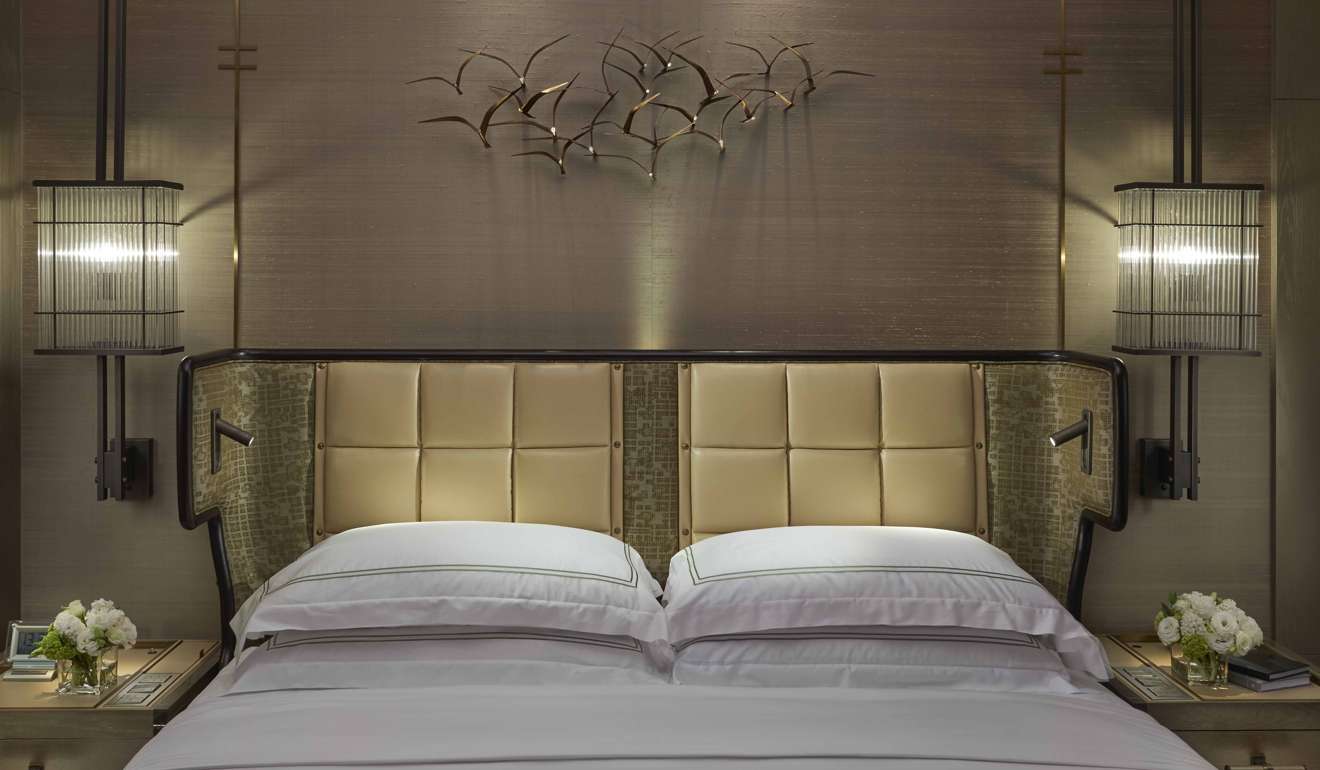 More attention is paid to kitchen design, these days, and The Apartment Suite is no exception. It comes with a fully fitted kitchen equipped with Gaggenau appliances and platinum timber cabinetry with brass handles.
The master suite features a bed with a curvaceous quilted leather headboard, separate walk-in dressing spaces and a spa-inspired marble bathroom with a deep-soaking bathtub and separate walk-in rainforest shower.
According to the architect, this design works well for chic apartment living because of its soothing ambience. "Our aim was to create something better than home away from home, a design that has an aspirational quality whilst feeling familiar and approachable," Wang says.
"We've created details throughout that ensure the guests feel cocooned in sumptuous surroundings. The lighting was done in a way for the space to feel fresh during daytime, and sexy in the evenings, when the crackled sconces cast shadows onto the shagreen panels and silk wallcovering."
Retractable screens allowing for the bedroom to be closed off from the living area, or feel completely connected when opened, give design flexibility to the space. Even putting food and drink preparation "at your fingertips" reflects a modern trend to self-serve and play host to one's guests.
Not only are people cooking more at home, but Wang believes that, even in a hotel, "we are moving away from the traditional sense of hospitality where guests always want to be served by staff".
Other places to see a designer's mark around town include the apartment hotel J Plus Hotel By YOO. Originally conceived by celebrated French designer Philippe Starck, its interiors have been refreshed with a makeover by YOO Studio, design team (part of YOO Limited), which Starck co-founded. In keeping with Starck's signature whimsical style, its interiors are a "rejection of all things conventional". "Original design enhances life," reasons Mathew Dalby, design director, YOO Studio.
The hotel's 32 studios and 24 suites are styled in four dynamic colour themes: Dreamy Pink, Tangerine Joy, Sunshine Yellow and Tranquil Blue, with pops of bright ceiling graffiti adding to the fun aesthetic. There are luxury touches, too – such as bespoke, hand-crafted carpet – extras which Dalby says create the feeling of being in a "personal sanctuary".
Meanwhile, the distinctive touch of Hong Kong's André Fu, named as one of Wallpaper magazine's top 20 interior designers of 2016, may be seen at The Upper House. Upper Suites at the Swire Properties-owned Pacific Place, Admiralty hotel are 1,230 sq ft of comfort in bespoke furniture, plus sofa and window seating, a king-sized bed and spa-inspired bathroom complete with limestone-clad tub.
And for a speciality suite at Hotel Icon, fashion designer Vivienne Tam blends her signature style of chinoiserie and modernity, with a dose of good feng shui. The celebrated designer even incorporated some personal effects from her own New York flat.
A sinuous sofa upholstered in vermilion pops in a multihued palette of wood, used in furniture, ceiling detail and wall panelling. Red – a fortuitous colour in Chinese culture, and a favourite of the designer – also features in the bedroom carpeting. Accent pieces such as white relief artwork, a porcelain plaque and book collection include some items brought across from the designer's own home.
She says that, like one's home, the space is meant to change and grow. "I wanted it to be uncluttered, a free space to dream," says Tam, who is an alumnus of the Polytechnic University, which owns Hotel Icon.
This article appeared in the South China Morning Post print edition as: Top designers add 'wow factor' to apartments