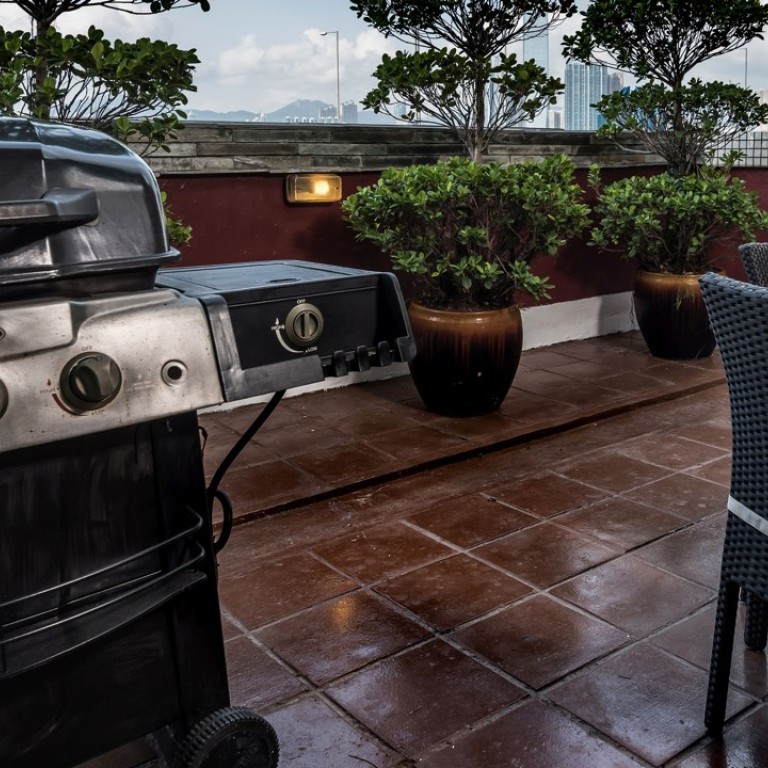 Out in the open: Hong Kong's serviced apartments embrace indoor and outdoor living
The inclusion of outdoor spaces in new properties reflects a shift in design. The choice will increase once new properties come on stream
The heat is on. Summer can be stifling in our city, and it's only just begun. While indoor air conditioning is a must, anyone cooped up in an office all day may not feel inclined to do so at home.
You might long to fling open the doors in hope of a breeze, or relax alfresco with a cool drink and music. But it's a rare apartment building which offers such an option, at least in an inner-city location. Many don't even have windows that open.
A few serviced apartment properties do offer private balconies, but they are in the minority, and usually get snapped up quickly, according to Clara Chu, senior director at Colliers International. If you can find one which is available, expect to pay a premium for it, she adds.
However, given the trend for indoor/outdoor living – even in Hong Kong, a city where traditionally this hasn't been the norm – those who seek it believe it is worth it. Here are a few serviced apartments around town which offer your own piece of outdoor paradise:
At Eight Kwai Fong, a New World Development property on Kwai Fong Street, Happy Valley, every suite has a private balcony and full height glass walls to let the outside views in. For that extra bit of luxury, each apartment has a designer kitchen with Gaggenau appliances and, in the bathroom, Dornbract fixtures complete with rain shower.
The property opened less than two years ago as part of a shift towards bespoke contemporary living branded by New World Development as The Artisanal Movement. This is manifested in the collectibles gathered from around the globe, displayed here and there in the communal areas much like you'd decorate your own home: a cluster of glass vases by Tapio Wirkkala of Finland, for example, juxtaposed with Chinese contemporary artwork by Zhao Yang.
Residents also have use of the Collection Room to pursue their favourite craft, and for entertaining which requires more space than their own apartment allows, there's The Dining Room with fully equipped open kitchen and courtyard to appreciate the landscaped greenery. The property also has a 24-hour fitness centre and laundry facilities. Since its opening, Eight Kwai Fong has been awarded two best services awards "and hundreds of compliments from its residents", according to the developer.
In bustling Mong Kok – on the quieter, residential side – One Dundas is something of an oasis from its busy surroundings. Floor-to-ceiling windows let natural light flood in to the studios, one- and two-bedroom apartments, and open onto private balconies which expand the living space. From here, iconic views may be enjoyed to the full. Units on the higher floors overlook Victoria Harbour, while those on the lower floors face city views. The property also has an outdoor leisure area and gym.
If you're pining for a backyard, but thought it impossible in the heart of the city, check out the expansive terraces at The Mood Soho in Chancery Lane, Central. Stretch out on your sunbed or plant an urban garden while living minutes away from Hollywood Road, the Mid-Levels escalator and Lan Kwai Fong.
Pilar Morais, CEO of boutique serviced apartment brand CHI Residences, agrees that the indoor/outdoor living trend is catching on in Hong Kong. So far, only one property in the company's portfolio – CHI 120 in Sai Ying Pun – offers private balconies with every unit, but that's about to change with the a new property set to open later this year.
"Private balconies are wonderful spaces that add something special to units," Morais says. "No matter what size, they are always appreciated."
CHI 138 Wan Chai will have a balcony with every unit, accessed either through the bedroom or living room. The property is situated a 10-minute walk from the Convention and Exhibition Centre and nearby Star Ferry, with cafes, restaurants and retail around. It's due to open in the fourth quarter.
Morais says the popularity of the 19 one-bedroom apartments at CHI 120, each a spacious 1,050 square feet plus balcony, their window walls allowing abundant natural light and harbour views, reflect the market demand for alfresco options.
Shama Island North, due to open in the fourth quarter this year in North Point, is another example of a serviced apartment property catering to the indoor/outdoor trend. A number of its units will have private balconies designed to hold a chair or two; others feature alfresco terraces big enough to take outdoor settings for relaxing under the stars.
The inclusion of outdoor spaces in new properties reflects a shift in the design of serviced apartments in Hong Kong. Until now, only one unit in one Shama-branded property – Shama Fortress Hill – has had a private terrace. The choice will be far greater once these new properties come onstream.
This article appeared in the South China Morning Post print edition as: Slice of outdoor paradise on offer