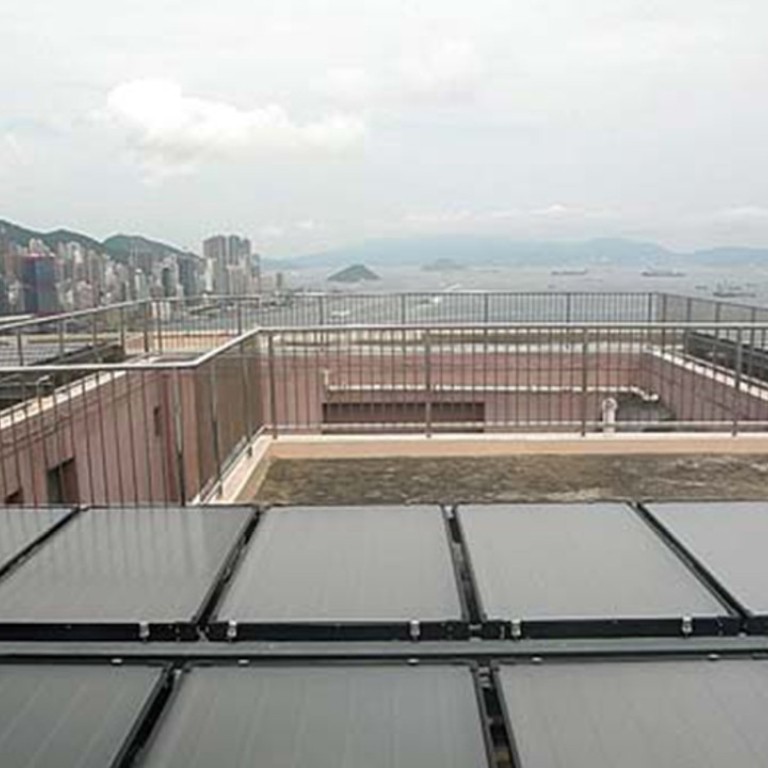 Green moves: eco-friendly initiatives make sound business sense
A small but growing number of Hong Kong's serviced apartments providers are adopting a greener procurement approach and making use of technologies that enable them to offset greenhouse gases
Asia's hospitality providers are going ever greener. According to data compiled by Singapore-based travel and hospitality sustainability consultancy and research firm Greenview, lodgings providers are doing far more than merely inviting house guests to reuse towels and bed linen.
For instance, Asia-Pacific hotels rated above the global average in terms of not only monitoring their energy consumption, but using higher-efficiency heating and cooling, in the Green Lodging Trends Report 2016. The region also had a higher uptake on installing low-flow toilets, faucets and shower heads, compared to their global counterparts.
However, making small, daily efficiency changes is one area in which our region lags behind. Compared to 82 per cent globally, just 75 per cent of Asia-Pacific hotels make "simple changes" such as not delivering newspapers to every guest room. Installing refillable soap and shampoo dispensers in rooms instead of disposable, single-use amenities is a strategy observed by less than half of the properties surveyed.
In terms of Hong Kong serviced apartments, a handful of operators are leading the green charge, but many could be doing more, according to Carrie Law, regional general manager of iProperty Group (Hong Kong and Macau).
Leading by example is Gateway Apartments, Tsim Sha Tsui, which recently won the Best Eco-Friendly Serviced Apartment in the Best of the Best Awards 2017, organised by Squarefoot.com.hk, for the second year in a row.
Other upmarket brands including the Signature Homes portfolio of luxury serviced apartments by Sun Hung Kai Properties implement green practices "daily", according to its management, while boutique brands such as CHI Residences also have a green focus.
While some providers are adopting a greener procurement approach, such as switching to hand-made bathroom products, or dealing with NGO suppliers where possible, such measures are not yet consistent in Hong Kong, according to Law.
Yet, Gateway Apartments bucks a global trend, identified in the Greenview research, which suggests a reluctance by hospitality providers to invest in alternative energy sources.
A 100-set rooftop solar system installed in 2009 to power the hot water systems at The Wharf (Holdings)-owned luxury serviced apartment property offsets more than 70 tonnes of carbon dioxide emissions and greenhouse gases per year, "which is the equivalent of planting 3,000 trees", according to Ronald Loges, general manager. In contrast, solar panels were used in only 8 per cent of the hotels surveyed for Greenview's research.
Loges notes that Gateway Apartments, which also took Best Serviced Apartment in the Best of the Best Awards 2017, is consistently recognised with bronze, silver or gold in the Hong Kong Awards for Environmental Excellence.
To avoid adding chemicals to the sanitary waste system – a routine occurrence in Hong Kong, where toilets are flushed with sea water – a filtration and sterilising system was installed in 2012. "This reduces the disposal of 2.4 tonnes of highly concentrated chemical liquid per year, which would otherwise end up back in the ocean," Loges says.
The curtain wall on the building's façade has been fitted with a special insulating film to deflect sunlight and reduce the need for indoor air conditioning. All lighting has been replaced with lower-energy LEDs, and motion sensors installed so that artificial light only comes on as needed.
On the procurement side, vendors supplying to Gateway Apartments are required to avoid excess packaging. "For instance, day-to-day items like toilet paper do not need to come in plastic wrapping – we don't want that stuff in the house," Loges says. Fresh laundry is delivered to residents in wicker baskets, rather than plastic bags. In the commercial cleaning and housekeeping of the premises, only biodegradable products are used.
Residents are also engaged in the environmental efforts. To combat the huge problem of food waste in Hong Kong and worldwide, Gateway residents are offered a sealed container for their kitchen scraps. These are collected from participating apartments daily, and turned into fertiliser at the bio-waste facility within Harbour City.
"We collect about 650 to 700 kilograms of food waste per month," Loges says. Biodegradable rubbish bags are provided free as well.
An annual collection of unwanted clothing saw 700kg of donations to the Salvation Army in April. E-waste is collected on request, which helps residents get rid of their old devices and batteries, and enables their repair, recycling or correct disposal. A book drive is also held annually, with donations going to one of the Band 5 schools the Pacific Club supports.
"Although it is not compulsory in Hong Kong, we have fitted low-flow tapware in bathrooms which saves water and energy costs as well," Loges says. "Of course, we have a high-end air filtration system to ensure optimal indoor air quality for our residents."
Loges hesitates to say that these environmental initiatives give Gateway Apartments a competitive advantage – but he agrees that mostly, residents "do appreciate" the effort. "We're seeing heightened consciousness and participation from residents, which is encouraging," he says.
This article appeared in the South China Morning Post print edition as: Greener approach to accommodation