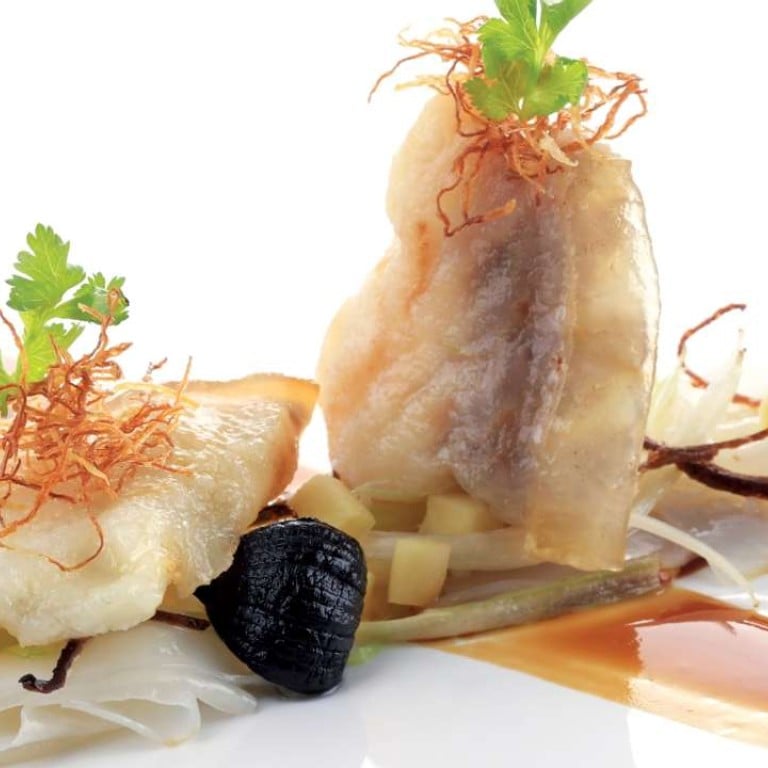 Mouthwatering: Hong Kong and Macau restaurants offer array of dining options to celebrate the year's end
Customers have a wide variety of cuisines and establishments at their disposal this New Year's Eve
It's fair to say that 2016 has been quite a tumultuous year. However you view it, there's something to celebrate as we welcome 2017.
Al Molo
The harbourside Italian place is staging the New Year's Eve Royal Affair Red Carpet Party, which promises to make guests king or queen for the night. An extensive gala buffet includes everything from assorted salumi, salads and antipasti, to mains such as pappardelle with wild boar ragú, cod and mascarpone tortelli, and New Zealand lamb chops in carbonara (HK$888 per person; HK$1,288 per person including open bar).
For reservations call 2730 7900
Bread Street Kitchen
For those who can't resist a little celebrity chef allure, Gordon Ramsay's Hong Kong portal has a New Year's Eve tasting menu. This begins with lobster bisque with brandy butter, then goes on with smoked mackerel, pan-fried curried scallop, braised pig cheek, and spiced pork loin and apple jam, ending with warm treacle tart and vanilla ice cream.
For reservations call 2230 1800
Buenos Aires Polo Club
The Club is offering a highly auspicious New Year's Eve Dinner (HK$888 per person) for what they describe as "an evening of sophistication". This comprises dishes like General Pico Argentine prime rib with Malbec jus, as well as a lavish seafood platter. Revellers will be pleased to hear that there will also be drinks packages available.
For reservations call 2321 8681
Cafe
Hyatt Regency Hong Kong's Cafe is hosting a countdown party and dinner buffet on December 31. Available here is an enormous array of seafood (from king crab legs to prawns, whelks, mussels, sushi and sashimi) to Western dishes (steaks, lamb shortloin, quail and paella) to Chinese cuisine (wok-fried lobster, grouper or soy pigeon). Desserts include tiramisu, bombe Alaska and forest berry tartlet. The buffet starts at HK$658 per person.
For reservations call 2311 1234
Cuisine Cuisine
The Mira's upscale Chinese eatery has put together a seven-course dinner set for two (priced at HK$2,388) for New Year's Eve. It features such delicacies as spicy prawns with kale and pomelo, crab meat with shrimp balls and truffle in pumpkin soup, pan-fried scallops, sautéed Angus beef fillet with Thai basil paste, green asparagus and wild mushroom, and fried rice with sea cucumber, dried scallop and mushrooms.
For reservations call 6273 3588
Dynasty 8
Diners really has the chance to push the boat out at Conrad Macao's Dynasty 8. The old-world Chinese restaurant is serving up scallop salad, hot and sour soup with Boston lobster, cod with asparagus, lamb rack, sticky rice with barbecue pork and cheese, and mango pudding, All for just 688 patacas per person.
For reservations call +853 8113 8920
Felix
Those really wanting to step out in style to meet 2017 will want to make a booking for Felix's New Year's Eve Gala Dinner. The avant-garde European restaurant is laying on an eight-course feast for the occasion, under the watching eye of chef Yoshiharu Kaji, in exchange for just HK$4,088 per exquisitely attired guest. Gentlemen need not be reminded that the event is strictly black tie.
For reservations call 2696 6778
Gaia
Italian eatery Gaia, in Sheung Wan,says it has an evening of great music and dancing in store for NYE diners. Its four-course dinner menu, priced at HK$1,488 per person, presents such treats as burrata with black truffle and truffle perlage, pumpkin and ricotta ravioli, wild toothfish fillet, or veal chop with green peppercorn and porcini.
For reservations call 2167 8200
Harlan's
The New Year's Eve Count Down Party at Harlan's features a "Grand Italian Feast" of seven courses. This comprises an amuse bouche of angel hair with scampi and sturgeon caviar, Scottish salmon "three ways", foie gras and quail, risotto with lobster tail, sea bass fillet, Barolo-braised wagyu short rib or slow-cooked lamb loin, finishing with pumpkin hazelnut crumble tart (HK$1,580 per person).
For reservations call 2972 2222
Ho Lee Fook
What better way could there be to welcome 2017 than with a Karate Kid-themed New Year's Eve Banquet? It encompasses all of Ho Lee Fook's star dishes, from Mom's "Mostly Cabbage, a Little Bit of Pork" dumplings to their roast wagyu short ribs with jalapeno purée, green shallot kimchi and soy glaze (HK$588 per person).
For reservations call 2810 0860
Inakaya
Perched on the 101st floor of the ICC, Inakaya is arguably the best restaurant from which to watch the New Year's fireworks. Its NYE seasonal kaiseki menu features such treasures as teapot clear soup with tilefish, sashimi, grilled fish and crab, teppanyaki lobster, and lobster miso, finishing with Japanese melon and strawberry (HK$3,000 per person). They also have a live band.
For reservations call 2972 2666
Kaika
Teppanyaki aficionados should head to The One in TST for New Year's Eve: Kaika is having a New Year's Eve Countdown Party. For a rather reasonable $ 1,580 per person, guests get a set dinner that features dishes like teppanyaki halibut, sea bream with black truffle sauce, lobster sashimi, and of course teppanyaki wagyu.
For reservations call 2972 2888
Kitchen
The festive menu at W Hotel's Kitchen will be available on both New Year's Eve and New Year's Day, and it's a great choice for those wanting some light, fresh and interesting: their salads, for one thing, are impressive - how about the roasted corn, mint, red onion, roasted butternut squash, pepperoni piquillo and grilled artichoke with apple vinaigrette and beets salad? The lunch buffet on NYE costs HK$458 per person, while dinner (without drinks) is HK$678. Second seating, after 9pm, comes in at HK$1,288 per person, and is accompanied by free-flowing house wine, beer, soft drinks and juice. Sunday brunch on New Year's Day is HK$888 per person.
For reservations call 3717 2299
Lai Heen
Up on the 51st floor of The Ritz-Carlton, Macau, Lai Heen has the best view of any restaurant in the city. Its New Year's Eve set dinner menu is extensive, covering many Chinese delicacies: steamed garoupa fillet, snow goose with cordyceps, fish maw and mushroom, deep-fried stuffed crab shell, whole abalone and simmered lamb fillet are among the dishes that will make an appearance (1,888 patacas per person).
For reservations call +853 8886 6868
Le Garçon Saigon
NYE at Le Garcon Saigon in Wan Chai offers a "Family-style Chef's Menu" (HK$488 per person). Try Saigonese favourites like Crab Cha Gio, crispy spring rolls with a nuoc mam dipping sauce, and grilled chicken with kaffir lime.
For reservations call 2455 2499
Morton's of Chicago
Located at TST's The Elegance at Sheraton, Morton's specialises in all-American steakhouse fare and seafood. Steak enthusiasts may, therefore, want to check in around New Year, as they're having a gift card promotion: customers who spend HK$2,500 on Morton's gift cards will receive a bonus gift card of HK$500 (promotion runs until January 27, 2017; cards are valid for a year from the day of purchase).
For reservations call 2732 2343
The Optimist and Pirata
They are teaming up to put on a vintage Hollywood themed party, with three options: there's the Pre-Countdown package, which provides a standing cocktail dinner and free-flow drinks from 7-10pm (HK$888, early bird HK$688); the Ultimate Countdown Package, which is similar but lasts from 7pm-2am (HK$1488, early bird HK$1,188); and finally the drinks-only Party Package, offering free-flow drinks from 10pm-2am (HK$788, early bird HK$588)—"early birds" being those who buy their tickets via Ticketflap before December 20.
For reservations call 2433 3324
Pierre
The Mandarin Oriental's famed two Michelin-starred French eatery has plenty to tuck into for New Year. For the Eve itself, it has an eight-course dinner menu, accompanied by live piano music all evening (HK$4,988 including one glass of Dom Pérignon Champagne). Brunch on New Year's Day commences from 11am (HK$1,598 per person including free-flowing Ruinart Blanc de Blancs Champagne; add HK$1,000 for free-flowing Krug Champagne).
For reservations call 2825 4001
Portofino
Located at The Venetian Macao, Italian restaurant Portofino has a rather generous six-course New Year's Eve Menu on offer. Courses include Belon oysters, a Sicilian red prawn Vialone risotto with star anise and sage in beurre blanc sauce, and M7 wagyu, duck rillette and rabbit crepinette. The menu costs 888 patacas per person, and with wine pairing is 1,088 patacas per person.
For reservations call +853 8118 9950
Robatayaki
This classic Japanese grill at the Harbour Grand Kowloon, offers a New Year's Eve Sumo's Choice lunch menu (HK$498 adult, HK$398 child) and a set menu or a la carte in the evening with a minimum charge of HK$1,080 adult, HK$880 child. Highlights are Hokkaido crab legs, cod fish, king prawns, scallops and Hilda and Kobe beef.
For reservations call 2996 8438
Spoon
New Year's Eve diners at the Michelin-starred Alain Ducasse venture at the InterContinental can expect a lavish, eight-course dinner with accompanying harbour view. The meal costs HK$3,888 per person, but to make the most of it you'll want to add an additional HK$2,017 per person for wine pairings. The impressive wine list is something Spoon prides itself on.
For reservations call 2313 2256
T'ang Court
Executive chef of Chinese cuisine, Kwong Wai-keung, is preparing an exclusive seven-course New Year's Eve dinner at the three-Michelin-starred T'ang Court. This will comprise many of the restaurant's signature dishes, like baked stuffed crab shell and braised dried abalone with sea cucumber (HK$1,380 per person).
For reservations call 2132 7898
ToTT's
The Excelsior's ToTT's and Roof Terrace restaurant is throwing a "Shanghai lost era" New Year's Eve party, complete with four-piece jazz band, and guests are encouraged to dress up in 1930's "tai pan" or "Shanghainese lady" costume. It is offering a six-course dinner that includes Belon oysters, Margaret River marron (a type of crayfish), and wagyu tenderloin (HK$2,288 per person).
For reservations call 2837 6786
Wooloomooloo (Tsim Sha Tsui)
Start celebrating with Champagne and canapés from 7pm, with poached Brittany lobster, seared foie gras and hand chopped Grade 5 wagyu beef, and jumbo crab lump and sweetcorn chowder topped with caviar. For mains, choose from roasted seabass fillet wrapped in Parma ham, duo of Barbary duck, showcasing a whole roast breast and leg confit served with creamy polenta, morel mushrooms and port wine reduction, or grilled Australian 200-Day grain-fed rib-eye with the trimmings. To end, there is a cheese and dessert selection. The five-course menu costs HK$1,988 including the party.
For reservations call 2870 0087
Woobar
W Hotel's Woobar is keeping its funky Christmas T set running right into New Year's Day, so the peckish will be able to indulge in their tea buffet set on both December 31 and January 1 afternoons. Exciting bites range from black truffle and goat cheese sandwiches to lobster miso with pomelo and mango. And sweet treats? A crispy dark chocolate log filled with ginger crème brûlée custard, an upside down raspberry drumstick, and praline-chocolate lollipops (HK$288 per person, or HK$388 with one glass of Champagne).
For reservations call 3717 2889