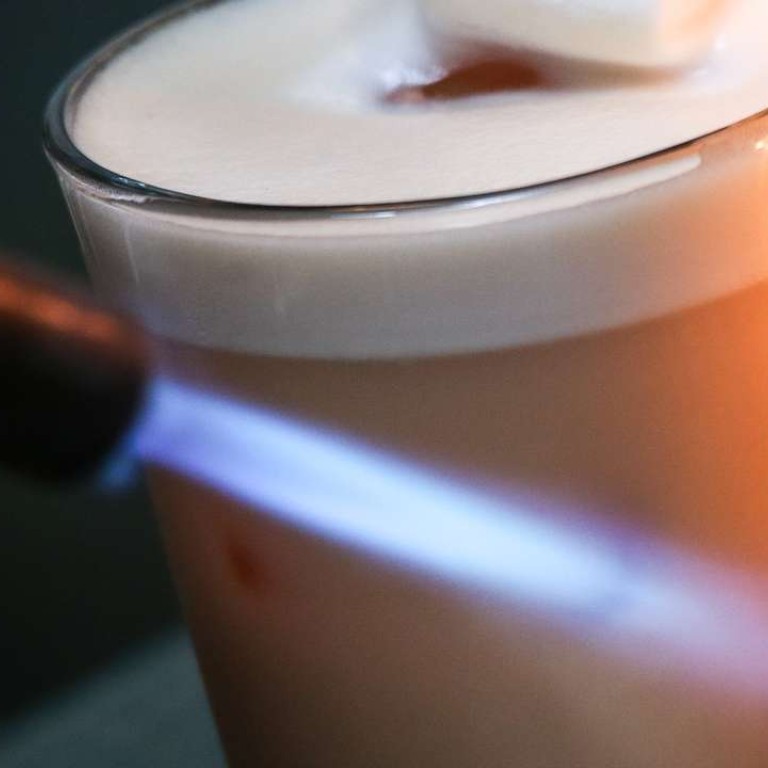 Christmas cocktails in Hong Kong offer celebration of the senses
In case the winter chill doesn't arrive, some bars have managed to infuse iced drinks with holiday cheer
Don't be ashamed to admit it – half the fun of the holiday season is drinking. That's especially true as Hong Kong's bars roll out special Christmas cocktails. With festive yet unusual ingredients, these go well beyond classic eggnog – though don't worry, there's an interesting spin on that, too.
"A Christmas cocktail is made with the senses in mind," says Borja Otero, manager of Pirata and The Optimist in Wan Chai. "The colour, the smell and the taste combined bring back warm, nostalgic feelings of home, family and festive spirit." At Pirata, Otero has prepared a spin on mulled wine called Cinnamon Spice, with red wine, cherry brandy, honey, cinnamon, star anise, cloves and orange peel.
The Optimist's Christmas in a Mug features bourbon, egg, milk, cinnamon, nutmeg, sugar and cream. "We will be serving our Christmas cocktails hot to help people get toasty from the cold outside," Otero says.
That is assuming it will indeed be cold outside, which is not a sure bet. This is Hong Kong, after all. Just in case the winter chill doesn't arrive in time for Christmas, some bars have managed to infuse iced drinks with holiday cheer. Zuma's Hansu Sour is made with Michter's bourbon, sea buckthorn, umeshu, toast, yuzu and egg white. Bar manager Arkadiusz Rybak says he developed the cocktail to get away from the usual holiday spices.
"It all started because I was looking for a new sour flavour. One of the Zuma chefs introduced me to sea buckthorn, which is a herb that is popular in Asia, especially in China and Mongolia," he says. It turned out to evoke some warm memories from Rybak's home in Poland. "I was taken back to my childhood when my father used ground sea buckthorn to make his marmalade," he says.
"I love marmalade on toast, and that is how the bread essence came into the picture."
He makes the cocktail by burning wood to fill the glass with smoke. "This brings a cookie smell to the nose as you sip the Hansu Sour," he says. "Then the refreshing, rare flavour of sea buckthorn hits, with the light touch of toasted bread essence lingering on the palate longest."
Rybak is not alone in wanting to expand his repertoire of holiday spices. The use of cinnamon, cloves, nutmeg and ginger in Christmas drinks and dishes dates back to the early days of the spice trade, when these seasonings – all of which are native to Southeast Asia – were exotic and expensive in Europe. The holidays were a time to live large, so people splurged on extravagant ingredients.
Limewood will offer a beach-inspired spin on these traditional flavours with the Sherry Flip, made with tequila, Pedro Ximinez sherry, a whole egg, absinthe, a cumin and bay leaf tincture and nutmeg. At Brickhouse, the Pisco Punch combines slow-cooked pineapple with pisco, chai masala, lemon and Champagne.
A range of other flavours evoke a festive atmosphere, too. "Normally, I like to use herbs for my festive cocktails such as ginger, cinnamon, nutmeg [and] rosemary. However, for this season I didn't do that," says Agung Prabowo, the beverage manager at the Mandarin Oriental's M Bar.
"Instead I chose to use fresh fruit and Asian ingredients such as fig, peppermint or mint, green tea and even our own rose petal jam. It makes it unusual."
Prabowo's creations for this year include the Fig & Rosette, made with fig-infused Cognac, Cointreau, fig and cinnamon syrup, lemon juice and pastry chef Yves Matthey's home-made rose petal jam. "I actually came up with this idea many years ago when I saw figs from a local market but didn't know how best to create a cocktail with them," Prabowo says. "When I joined [the] Mandarin Oriental, I fell in love with our rose petal jam. It is so very delicate. It's an unusual combination but it just makes sense."
Another new creation is the Truffle Old Fashioned, which combines black truffle-infused Cognac, syrup made from tonka vanilla beans, Angostura bitters, orange bitters and chocolate bitters, all of it stirred together in a rocks glass and garnished with a chocolate truffle and cherry orange peel.
"The idea for this cocktail began when I was in a bar and ordered truffle French fries to nibble on with my Vieux Carré," a cocktail made with rye whiskey, Cognac, Bénédictine and bitters, Prabowo says. "The taste in my mouth was quite delightful."
M Bar will offer some more traditional flavours, too, as in the mint chocolate The Grasshopper #2. And of course, it wouldn't be Christmas without some eggnog – though Prabowo's take is a notch above what you might normally drink. His recipe calls for Absolut Elyx vodka, chocolate malt and matcha, served cold in a wine glass or hot in a mug, both with freshly-ground nutmeg.


Christopher Dewolf writes about urbanism, architecture and design – along with beer and other delicious beverages