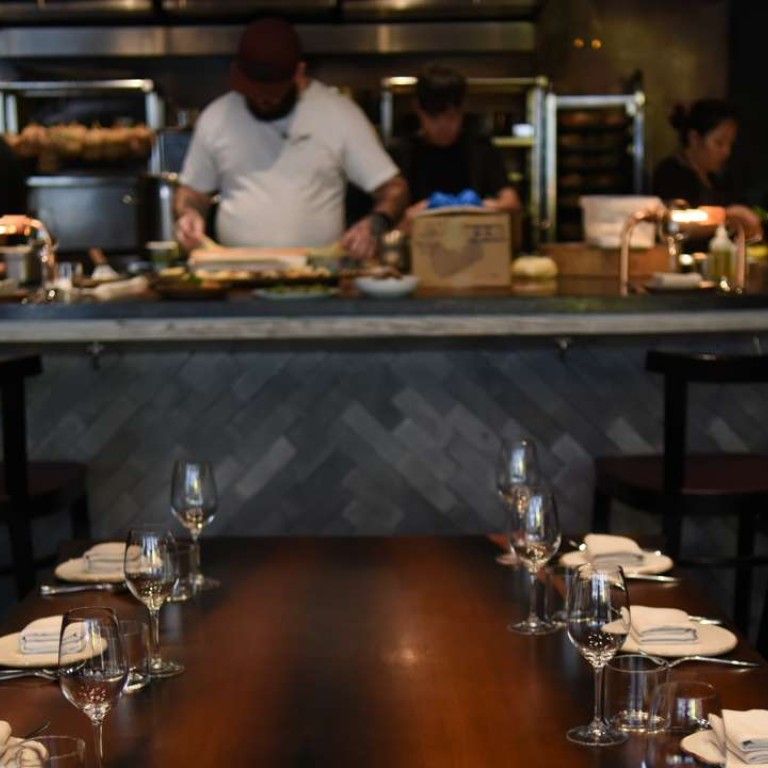 Christmas menus in Hong Kong to make the taste buds jingle all the way
Hong Kong's chef's have been going all out to ensure they bring festive cheer to the table, including Nate Green at Rhoda, Lee Man Sing at Mott 32, and Real Sze at Sabatini
How Christmas looks on three menus
To many diners, Christmas is the most magical time, andit arrives with a welcome drop in the temperature. Lights and decorations go up in our homes, streets and malls. And for those in the restaurant industry, it may be one of the busiest times of the year. We asked three chefs in Hong Kong to describe their latest Christmas menus.
Rhoda
To Rhoda executive chef Nate Green, Christmas is a time for sharing and spending time with family and friends. Many of Green's dishes have been inspired by his grandmother, Rhoda, after whom the family-styled restaurant is named.
Rhoda's traditional menu will be offered throughout the holiday season, along with several Christmas dishes. The availability of seasonal ingredients will influence what's on the menu greatly in the weeks leading up to Christmas, however.
"We have a set menu, though I do not like to do things like that," Green says. "It kind of defeats the purpose. The whole point is to have everyone sharing. But, as always, all our menus are subject to change, depending on what is available and what we have. Like, what cut of meat and other seasonal ingredients."
It's all about seasonality rather than cooking specific Christmas dishes. "Guests get fed up with Christmas menus. Yes, we use seasonal ingredients, but we use flavours of the season, rather, which dictate what we eat at Christmas anyway." This includes spices such as quince and juniper. "Quinces are bang in season now," Green says. "Persimmons are also on the menu."
Having English and Spanish influences in his cooking style, Green understands better than anyone how different cultures have different preferences for the dishes that should be included in a Christmas meal.
"A lot of different cultures eat a lot of different things," he says. "Our menu will continue to reflect the seasonality of the produce, like carrots and parsnips. It tends to be more root vegetables that lend [themselves] to dishes associated with Christmas. Already we have sprouts with bacon on the menu. The venison dishes will change up during this period … We may also do roast chicken and stuff it with chipolatas, which is an English tradition."
Essentially, though, what Green tries to accomplish is to encapsulate the spirit of Christmas, not in food but in time.
"To me, Christmas is about being together. It is not about what you eat. It's about the togetherness of sharing a meal, celebrating, spending time with your loved ones and your family. It should be about having a good time."
Mott 32
Spending precious time with family and friends is a concept that Chinese people are familiar with. In time for the festivities, Chinese restaurant Mott 32 has put its roast turkey dish back on its menu. Instead of a dedicated seasonal menu, this has become the restaurant's signature Christmas dish.
Eaten the same way as the crispy Peking duck wrapped in pancake, the culinary team at Mott 32 serves one of the best roast birds in town. Carved at the table, the whole roasted free-range turkey is served with three home-made sauces, one of which is Cantonese chef Lee Man-sing's secret turkey sauce. One whole turkey is easily shared between six people, Lee says, but there is no set rule for a minimum number of people for an order.
The rest of the meat is then served as a salad that combines fresh fruit, such as papaya, dragon fruit, melon and so on; and vegetable options, such as a lettuce-wrap dish with minced turkey served with water chestnut, mushroom and bamboo.
"This is our Chinese interpretation of the roast turkey. We were the first to serve it this way," says Lee, who earned his Michelin star when he was with the Mandarin Oriental.
Mott 32 only serves two whole roast turkeys per day, and advises diners to book the dish 48 hours in advance to avoid disappointment.
Although Christmas is not a traditional Chinese celebration, the establishment gets its fair share of foreign patrons, and to Lee, the winter holidays always mark a busy time for him and his team. "It's a shame we don't have white Christmases in Hong Kong," the chef says. "Nevertheless, it is always a time of celebration, good food and receiving gifts in all their forms."
Sabatini
No one does Christmas quite the way the Italians do. Chef Real Sze heads the kitchen at Sabatini restaurant at The Royal Garden Hotel in Tsim Sha Tsui, and his traditional eight-course Christmas dinner is infused with all the goodness of a hearty Italian meal.
His team brings fine Italian dining to the table and each dish is prepared with the utmost attention to detail. And it is not all work and no fun for these chefs during the Christmas holiday season. After all, it is the quality of the teamwork that can make – or break – a kitchen at its busiest. Sze's right-hand man, sous-chef Cheung Kam-kuen, recalls a holiday season from the past which reminded him of what Italian cuisine is truly about.
"One year, the company arranged a training session [for me at] Sabatini in Rome and I experienced a fabulous Roman Christmas, which was very special and memorable. I remember all people, including customers and staff [being] joyous. We were singing, dancing and had a lot of very good Italian wines. It was just fabulous and unforgettable."
In true Mediterranean fashion, seafood is the main theme of the restaurant's menu. This year, Sabatini has made a point of sourcing the best ingredients and produce from around the world, and its Christmas Eve Gala dinner now includes Spanish tuna tartare, Canadian crab bisque with crab ravioli, red prawn linguine, and roasted Australian wagyu striploin and Iberico pork shoulder. It is a meal meant to be memorably colourful yet simplistic in the fashion of fine dining.
"My favourite dish on the menu is the French baby sea bass with herb crust and parmesan cheese aged 36 months," Cheung says. "It is a very traditional Italian dish prepared using a traditional cooking method. The fish has a delicate texture and the herbs and cheese coating enhances the flavour of the fish." The Champagne sherbet in the middle of the meal is a delightful intermission for the palate. And if all that is not festive enough, wait until you see the Christmas tree-shaped pistachio delight that concludes the evening.