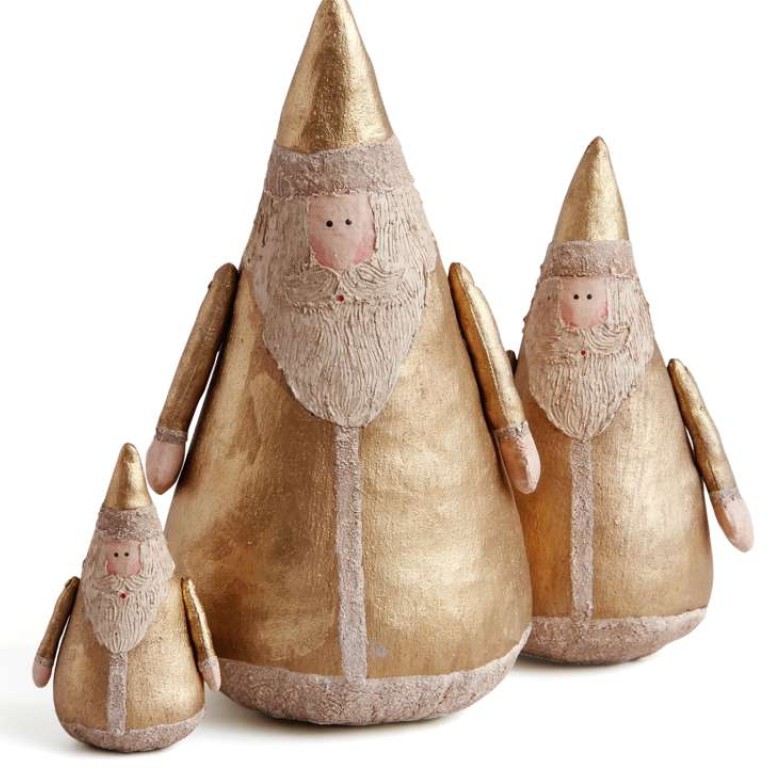 Bring festive cheer to the home this Christmas with a range of seasonal embellishments
Themes this year include hi-shine with fabrics and hi-shine with metallics and there is a vast selection to choose from
Nothing sets the scene for Christmas as much as decking the home for the season, and this year's array of embellishments promises to spread a shimmer of festive cheer everywhere. From shiny metallic shades and opulent textures to the more traditional themes, a festive-looking home is all for the taking.
Silver and gold may be failsafe colours for Christmas, but this year designers are pairing hi-shine metallics with jewel shades and luxe fabrics to dramatic effect. Tequila Kola's creative director, Michelle Koller, says metallics and velvets have made a comeback for the festive season with silver, gold and rose gold, "given a warmth and character when coupled with jewel-toned velvets".
Silver is paired with amethyst and ruby, rose gold with topas, and gold with red garnet in the outlet's collections of crockery, glassware, accessories, cushions and table linens, as well as baubles and ornaments for the tree.
The hi-shine and plush fabrics theme is also played out at Bowerbird Home, where brushed gold baubles and metallic candleholders join an abundance of faux fur soft furnishings and big, bold velvet cushions by Oscar-nominated designer Kerrie Brown, while homeware designer Tom Dixon gives a modern luminosity to hammered brass bowls and a matt finish to brass and copper table accessories that will put a sophisticated spotlight on a pared-down aesthetic. Indigo Living founder and executive chairman John McLennan says this year's metallic shades, when used individually or mixed with other key pieces, "can create a truly traditional Christmas feeling".
Another key trend takes on an ornithological theme with decorations taking on the shape and colour of birds. "This year, birds are a trend in Christmas decoration and you will see them everywhere. We are featuring peacocks and all the colours associated with these birds. This will bring a new element to the traditional Christmas look and feel," McLennan says.
Central to any Christmas celebration is the lunch or dinner and when it's done right, the table can carry the festive theme for the entire home, but maintaining balance between creating a rich and elegant ambiance without being incoherent and overloaded is an art, says Heather & March founder, Wendy Siu.
"The best tip is not to use more than three dominating colours to avoid creating distracting looks. Use good and decent looking materials; even if you manage to style the setting satisfactorily, low quality accessories can demean the effectiveness of the scene,"
Siu says. Tableware brands are reviving a 1920s, art-deco style combining gold, silver and black with circular and geometric patterns to dramatic effect in table linens with brands including Le Jacquard Francais offering bold examples of the trend.
Other key themes in tableware include more traditional, holly-decked crockery, this year given a frosted effect by brands such as Gien, while Bougies la Francaise and Cote Table have all kinds of accessories for the Christmas tree and table.
TREE gives a contemporary shape to rustic wares with white and grey ceramic crockery, while decorations include canvas Santas and snowmen, and tin trees crafted from recycled materials, "for a fun and truly festive setting," says the outlet's managing director, Kate Babington.
Ornaments can also be found at Lane Crawford, where top picks include tree decorations with a traditional-meets-modern European edge by Norwegian-Estonian brand Shishi, while one-stop-shop Eezy Peezy Parties brims with decorations including hologram print 3D stars and candles, to traditional Nutcracker-themed and red, white and green decorations.