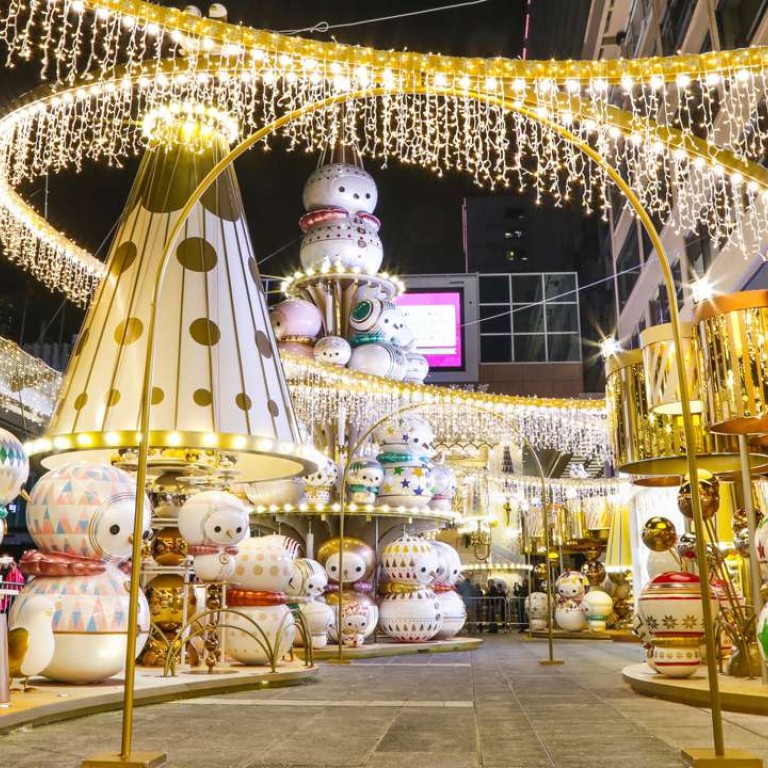 Hong Kong's malls buzz with Christmas themes, seasonal bargains and festive cheer
City's shopping centres splurge on crowd-pulling décor and sensory experiences to encourage customers to spend
Christmas is just around the corner and Hong Kong malls are buzzing, turning the city into a winter wonderland. Plan your festive shopping in our city's malls to enjoy the festive décor and gift selections; here are some suggestions.
Elements, has collaborated with 20th Century Fox and puppet maestro Ian Mackinnon to launch a "Feeling Fantastic This Christmas" programme. Fans of the Fantastic Mr. Fox film will recognise classic scenes recreated inside the shopping area, which was adapted from the classic Roald Dahl book. As tribute to the celebrated British novelist, scenes of the underground Christmas feast have been recreated. French clay artist Alexandra Bruel adds extra touches by constructing the feast of Christmas goodies that featured in the film, while Christmas melodies composed by Emmy Award-winner, Stephen Thomas Cavit, echo through the Elements' Metal Zone every half an hour. Parents and children can enjoy the Christmas Cottage in the same zone where Roald Dahl's classic stories are being read to celebrate the author's 100th birthday.
If the lack of a snow theme is a concern, head over to Ocean Terminal in Harbour City, Tsim Sha Tsui, and meet "Snowie". Harbour City's cute snowman mascot welcomes family and friends into their "Christmas Party of Snowie" until January 2, 2017. Designed in the shape of two snowballs in 32 designs, you will find over 150 Snowies, big and small, throughout the terminal, each with its "Secret Code" from 0 to 31. The biggest of them all is the 12 metre- tall Christmas tree made from different-sized Snowies. Themed "Santa is Everywhere", Harbour City has invited Finnish illustrator Rami Niemi, who has created a series of modern-day Santa Claus for all to enjoy, until January 2.
If you like chilly, head over to Times Square, which brings a hands-on experience with snow. Inside a snowy chamber, adults and youngsters are invited to slide down a small hill, build snowmen, ski and throw snowballs. The snow is provided by snow machines from France that have been shipped to Asia for the first time. Don't forget a winter jacket to keep warm. There are many more festivities on the programme, such as a Santa meet and greet every Sunday until Christmas Day, from 2pm to 5pm. In the same period each weekend, stilt walkers, nutcrackers, kung fu dancers and other performers will be present, while a flying snowman hanging inside the mall designed by Japanese illustrator Kohei Ogawa completes the festive mood.
And what is a snowy landscape without polar bears? The IFC mall has brought the North Pole indoors. They have transformed their venue into "The Polar Resort", with handcrafted arctic animals. The fluttering clouds and snow add to the installation. Special dance group Vadik and The Bears, from Minsk, Belarus, will give a festive and energetic performance.
And who says that children have all the fun? Parents can enjoy special promotions and gifts, such as a Calvin Klein Underwear Ivory Fluffy Robe, when they spend over HK$8,000, or become an exclusive CLUB ic member receiving valuable gift vouchers when spending over HK$50,000 until December 27.
Landmark Atrium in Central also has an animal theme, in bringing the circus to town. The Landmark Circus features exotic animals from around the world with Santa Paws teddy bear at the centre. Thanks to the extraordinary work of French illustrator Eric Giriat, visitors are treated to nine drawings of Santa Paws and friends showing off their amazing circus acts. Visitors can also take part in the festivities by filling in special tickets and inserting them into the Wish Machine. For every ticket, Landmark will donate HK$10 to Make-A-Wish Hong Kong and proceeds of the Landmark Circus toys and chocolates will also go to the charity.
Fashion Walk in Causeway Bay is collaborating with Japanese artist, Kaz Shirane, who is introducing his Origami Light-Art installation for the holidays. This four-metre tall Imaginative Christmas Tree, combined with nine other Christmas trees along Paterson Street, becomes an artistic expression for the festive holidays. The imaginative tree is not just for looks, it actually looks back. Fashion Walk says in order to capture customers' interactions with the installation, the latest 360-degree photo technology is used to take pictures and show them on the screen inside the complex. The exhibitors have also scheduled dance performances and workshops.
In Admiralty, Pacific Place seduces its visitors with sensory delights. Aptly calling its newest Christmas demonstration, Sensory Garden, the venue is filled with classic festive aromas such as gingerbread, sweet marshmallows, roasting chestnuts and mulled wine. Sounds of carols and yuletide cheers are also on the menu. They are inviting the public to participate in special pop-ups and workshops designed to stimulate the senses. Create your own hot chocolate, for example, with the finest chocolates Belgian Chocolatier, Frederic Blondeel, and package it to give to family and friends. Last-minute shoppers will find respite in the fact that Pacific Place has prepared a selection of personalised gifts.
Festival Walk in Kowloon Tong has traditionally had one of the tallest Christmas trees in Hong Kong. A spectacular tower of decorations that spans several floors. Santa also invites big and small to join him and his floral fairies for a photo-taking session at his Santa's Secret Garden Cottage on certain dates in December. This year's theme "Christmas Secret Garden" is created by renowned adult colouring book artist, Johanna Basford. It features the world's first life-sized 3D secret garden. So, why not join them for a secret treasure hunt in their VR Game Zone?


Tracey Furniss is a freelance writer for the SCMP. She was the former Deputy Editor, Specialist Publications at the SCMP, where she oversaw special reports and publications, and was editor of Good Eating magazine, Christmas magazine and 100 Top Tables – an award-winning executive dining guide. Before joining the SCMP, she was a television journalist and an award-winning documentary filmmaker, digital editor and travel writer for a host of international publications such as Fodor's, Arthur Frommer's Budget Travel and Passport Newsletter.