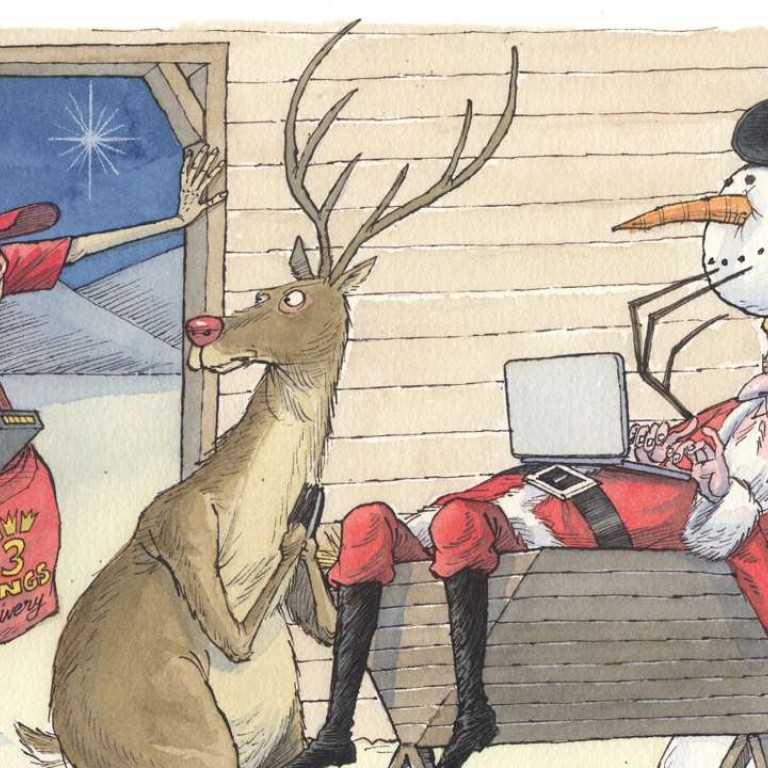 Christmas is less rosy cheeked, thanks to e-cards, Instagram-friendly malls and hotel buffet dinners, especially in Hong Kong
In this changing world, seasonal festivities are undergoing technological twists and tradition is quickly going out of fashion
The world is changing, technology is changing, and Christmas is changing too. The merry images many of us have of traditional celebrations are fast fading into scenes from old Hollywood movies and nostalgic Coke commercials. You know the images – jingle bells ringing among houses strung up with lights as cherubic types with rosy cheeks serenade with carols while a gentle blanket of snow falls.
Maybe these Yuletide ideals never existed. I mean, how often have you roasted chestnuts on an open fire? What started as a sacred religious day is now a crucial economic indicator and travel hub on the calendar. I dare say, Santa Claus has supplanted Jesus as the celebrity ambassador for December 25.
That's just how our world is now. For better or worse, we're more secular, less governed by religious authority. People believe in science and Darwin. God might have lost his street cred, but we still like the inspiring tale of Jesus' birthday. That's why Christmas is so appealing.
But traditions and tastes are changing. It used to be that Christmas music was just church choirs and Bing Crosby. When Crosby did that duet with David Bowie, it was positively radical. Then other pop stars like Paul McCartney and Wham! came along with Christmas hits. At the time, people criticised them as commercial attempts to cash in. Now I bet you call them classics after hearing Mariah Carey's All I Want for Christmas is You for the 800th time in a store.
Customs are also evolving. We used to receive Christmas cards in the mail. Now, they're as rare as a payphone with a dialer. Instead of cherishing personalised cards that friends and family took the time to write, put in an envelope, paid for a stamp and stuck in a mailbox, now we get blasts of e-cards, where we click a link and marvel at a gif. If it's really cute, we may save a copy on the hard drive. If it's not, well, just delete.
The intimacy and heartwarming touch of a card you place on the mantle or stick on the fridge is not quite the same when it's an email or a text. Most e-cards aren't even that sentimental. They usually consist of a silly animation and snarky greeting. They're not designed to make us feel affectionate, but to engage us ironically in the antiquated ritual of wishing someone "Merry Christmas".
In tropical Hong Kong, where winter wonderland is an anachronism, holiday celebrations have their own unique characteristics. Forget making snowmen in the yard, even 15 degrees Celsius is too cold for some people. That's why we take extended holidays around December 25. A lot of families wish each other "Merry Christmas" from a beach in Bali and "Happy New Year" at a Phuket resort.
As for our tiny apartments, who has room for a fir tree with tinsel, decorative balls and a star? Just stick a plastic wreath on your door and go out to absorb the lights and sounds of the season at your favourite mall instead.
No self-respecting shopping centre these days will neglect creating elaborate and Instagram-friendly displays to dazzle and attract customers. It's the new retail convention around the world and very fitting for Hong Kong. What's more warm and cosy than to be packed among a festive crowd sharing good tidings of selfies?
Of course, the most important aspect of Christmas is to be together with family. In the past, that meant a feast at home with a large turkey and all the trimmings. But who really wants to slave in a cubicle kitchen like a domestic Bob Crachit?
Hong Kong's preferred Christmas dinner option is to make a hotel buffet booking. For many families, it's practically a custom now. Mum doesn't have to cook and clean, everyone gets to eat what they want, and the kids can run around all they want and no one can say anything because you're paying a stiff premium for these holiday meals.
For Chinese families who consider Lunar New Year the year's main festival, Christmas is a curious time. Its social role is actually flipped opposite from Western countries. There, Christmas is a quiet time to nestle at home. We have Lunar New Year for that, so Christmas Eve is a night to party with friends, hang out in Causeway Bay, and do a bizarre midnight countdown in Tsim Sha Tsui.
In Asia, celebrating Christmas also has another subtle cultural significance. It's actually a way to demonstrate one's worldliness. Santa Claus, Rudolph and a baby manger here and there represent cosmopolitanism and, in fact, an embrace of cultural diversity. Celebrating Christmas in Asia says we are a tolerant and inclusive city. We're okay with foreigners and we wholeheartedly embrace these exotic festivals of theirs. Just don't make us drink their

weird eggnog.


Andrew Sun has dabbled in many shades of the media spectrum for 25 years, from college radio, TV, print and online columnist to starting film festivals, managing music labels and authoring food books. Someday he will figure what he wants to be when he grows up.