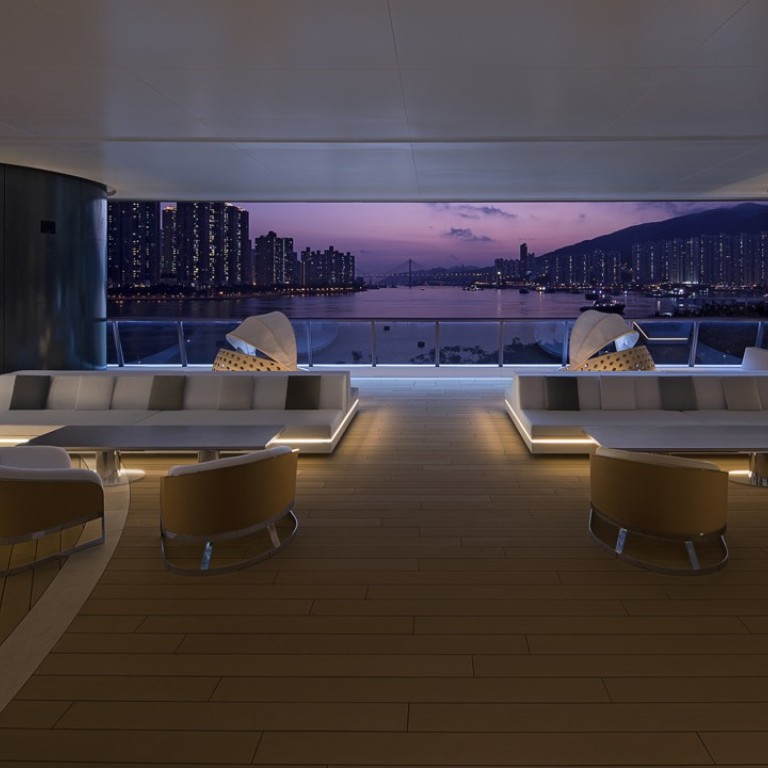 Landscaped green environs, spacious recreation facilities and the promise of good education are driving up the interest in modern developments in Tuen Mun, Tsuen Wan and Yuen Long
With its relative low density compared with Kowloon and Hong Kong Island, and continuous improvement in connectivity with the rest of Hong Kong and the mainland, New Territories West has quickly become a popular choice among young couples and families, and thus a hotspot for edgy property projects that cater to their desire for leisure and lifestyle.
One of the most recent projects is Le Pont in Tuen Mun, which is part of New Territories West along with Tsuen Wan and Yuen Long.
Launched by real estate developer Vanke, the project has generated such great interest in the market that its first batch of 347 pre-sale units were all sold on the first day, at the beginning of October. The project offers 1,154 units, including one- to three-bedroom flats and town houses.
Apart from competitive pricing, which averages around HK$11,075 per sq ft, slightly lower than the HK$11,000-15,000 per sq ft second-hand property price range in the district, the market was also attracted by the green concepts included in the estate's design, which was a refreshing break from the opulence of other upmarket projects.
True to the meaning of its French name, which translates as "bridge", Le Pont features a unique sky bridge, designed to imitate a hiking trail.
Offering panoramic views of its surroundings, the bridge connects the rooftops of the five towers in a way that highlights and enhances its unique architectural contours. The sky bridge also comes with pockets of elevated gardens, where residents can enjoy leisure activities.
A kilometre-long private, green jogging trail also runs through the estate, which has dedicated 30 per cent of its area to green landscaping, featuring almost 60 species of plants. These outdoor features also complement the expansive, 32,000 sq ft indoor clubhouse, which continues the nature theme with natural wood and stone.
With access to education often a key deciding factor, Le Pont will also house the York Montessori International Pre-School (Tuen Mun), which adopts a methodology emphasising learning through exploration. The developer is setting set up a scholarship to subsidise the school fees for residents and their relatives.
Having been awarded the Gold rating under the BEAM Plus New Buildings scheme by the Hong Kong Green Building Council, Le Pont features a variety of eco-friendly features, such as solar panels and a rainwater collection system. It also has its own apps, which allow residents to book clubhouse facilities, issue QR codes to visitors, and check on the upkeep of the residence.
"We want to provide the ideal home, community, and service to our residents at Le Pont," says Quincy Chow, director of sales, marketing and customer relations department at Vanke. May Chan Rhodes
"Most of our target buyers are young couples and families. That is why we have also taken education into account."
Situated in the So Kwun Wat area of Tuen Mun, Le Pont is a short drive from Harrow International School and the upcoming Mount Kelly School Hong Kong, next to Tuen Mun highway. Overlooking lush mountains and sea, it is also inside the "one-hour living circle" of the Greater Bay area, thanks to the newly-opened Hong Kong-Zhuhai-Macau Bridge.
"We are positive about the long-term development of the property market. The latest unemployment rate in Hong Kong is just 2.8 per cent, and the government is expecting an overall economic growth of 3 to 4 per cent for 2018," says Chow.
"The interest rate in Hong Kong remains low despite the rate hikes.
"These are all favourable factors to support the property market."
Tsuen Wan is another hotspot for new homes with edgy designs. The Pavilia Bay, an up-market project by New World Development that is 15 minutes' walk from Tsuen Wan West station, is a good example.
As part of the Pavilia Collection under what the developer dubs "artisanal movement", Pavilia Bay is designed by the renowned international French superyacht designer Philippe Briand, and is every bit as fanciful as the boats that inspire its many features.
Briand, who has designed over 12,000 boats in his award-winning career, said the aim of the residential project is "to always please the eye and be the pride of her owner".
From the sleek facade, spiral staircase and thematic designs such as "the bridge" and "flagpole" that are meant to replicate the decking of a superyacht, to a marine-themed swimming pool and children's play area, Pavilia Bay is indeed a visual feast.
And, indeed, it is a feast that the market has already eaten up, with 99 per cent of its 980 units sold, netting a total of
HK$10.2 billion, selling between HK$20,000 to over
HK$28,000 per sq ft.
In September, a record deal was closed when a Chinese buyer bought a 421 sq ft, one-bedroom flat with sea views on one of the top floors for HK$12 million.
The definition of luxury living can be different for everyone, and New Territories West definitely has plenty to offer in terms of style and new living concepts.