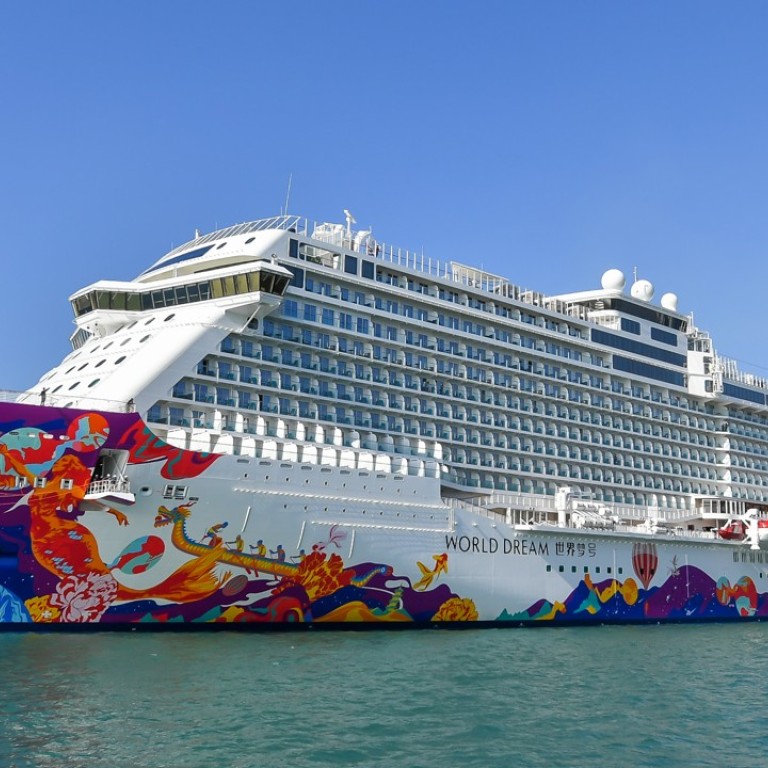 World Dream's maiden voyage is coming of age for Hong Kong's Kai Tak Cruise Terminal
Hong Kong Chief Executive Carrie Lam says her government is determined to build on strong foundation for further development of cruise tourism in the region
Hong Kong has strengthened its position as a regional cruise hub with the arrival of one of the most luxurious cruise ships – World Dream, which was christened and set sail on its maiden voyage last Friday from the Kai Tak Cruise Terminal.
Speaking at the christening ceremony, Chief Executive Carrie Lam Cheng Yuet-ngor said World Dream represented a milestone in Hong Kong's rise as a cruise ship hub. "It will be the first mega cruise ship to be christened here and it will also be the biggest cruise ship to call Hong Kong its year-round home.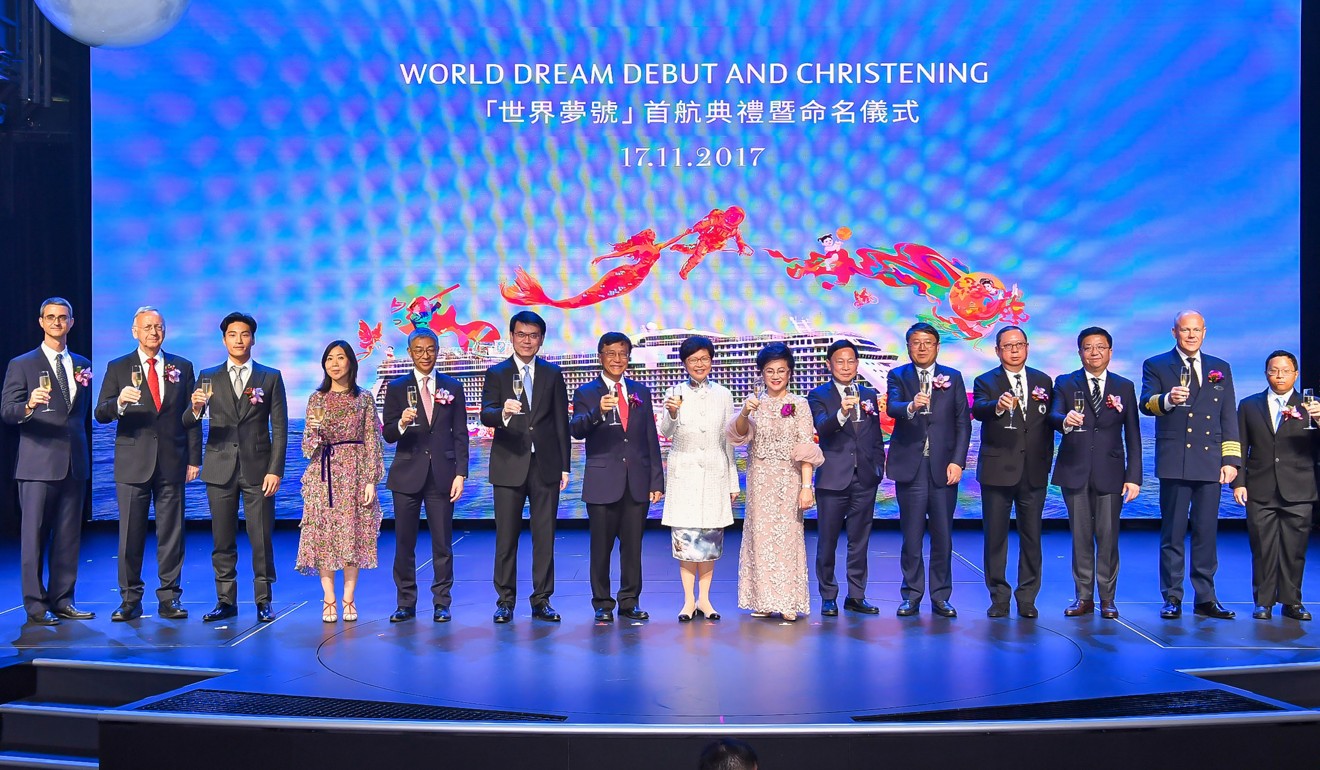 "This speaks of the importance Genting Hong Kong attached to the Hong Kong market and Hong Kong's ability to appeal to the regional and international cruise ship lovers."
Lam said cruise tourism in Hong Kong had been expanding rapidly since the Kai Tak Cruise Terminal opened four and a half years ago, and the number of cruise ships calling into Hong Kong will reach an all time high of about 250 this year, with passenger throughput hitting a record 850,000.
"My government is determined to build on that strong foundation for the development of cruise tourism, and we are confident we can continue to provide the best environment for cruise lines to sustain a healthy business growth here," she added.
Purpose-built for the Asian and China markets, World Dream is the second mega cruise ship after Genting Dream, which was launched in November 2016 by Dream Cruises, as part of Genting Hong Kong.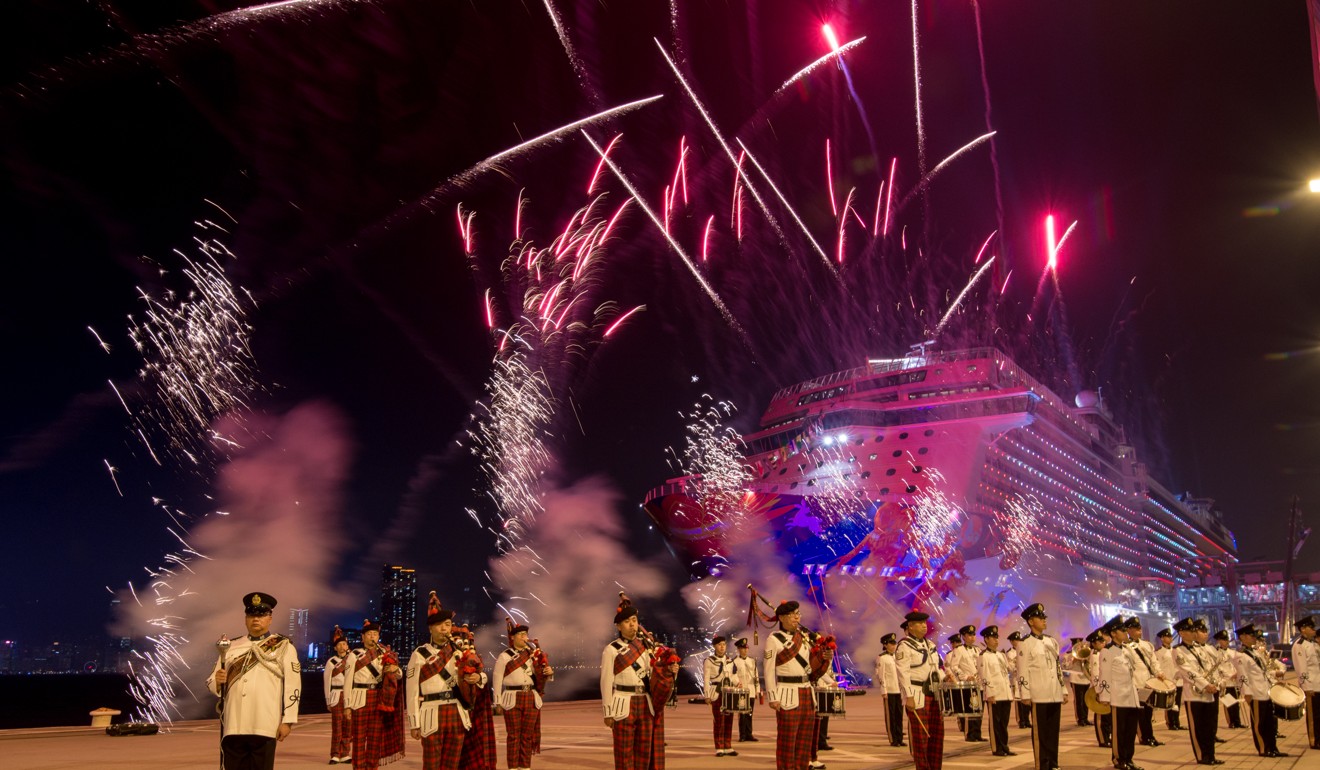 Speaking at the same occasion, Lim Kok Thay, chairman and CEO of Genting Hong Kong, said the company pioneered the Asian cruise industry 24 years ago with the founding of Star Cruises at its headquarters in Hong Kong. "With the arrival of Genting Dream in the Pearl River Delta a year ago, she has delivered over 300,000 international passenger trips from across the region. Hundreds of jobs have been created and tourism receipts in hotels, airlines and destination management industries for the Pearl River Delta have grown significantly," he said.
Lim stressed the importance of Hong Kong to Genting Hong Kong and the cruise industry in the Asia-Pacific, and reiterated the company's commitment to showcase the city and grow the Pearl River Delta region
into a world-class, cruise destination hub.
"As a well-developed port city, Hong Kong is strategically located to promote China's 'Greater Bay Area' initiative to link the major cities in the Pearl River Delta into an integrated economic and business centre," he said.
According to Dream Cruises, World Dream was designed to deliver an international cruise experience with Asian characteristics. The new ship will double the company's capacity, and allow it to offer a broad spectrum of multigenerational programmes and facilities to better meet the needs of affluent and independently-minded Asian travellers. In addition to serving the high-end market in the region, the ship will appeal to large families and the growing meetings and incentive markets.
Built by Meyer Werft in Germany, the 18-deck World Dream has a gross tonnage of 150,695 tonnes and is 335 metres long and 40 metres wide. With a capacity for over 3,376 passengers, it will be one of the most luxurious cruise ships in the region. Over 70 per cent of its 1,686 staterooms feature private balconies, including over 100 connecting rooms catering to extended families and groups.
World Dream's international restaurants include an upscale steakhouse for meat lovers and a seafood concept featuring a fresh seafood market display counter. It will host its own wine and dine festival at sea.
The ship offers bazaars and duty free shopping at a range of luxury shops and boutiques, including Tiffany & Co., and a beauty bar. Its leisure and entertainment facilities include an outdoor plaza in the pool area, one of the largest indoor virtual reality and game areas at sea with Vesaro car racing simulators, a laser show and other entertainment options. There is an integrated medical and European spa facility with a dedicated doctor to administer beauty treatments.
World Dream features the Dream Cruises' Dream Palace 'ship within a ship' concept, offering two floors of luxury suites with elegant and spacious interiors. Guests can enjoy concierge service by English and Chinese-speaking butlers. The all-inclusive Dream Palace experience will include a range of privileges and entertainment options.
World Dream begins services from its dual bases in Hong Kong and Nansha, Guangzhou.
For the current winter season from November 2017 to March 2018 (departing every Sunday from Hong Kong), the ship offers a 6-day/5-night voyage to Manila and Boracay in the Philippines, alternating with a 6-day/5-night cruise to Ho Chi Minh City and Nha Trang in Vietnam. In addition, it will offer weekend holidays from Hong Kong to the South China Sea.
Her twin sister ship Genting Dream has been deployed at her new base in Singapore with new itineraries to North Bali and Surabaya in Indonesia, Kuala Lumpur and Penang in Malaysia, and Phuket in Thailand.