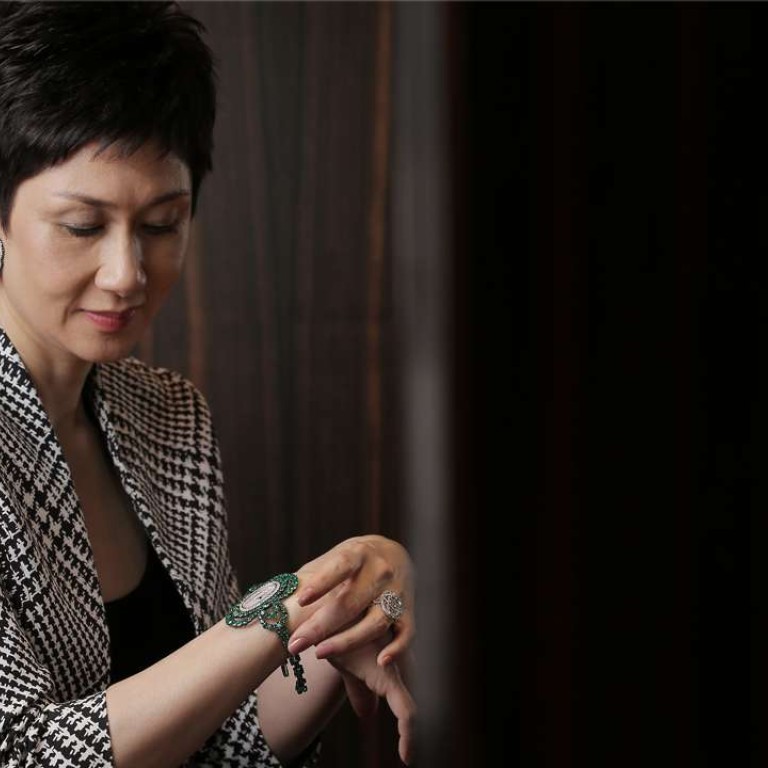 Hong Kong's philanthropist and bespoke jewellery designer Michelle Ong treats time as an ally
Perfectionist says it is impossible to imagine her life without her wonderful family, creative work at Carnet and charitable work for First Initiative Foundation
Michelle Ong does not mince words or actions when things need to be done. The philanthropist and bespoke jewellery designer uses her time wisely, but doesn't shy away from taking years to finish an exquisite piece of jewellery. She is also a strict disciplinarian who doesn't let time stand in her way.
Known for her philanthropic endeavours and her jewellery enterprise, "Carnet by Michelle Ong", Ong explains how nearly three decades of efforts led to her starting First Initiative Foundation seven years ago.
"I worked for more than 25 years for a variety of worthy causes. My charitable work here allows me to see some areas which I felt needed further development. This inspired me to start a foundation with the focus on uplifting Hong Kong and a special emphasis on education, culture, creativity and international outreach. I was also fortunate enough to have a wonderful group of friends who wanted to support my vision. You could say it was a perfect time."
Keeping pace with a successful jewellery business and a packed social calendar comes naturally. "I grew up with a mother who showed me that a woman could have a demanding career and still be a great mother," Ong says. "So it seems impossible to imagine my life without my wonderful family, my creative work [at] Carnet and my charitable work for First Initiative Foundation."
Ong says these three touchstones keep her balanced. "And when you love what you do and feel fulfilled you will find enough minutes in the day."
Ong is not a big fan of surprises and always tries to be prepared. Creative spontaneity is fine, but she wants to be as precise as possible when it comes to the execution. Carnet's jewellery and timepieces' refined designs reflect this. Her relationship with time is uncompromising; treating it as a great ally. "Time gives us the opportunity to move forward creatively, to achieve new things, to make our mark and contribute to the world in which we live. As a perfectionist, I prefer to concentrate on artistry and quality in my pieces, so that I do not let time command me."
Ong prioritises different areas in her life. When she spends time with her family, she makes sure there are no external distractions and that she is totally devoted to their time together. It is not always easy, she admits, "but it is important".
Ong, an avid traveller and foodie – she has a soft spot for chocolate and gourmet food – doesn't deprive herself of moments with her closest and dearest. She describes her perfect day as: "I would sleep in and go to my dance class around 11am. Have a fabulous chef's table lunch with my children. Spend a few hours at Carnet – you know how much I love to create my jewellery. Meet with members and stakeholders to discuss First Initiative Foundation's next project. Have a great dinner, and go home to watch a movie with my family and friends." LHC


Hill Choi Lee is a commissioning editor at SCMP's Specialist Publications covering business and lifestyle. Prior to joining SCMP, she wrote on Southeast Asia's financial and corporate legal markets in Hong Kong, and was previously digital editor covering environmental stories in London. Hill Choi speaks four languages, has a Master's degree in international law with international relations and a Bachelor's degree in communication and media studies.