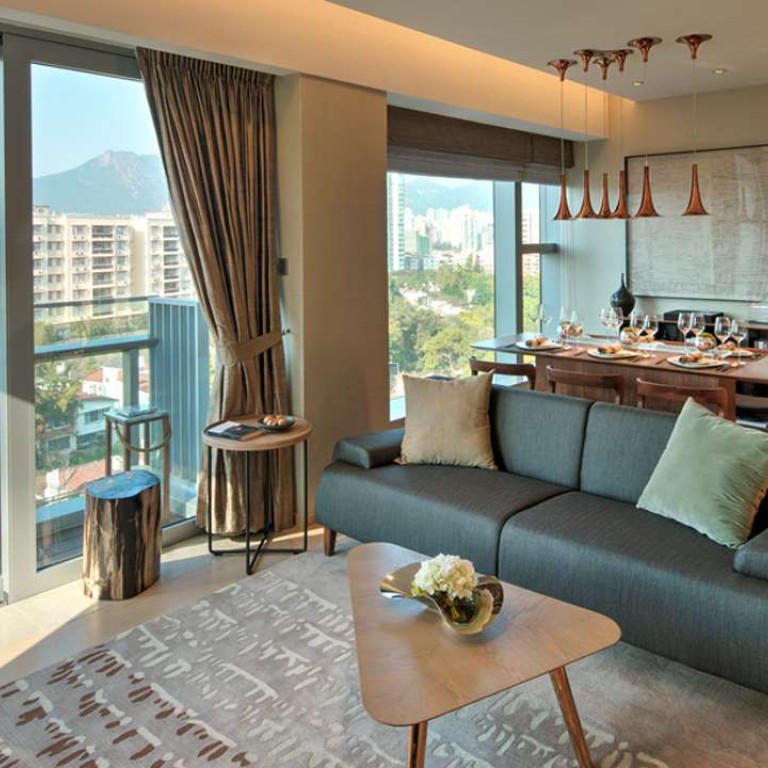 New residential developments in Mong Kok and Ho Man Tin are proving popular with singles, families and buy-to-let investors
Convenient and well-serviced area is becoming increasingly gentrified as more old tenement buildings are pulled down to make way for slick new housing projects
What is possibly the most densely populated area on the planet, Mong Kok, with its bustling streets crowded with hawkers and thousands of shoppers, is dominated by shopping malls, boutique hotels, commercial buildings and older apartment blocks.
In recent years, though, several new residential developments have arisen on sites previously occupied by decades-old crumbling tenement buildings.
Set on the relatively quiet Nelson Street, MacPherson Place was redeveloped from the Macpherson Stadium and was completed in 2012. A landmark in Mong Kok, the complex rises 30 storeys high atop a shopping arcade and consists of 293 homes configured with 293 sq ft to 1,805 sq ft of living space.
During the past 12 months, MacPherson Place recorded 27 deals in the secondary market at prices ranging between HK$17,200 and HK$22,300 per square foot, according to the Land Registry. In September, a 688 sq ft apartment on the 18th floor of the building changed hands at about HK$12.2 million, or about HK$17,783 per square foot. Many of the smaller units, including studios, were bought by young families and buy-to-let investors.
Quite a number of other buyers are non-Hong Kong residents and frequent travellers, as they find it convenient to live in Mong Kok, where restaurants and shops, scattered throughout the streets, open until late at night, says Janny Chan, a senior district sales director at Midland Realty.
On the same street not far away from MacPherson Place is Skypark, a single-block development that forms part of the Sneakers Street regeneration scheme. The project is scheduled for completion and occupation in the first quarter of 2017. As its name suggests, the building boasts a spacious landscaped rooftop garden that is open to all occupants.
The building offers small apartments, measuring 309 sq ft to 463 sq ft, with about 90 per cent of the layout mix made up of studios and one-bedroom units. According to the Land Registry, 396 units were sold by mid-September, at an average unit price of HK$16,708 sq ft.
On Mong Kok's outskirts, in neighbouring Ho Man Tin, the Argyle Street residential areas of Peace Avenue, Victory Avenue, Soares Avenue, Julia Avenue and Emma Avenue are fast transforming into a hip new neighbourhood with the addition of various newbuild apartment complexes in recent years.
Now standing on Julia Avenue is the recently completed 3 Julia Avenue project built by Phoenix Property Investors. Out of the 67 units (655 sq ft to 1,887 sq ft) available, at least 57 were sold at an average price of HK$19,660 per square foot by early September, according to the Land Registry. Another almost finished project nearby is One Victory, located at 1-3 Victory Avenue, comprising 63 units (350 sq ft to 1,300 sq ft). All homes there have been sold at an average price of HK$18,000 per square foot.
The latest offering in this gentrifying neighbourhood is Seven Victory Avenue, being built by Henderson Land Development. Earmarked for completion by the end of 2018, the single-block project comes under the micro-apartment category with its 250 units configured at just 161 sq ft to 389 sq ft, including units with two bedrooms, one bedroom, and mini-studios smaller than 170 sq ft. The first batch of 68 units was released for sale early this month with a price tag of HK$20,493 per sq ft on average, or about HK$3.7 million to HK$ 8.1 million after discounts.
Over the past few years, a number of redevelopment projects around the Victory Avenue area have come on stream, beginning with the sale launches of the Kadoorie Lookout and 3 Julia Avenue developments two years ago. Restricted by the size of the redevelopment site, most of them are geared towards smaller homes that cater to the strong demand for conveniently located pads, says Jeffrey Wai, a senior sales director at Qfang.com.
Owing to the smaller lump sum required and availability of top-up mortgage plans, the smaller apartments prove to be popular, especially among first-time buyers, single persons, and of course buy-to-let investors who often snap up the units as they are easier to rent out, he adds.
In the coming years, more redevelopment projects in the area are expected to be in the works. Savills is now inviting developers to make bids for a portfolio of properties, including the 85 per cent ownership of a building at 9-11 Liberty Avenue, 95 per cent ownership of the neighbouring building at 13 Liberty Avenue, 94 per cent ownership of a building at 5A-5D Victory Avenue, and 10 residential properties at 4A-4D on Liberty Avenue. The submission of tenders will close at noon October 27, according to the property consultant.
This article appeared in the South China Morning Post print edition as: Bustling area gets gentrified