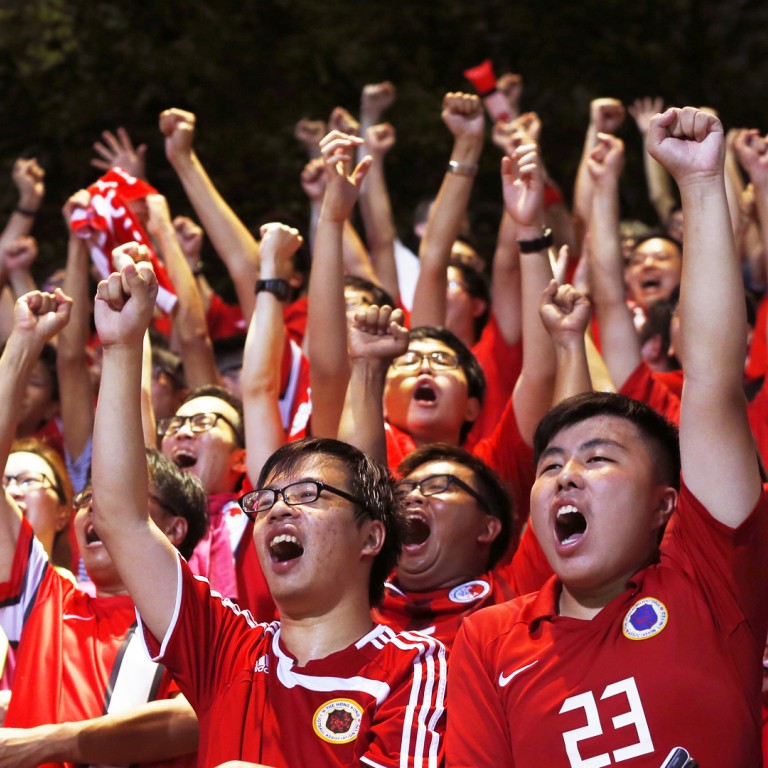 China soccer fans furious as thousands of Hong Kong supporters boo national anthem
World Cup tensions look set to ramp up even higher after mainland fans watching on CCTV5 see Hongkongers jeer March of the Volunteers
Hong Kong and China's World Cup qualifying match-ups look set to be even more heated affairs after mainland netizens reacted angrily to footage of a packed Mong Kok stadium booing the national anthem before Thursday night's 7-0 win over Bhutan.
Given the political situation in the SAR, the games – in Shenzhen in September and Hong Kong in November – between "big brother" and "little brother" were already set to be the stage for fierce rivalry.
But judging from online reaction, fans on the mainland who watched the game on CCTV were far from impressed to hear the majority of the crowd boo the March of the Volunteers before the game.
While the crowd remained silent and respectful for the Bhutan anthem, they erupted in jeers and boos  for China's.
Mainland reporters who went to Hong Kong to cover the match as preparation for China v Bhutan on Tuesday were astonished at the fans' reaction, and many netizens reacted angrily.
One fan from Guilin commented on Sina Sports, "Hong Kong people gave an insult to the national anthem, team China must do a good job" while another from Gansu recommended nothing less than immediate invasion, saying "Hong Kong is nothing, just destroy it".
Others blamed the Hong Kong education system, saying "there were problems with Hong Kong education a decade ago and those born in the 1990s do not know anything about patriotism and never be thankful".
Another comment from Guangdong simply said "get out, Hong Kong separatists" while another said  he "looked forward to see team China beat Hong Kong 7-0".
On Weibo, the tone was much the same. 
"Even if you have no good feeling for the country, the country has done nothing bad so that you need to boo the national anthem. There should be a basic respect," wrote one commenter
"If we are not from the same family, why should we move into the same house? It would be better we say goodbye to each other," said another.
"Go ahead! so that our people can understand the real Hong Kong," said another.
Hong Kong face the Maldives on Tuesday, with the match already sold-out, then don't play again until the September 3 showdown against China. Hong Kong Football Association chairman Brian Leung Hung-tak was worried a similar situation may occur at Hong Kong's second qualifying match against Maldives at Mong Kok Stadium on Tuesday, but admitted it would be difficult to stop the fans.  "We can only urge them not to do so," he said.
"We should respect any national anthem, not just China's," said Leung. "This is a basic requirement in a civil society. More importantly, we are in Hong Kong and this is part of China. The fans' reaction to the national anthem is intolerable.
"I know there are people who dislike China but we were attending a sports event and should have  at least the sportsmanship of respecting others."
Two years ago, Hong Kong fans booed the Philippine national anthem and were accused of making racist and discriminatory comments.
Fifa fined the HKFA 30,000 Swiss francs (HK$256,000).