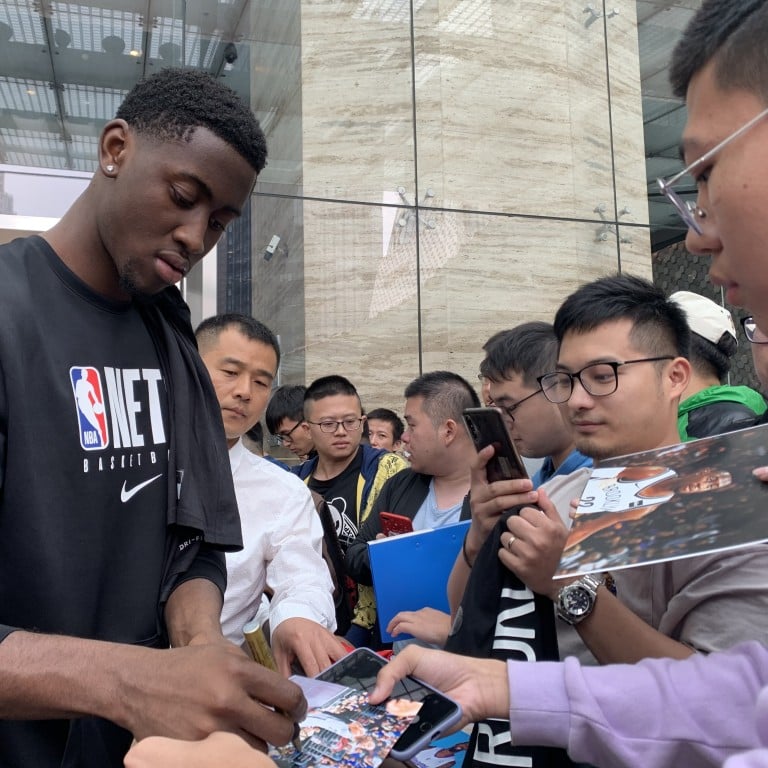 Brooklyn Nets' NBA community event in Shanghai abruptly cancelled by government as China political storm rages on
The NBA franchise was expected to engage in a community development event in Shanghai on Tuesday
Event was cancelled at short notice with no explanation offered
Organisers were forced to cancel an NBA Cares Brooklyn Nets community event hours before it was scheduled to take place in Shanghai on Tuesday.
The Nets were set to make an appearance at the New World Experimental Primary School in Shanghai in a court refurbishment ceremony, however a few hours before, the NBA abruptly sent out an email stating the event was cancelled.
Sources have confirmed that the event was cancelled by the government and not the NBA. NBA China said they would keep media updated on the fate of Wednesday's event, another NBA Cares fan event at the Oriental Sports Centre.
The Nets are then scheduled to play a double-header against the Los Angeles Lakers in Shanghai on Thursday and on Saturday in Shenzhen.
This is the latest development in a furore that began last Friday when Houston Rockets GM Daryl Morey fired off a tweet indicating his support for the protest movement in Hong Kong, which he later deleted.
The backlash from China was swift. The Chinese Basketball Association (CBA) and several Chinese companies suspended cooperation with the American franchise.
Chinese sportswear brand Li-Ning, Tencent's online sports channel, and the club's sponsor in China, Shanghai Pudong Development Bank, each called for the NBA team to give a clear response on the matter.
Morey backtracked on his statement on Monday when he apologised for any offence caused, but the damage was done.
On Monday, Rockets talisman James Harden sought to minimise the damage when he apologised and underlined the team's "love" of China.
"We apologise. We love China," he said, standing alongside fellow Rockets guard Russell Westbrook.
"We love playing there. Both of us, we go there once or twice a year. They show us most support so we appreciate them."
Later on Monday, the NBA issued its own statement, saying it recognised Morey's views "have offended so many of our friends and fans in China, which is regrettable."
"While Daryl has made it clear that his tweet does not represent the Rockets or the NBA, the values of the league support individuals' educating themselves and sharing their views on matters important to them," the statement issued by chief communications officer Mike Bass said.
But a Chinese-language version of the statement posted on Weibo went further, saying the NBA was "deeply disappointed by the inappropriate remarks".
In the United States, the NBA found itself under fire for its apology, which presidential candidate Beto O'Rourke, a Texan, called "an embarrassment."
"The only thing the NBA should be apologising for is their blatant prioritisation of profits over human rights," he tweeted.
Hong Kong has been battered by four months of increasingly violent pro-democracy protests.
The rallies were ignited by a now-scrapped plan to allow extraditions to the mainland, fuelling fears of an erosion of liberties in Hong Kong under the 50-year "one country, two systems" model China agreed before the 1997 handover from Britain.
Additional reporting by Agence France-Presse