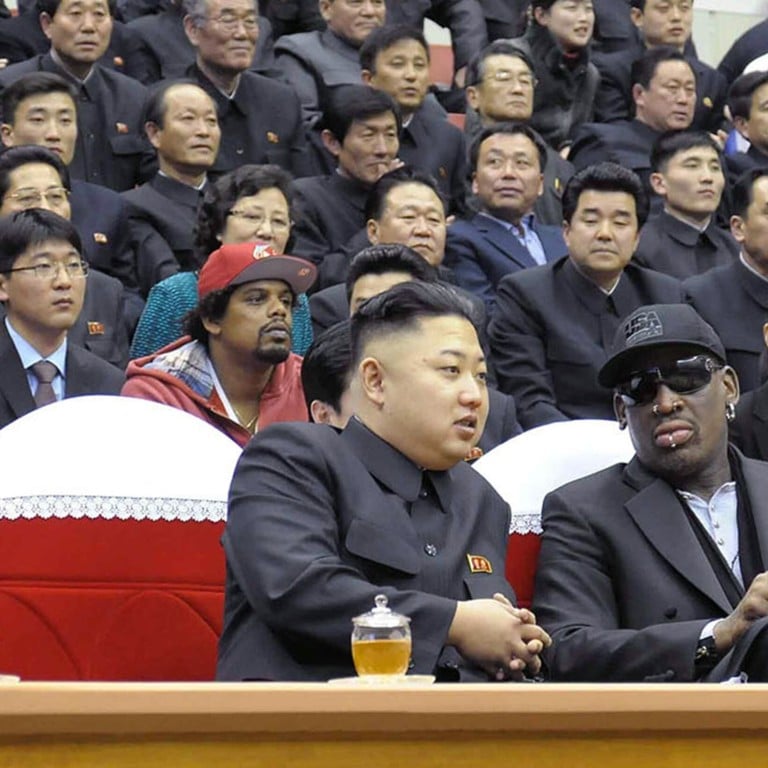 Dennis Rodman, Kim Jong-un and Donald Trump: the adventures of an accidental ambassador
Chicago Bulls veteran back in Netflix's The Last Dance but no mention made of trips to 'friend for life' Kim Jong-un
The Apprentice star was 'top three for Nobel Peace Prize' before later backing Donald Trump to win
It is said that there are only two men in the world who have met both Donald Trump and Kim Jong-un. One of these two also has five NBA championship rings.
That is Dennis Rodman, the self-styled "bad boy" of the late '80s and early '90s basketball scene for the Chicago Bulls, San Antonio Spurs and Detroit Pistons. The other is South Korean national security adviser Chung Eui-yong, who has no basketball career to speak of.
Rodman is back in the spotlight as a key figure in the ESPN-Netflix documentary The Last Dance, which focuses on the chase for his fifth, and the Michael Jordan-led franchise's sixth, NBA crown in 1997-98.
Episode three of the 10-part documentary introduces the rebounder extraordinaire and his infamous individualism, with coach Phil Jackson describing Rodman as "different".
Playing third man to Trump and Kim, just as he did to Jordan and Scottie Pippen with the Bulls, was just the latest extraordinary episode in Rodman's life, which already included dating Madonna and heading off to Las Vegas midseason for a "vacation".
While the 6'8" former basketballer knows Trump from their time on "The Apprentice" – where Trump sacked Rodman for spelling his wife Melania's name wrong – it was his '90s sporting heyday that first brought him to the attention of the North Korean leader.
At the time Kim Jong-un, who was born in 1984, was known under the false name of "Chol-pak" or "Pak-chol" while studying in Switzerland at the International School of Berne, according to Swiss weekly L'Hebdo. There is even a photo reported to be of him wearing a Bulls jersey with Rodman's No 91 (it's actually his brother Kim Jong-chol).
His former schoolmates told The Washington Post in 2009 that they "recalled he spent hours doing meticulous pencil drawings of Chicago Bulls superstar Michael Jordan".
Kim had apparently been introduced to the Bulls and the NBA in general by his babysitter (and his father's cook) Kenji Fujimoto. The Japanese chef has also told some fascinating tales about life under Kim Jong-il in interviews and a memoir.
Rodman first visited North Korea in 2013, making the trip with a reporter from Vice magazine and three of the Harlem Globetrotters, who played mixed practice sessions and exhibition games with locals described by Vice as "North Korea's 'Dream Team'".
He has made several trips to the country over the years, most recently in 2017 and 2018. On one of them in June, 2017 – a trip that had "nothing to do with the White House", according to Rodman – he took Kim a copy of Trump's "The Art of the Deal", which he passed to sports minister Kim Il-guk. The sports minister told Rodman, "we feel that you are an old friend".
His first visit, for a HBO Vice show, coincided with the roll-out of North Korea's 3G mobile network, so Rodman tweeted along the way. "It's true. I'm in North Korea. Looking forward to sitting down with Kim Jung-un. I love the people of North Korea," he wrote.
While "the Worm" becoming the third man in US-North Korean relations was surreal, it had echoes of actor David Hasselhoff calling for the Berlin Wall to come down.
Rodman was never actually meant to go to North Korea, according to the ESPN "30 for 30" documentary "Rodman: For Better or Worse" in 2019.
After Rodman was approached to play an exhibition game and sign some autographs for fans, a regular for former NBA players, his agent Darren Prince got to work. However, Prince did not know there were two Koreas and the problem was only realised later by manager Steve Simon.
"He looked at me and goes, 'You idiot. That's South Korea. Let me see this contract'," Prince said in the documentary. "So I showed it to him, and it said Pyongyang, North Korea. And he goes, 'You cannot send Dennis to North Korea. Do you understand what type of place this is?'"
Rodman was in the dark until he arrived in Beijing.
"No one informed me about North Korea," Rodman told Yahoo Sports. "I just thought we were going for a basketball game and do autograph s***. That was it. I was so blind, man."
By the end of the trip, during which Rodman sat next to Kim to watch the basketball while eating sushi, "The Worm" had declared Kim a "friend for life" to the packed gymnasium in Pyongyang. The quote made headlines around the world, as did his others praising Kim over the years.
Rodman spoke of his friendship with Kim to Yahoo Sports after that trip. "We got along so well. Basically how we kind of communicated was because of sports," Rodman said.
"I never knew anything about politics, the things about the army, the missiles, the nuclear stuff. I didn't ever talk to him about that. I just talked about sports with him. He loved that."
Nevertheless, Rodman was widely criticised in the media for visiting the Hermit Kingdom because of "the army, the missiles, the nuclear stuff".
This reached a fever pitch on his return ahead of another basketball game, where "The Worm" was to coach a team of North Koreans to play against former NBA players in a trip backed by bookmakers Paddy Power.
"A lot of people in America don't approve of what I've been doing. But that's not my problem," he said before his December 2013 trip to scout the locals.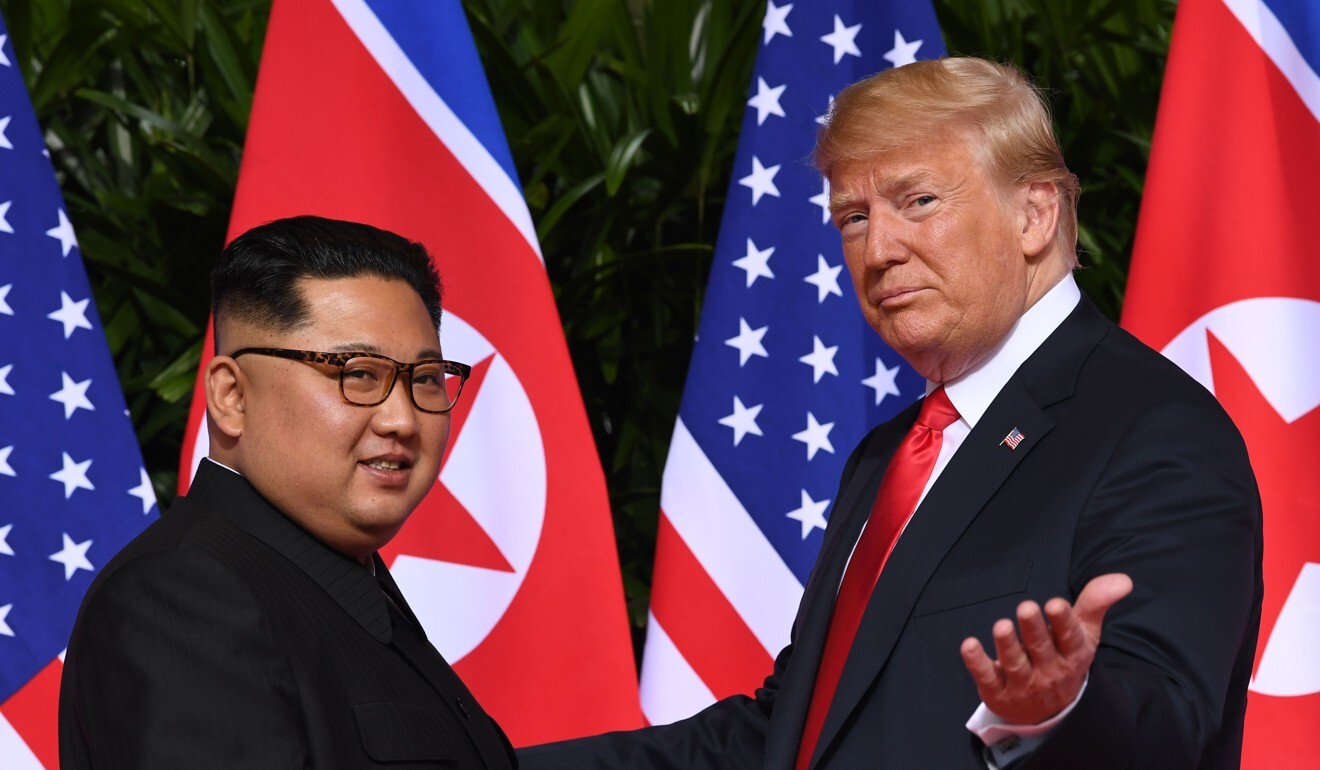 "I am sorry. I am not the president. I am not an ambassador. I am Dennis Rodman," he said at Beijing airport after returning from his fourth trip in 12 months. "Just an individual, just showing the world the fact that we can actually get along and be happy for one day."
Those trips were filmed for another documentary Dennis Rodman's Big Bang in Pyongyang. Director Colin Offland recalled how strange things got in North Korea.
This was the trip where Rodman infamously (and reportedly drunkenly) sang Happy Birthday to Kim and ranted in an interview with CNN in which he told them "I love my friend".
Rodman, who had struggled with alcohol issues during his playing days, began drinking heavily and was behaving erratically.
"When he was going off I was thinking 'Oh my god, we're at the mercy of Dennis' behaviour here much more than I'd anticipated'," Offland told NK News in October, 2015.
Irish bookmakers Paddy Power pulled out but the game still went ahead. "I've been to European Cup finals, World Cup finals, some of the biggest sporting events ever," Offland said. "I've never experienced that atmosphere before. It was hair-raising, that feeling was absolutely incredible."
Offland thought at the time of the interview that it was not likely Rodman would be back – "Well, unless Donald Trump gets into power… you never know," he said. "Dennis and Donald are tight." Rodman supported Trump for president in 2016, with Trump thanking him.
The director was proved right, even if Trump poured cold water on the idea when Rodman suggested he meet Kim.
The NBA Hall of Famer had suggested that Trump and Kim should meet back in 2014 (the same year Rodman was investigated by the US Treasury for giving Kim luxury gifts), which the reality television star shot down.
"Dennis Rodman was either drunk or on drugs (delusional) when he said I wanted to go to North Korea with him. Glad I fired him on Apprentice!" Trump wrote on Twitter on May 8, 2014.
By that point, Rodman had already claimed his role as the third man in international relations.
"My mission is to break the ice between hostile countries. Why it's been left to me to smooth things over, I don't know. Dennis Rodman, of all people. Keeping us safe is really not my job; it's the black guy's job," he told Sports Illustrated in 2013, referring to then US president Barack Obama. Rodman was not done there.
"But I'll tell you this: If I don't finish in the top three for the next Nobel Peace Prize, something's seriously wrong," he said. There was no mention of whether Rodman did finish third to joint 2014 winners Kailash Satyarthi and Malala Yousafzay.
Rodman has been overlooked in the years since, despite playing some role in getting Trump and Kim to meet at a historic summit in Singapore in June, 2018.
Last year he said that he wanted to help Trump win the Nobel Peace Prize for brokering peace with North Korea, in a letter to the president that he shared on Twitter ahead of bilateral talks in Hanoi.
"You are on the cusp of a big, beautiful deal. One that would make you the frontrunner for a Nobel Peace Prize without question. You have my forever and forever support!"
Now reports suggest we are on the cusp of something else, with Kim's health reportedly in decline and some rumours claiming he had died. Rodman responded to them in an interview with TMZ Sports.
"I hope it's just a rumour that Marshal Kim Jong-un is sick," the unofficial ambassador for North Korea said. "Hopefully, I will find out more soon."
Help us understand what you are interested in so that we can improve SCMP and provide a better experience for you. We would like to invite you to take this five-minute survey on how you engage with SCMP and the news.