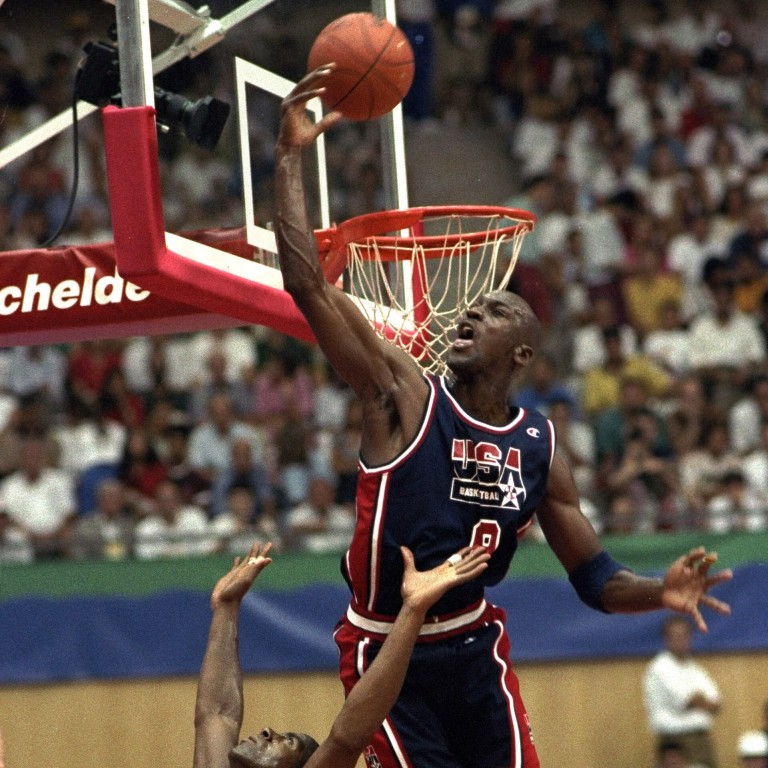 Michael Jordan's 1992 Team USA Olympic practice session proves best sport is behind closed doors
Chicago Bulls star says 'Dream Team' scrimmage in Monte Carlo gym before Barcelona Olympics is his favourite ever game
'The Greatest Game No One Ever Saw', which featured 10 future Hall of Famers, is revisited in The Last Dance
Before Michael Jordan there was Magic Johnson and Larry Bird. They were basketball's two biggest stars in the 1980s, with Johnson's Los Angeles Lakers often going head to head with Bird's Boston Celtics for the NBA title.
Bird was arguably the bigger draw – he was half of the 1983 video game Dr J vs Bird: One on One and its 1988 follow-up Jordan vs. Bird: One on One. 
Jordan was a massive commercial draw himself by that point – and had the Nike contract to prove it – but he was not an NBA champion.
Johnson and Bird were the men that Jordan mentioned as the benchmark and he finally joined them when his Chicago Bulls beat Johnson's Lakers in the 1991 NBA Finals.
Jordan would go on to win five more, with the last of them the subject of the Netflix and ESPN documentary The Last Dance .
"His Airness" would reach a higher level than both Johnson and Bird and he continues to cast a shadow over those that followed him in the "Greatest of All Time" conversation – the late Kobe Bryant and LeBron James.
There is no debate about who is the greatest – it's Jordan – but there is a question of whether we actually saw him at his greatest.
Despite those highest of heights – the 69-point game, the Herculean dragging of his team to victory and winning MVP in all six appearances in the big dance – was there something more?
Johnson has hinted that there was in a story he told on US talk show Jimmy Kimmel Live in 2016 and he revisits in The Last Dance.
The 12-time All-Star told Kimmel of a team practice for the US in Monte Carlo before the 1992 Olympics in Barcelona.
The "Dream Team", who would go on to win gold, featured 10 future Hall of Famers and they were going at it five-on-five with Johnson's team leading before he made the mistake of trash-talking Jordan.
"If you don't turn into Air Jordan, we're going to blow you out today," Johnson said.
Enter "Air Jordan".
He nailed three after three while looking Johnson in the eye before sealing victory with a 360 dunk over the 2.16m tall San Antonio Spurs centre David Robinson.
"The best game I've ever played in," Jordan told NBA TV in 2012, while five years later Johnson told them how Jordan walked into the dressing room afterwards to tell Bird and Johnson that "there's a new sheriff in town".
Perhaps it is no wonder that Jordan loved it so much. Not only did he win but he reportedly approved every single squad member – hence no Isiah Thomas – and the game has taken on mythical qualities over the years, which Johnson recounted in The Last Dance.
"The Greatest Game Nobody Ever Saw" was how Sports Illustrated described it in 2012, with Jordan saying: "It was the most fun I ever had on a basketball court."
"Best game I ever played in. In a sense that no coaching ... referees, not really, and you had 10 Hall of Famers playing against each other," he told NBA TV.
"How many times you going to get that to happen in the game of basketball? When I say 10 Hall of Famers, first ballot Hall of Famers, that's not even a question.
"The way we competed and our desire to sweat and trash talk and all the beautiful things about the game of basketball was illustrated in that one particular game."
With sport about to go behind closed doors, it seems apposite that the focus is now on a game in a practice session that was actually behind closed doors. It also makes the case that we fans have never seen the best of the best – that has been reserved for those taking part.
Rumour has it that Eric Cantona announced himself to English football with a goal in a training game where he scored from halfway on the full volley as the ball dropped over his shoulder. Similarly, Jordi Cruyff was said to be as good as his father on the training pitch, but never in matches.
Autobiographies are packed with such peaks behind the curtain but we can only imagine the training sessions of the Guardiola Barcelona team in five-a-side, or several of the Ferguson-era Manchester United sides, or the Brazil team that won the 1970 Fifa World Cup.
Pick any great team in any sport and the likelihood is that we have never seen – and will never see – the very best of them as it was on the training pitch.
There is a tape of that 1992 Dream Team game and while we wait for live sport to return that is exactly the type of thing to fill the gap.
Help us understand what you are interested in so that we can improve SCMP and provide a better experience for you. We would like to invite you to take this five-minute survey on how you engage with SCMP and the news.