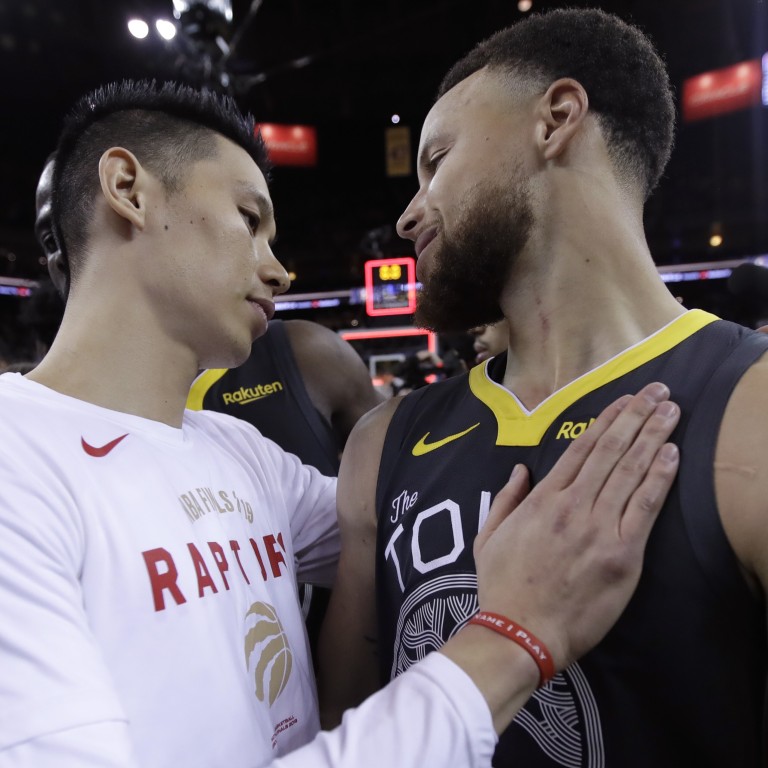 NBA: Jeremy Lin fuels talk of Golden State Warriors return with Steph Curry workout
NBA champion pictured working out with a number of Golden State Warriors players, including former teammate and NBA MVP Curry
Former Beijing Ducks star has been linked with a return to his hometown team who signed him as an undrafted rookie in 2010
Jeremy Lin has stepped up his NBA comeback attempt with a gym session with Golden State Warriors star Steph Curry.
Lin has been linked with a return to the Warriors, the team that signed him as an undrafted rookie out of Harvard in 2010.
Instagram posts picturing the 32-year-old playing with two-time NBA MVP Curry and other Dubs players, including Eric Paschall, Kevon Looney, Marquese Chriss and Alen Smailagic.
The images have further fuelled rumours that Palo Alto-native Lin is in line to return to the team he supported as a boy and who gave him his first NBA chance.
Posted by Jordan Jimenez, the action took place at the University of San Francisco, according to NBC Sports Bay Area.
Lin played just 29 times in his sole season at the Warriors before moving to the New York Knicks and his "Linsanity" breakout, but he made a lasting impression on teammate Curry, who Lin played backup to.
"I knew he'd last in the NBA," Curry told ESPN in 2012, just before Lin signed for the Houston Rockets as a free agent from the Knicks.
"He's a great talent, he works hard, he gets better every day you see him. But nobody could expect once he got an opportunity to start and play significant minutes that he would over-exceed everybody. I'm happy for him.
"Nobody saw how much work he put in his rookie year and even over the summer before we had to release him."
Last season, Lin played with the Beijing Ducks in the Chinese Basketball Association after receiving no offers in free agency after winning the NBA championship with the Toronto Raptors. Lin's Raptors beat Curry's Warriors in the Finals.
Lin called time on his CBA career in the summer, declaring that he wanted to chase his NBA dream.
"This isn't about chasing the shadow of Linsanity. Or proving anyone right or wrong. Or about money, fame, reputation or power," the 32-year-old wrote on Instagram after first revealing his decision to Chinese fans on Weibo.
It has been pointed out that Lin's presence at the session, which takes place ahead of the new NBA season, could be based on convenience.
The Bay Area native has been back in northern California since leaving China.
Free agency is set to open on November 20, following the conclusion of the 2020 NBA Draft.