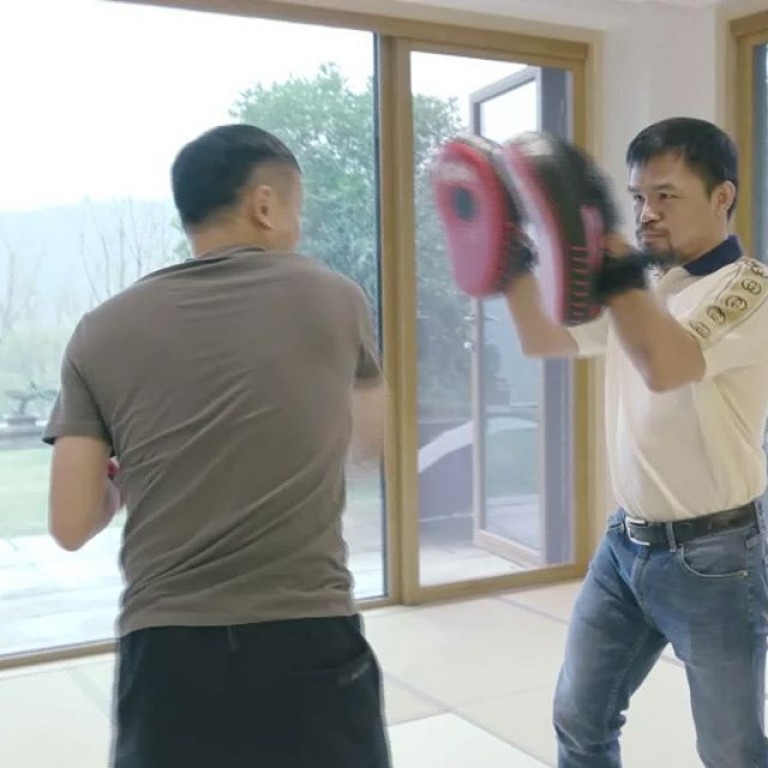 Manny Pacquiao posts video of Jack Ma sparring with him, challenges Floyd Mayweather to a fight
Philippines icon posts a 27-second video with the Alibaba co-founder throwing punches as they mock the unbeaten American
China's richest man and the fighting senator shared time together in Hangzhou in their second meeting of the year
Manny Pacquiao and his new buddy Jack Ma have posted a joint video mocking Floyd Mayweather Jnr, with the Filipino boxing icon saying his friend was the "Real Money Team" while challenging the unbeaten American to another fight.
Pacquiao posted a 27-second video of him sparring with Ma, the multi-billionaire Chinese co-founder of Alibaba, with Ma throwing punches at the Filipino star, who was holding mitts to the sound of rock music. Segments of the "spar" were sped up to give the video "more punch" and the clip included closed captions.
"Floyd Mayweather if you want a real fight, fight me, if you want an exhibition, my guy, my friend Jack Ma will take care of you. The Real Money Team," said Pacquiao in the video, which was posted on Sunday evening and mocked Mayweather's The Money Team. The post received almost 170,000 views an hour after it was posted.
Ma, whose Alibaba Group owns the South China Morning Post, said in the video: "Yeah, I'm ready, anytime, any place, Manny's team is ready."
"Yes, that's right," replies Manny. In Pacquiao's latest Instagram post, he simply writes "Message to Mayweather!" as the Filipino up the ante to get the American to return to the ring again and fight him a second time.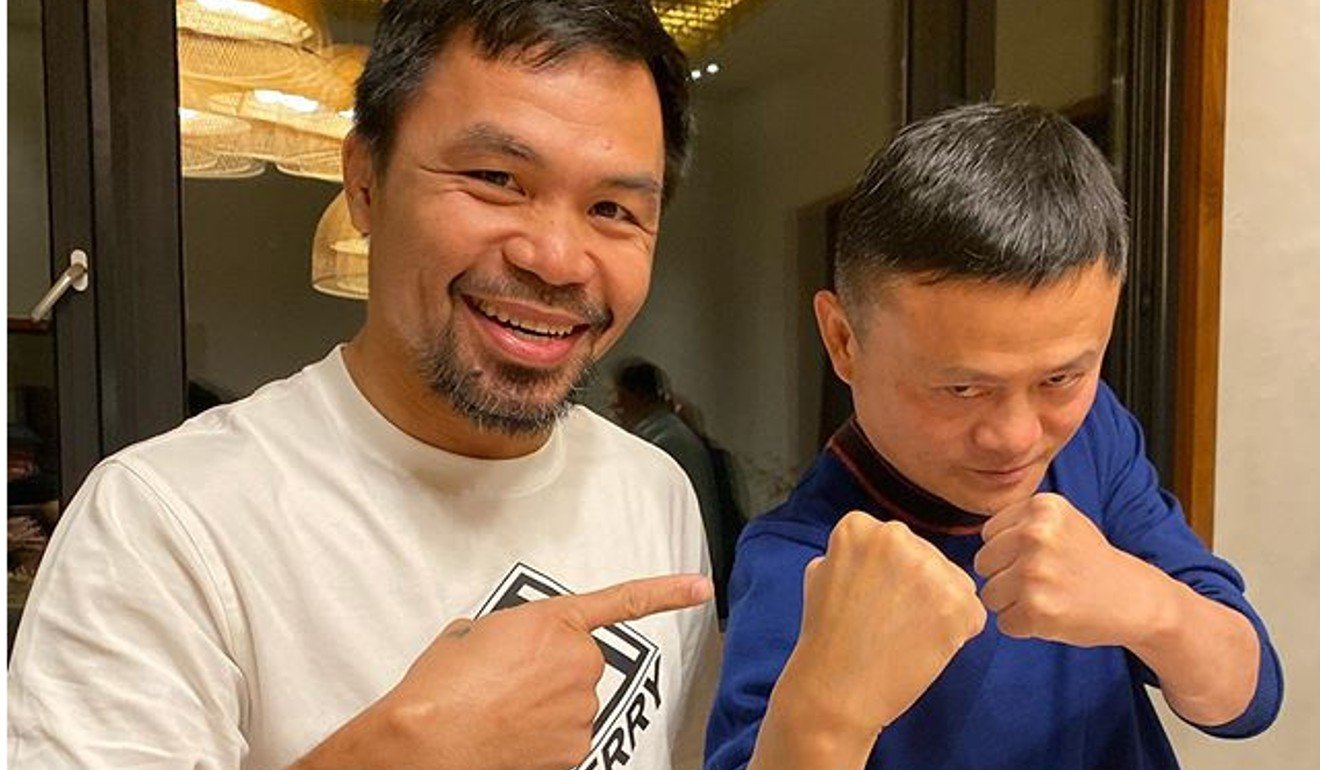 Pacquiao has been trying to coax the 50-0 American legend out of retirement after their 2015 clash in Las Vegas ended with "Money" winning by unanimous decision.
The eight-times division world champion, who outclassed Adrien Broner in January before winning a split-decision victory against Keith "One Time" Thurman in July, is riding high on confidence and wants another money-spinning fight against Mayweather, who has not fought since beating Japanese kick-boxer Tenshin Nasukawa in a farcical exhibition bout last New Year's Eve near Tokyo.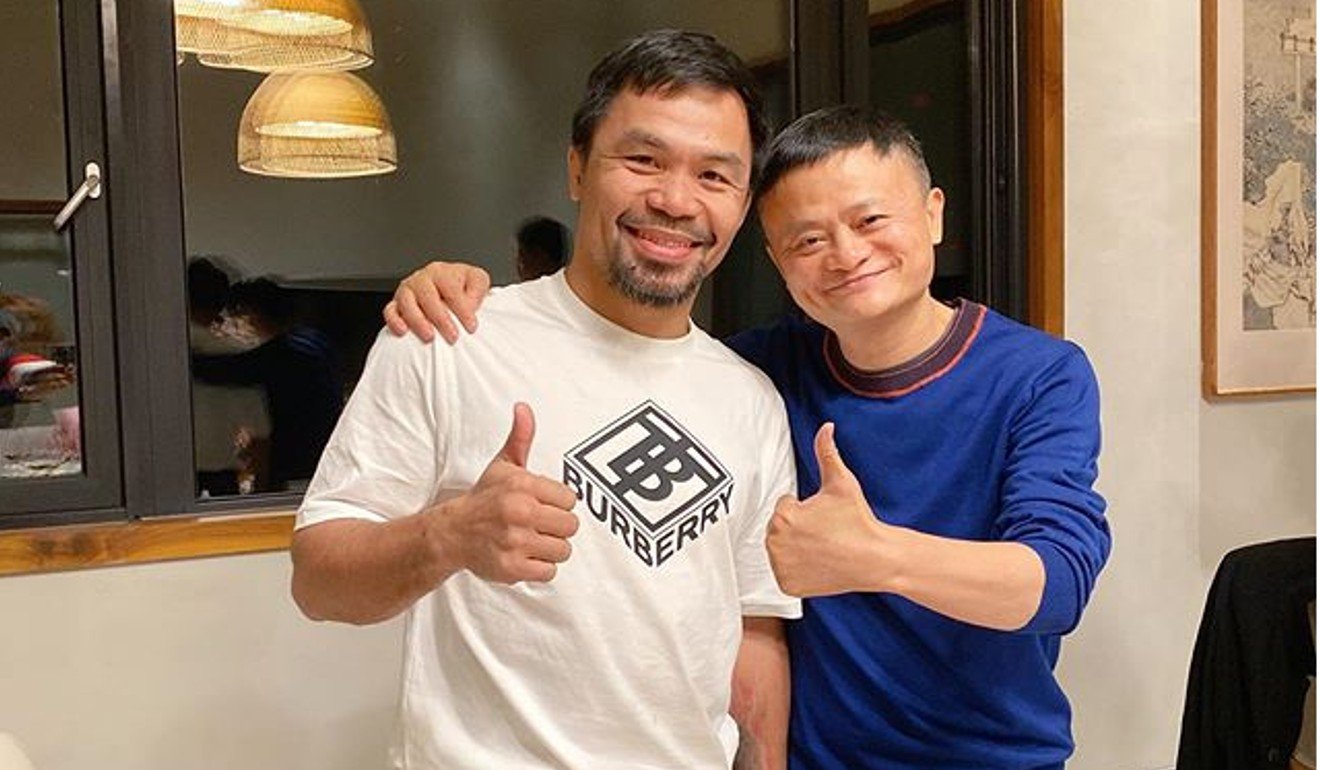 The Philippines fighting senator met Ma for the second time this year in Hangzhou, where they shared a meal together over the weekend. Ma, who is China's wealthiest man and is ranked 21st on the world's rich list by Forbes with a net worth of over US$38 billion, presented the 40-year-old Filipino with golden microphones in the Chinese city, where they sparred and created a video – specially created for the 42-year-old Mayweather.
During their recent dinner, Ma rang up martial arts superstar Jet Li Lianjie and the three of them did some FaceTime together. Ma and Jet Li worked together in the 20-minute kung fu movie
Gong Shou Dao
in 2017. Pacquiao and Ma
first met in Hong Kong in January, sharing a glass of wine
in a harbourview hotel and their friendship has blossomed ever since.