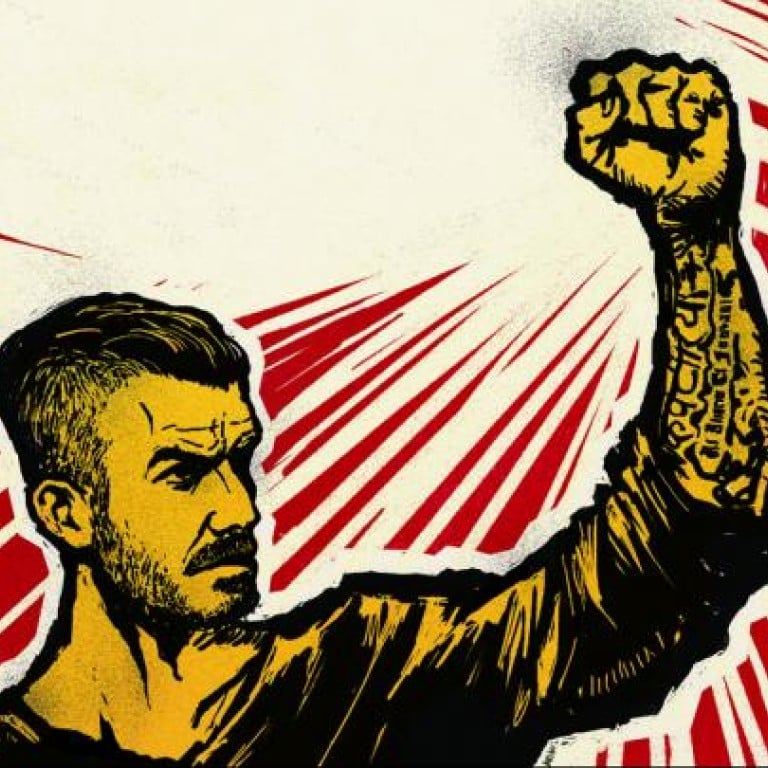 Mend it like Beckham: but what will soccer superstar actually do for Chinese football?
Football is broken on the mainland with the standard of play poor and corruption rife. The authorities are now hoping the former England captain can help them repair the damage but cynics say his role as a paid 'ambassador' is more hype than substance
He has formed attacking partnerships with some of the greatest players to ever grace a soccer field throughout his illustrious career. Now veteran star David Beckham has raised millions of Chinese eyebrows and a few wan smiles by lining up alongside the Beijing government to overhaul China's wretched soccer scene - but what exactly is he going to do and what is it hoped he will achieve?
The former Manchester United and England stalwart, who recently signed with Paris Saint-Germain from Los Angeles Galaxy, has been appointed China's Global Ambassador for Football.
His "history-making" role is to spearhead an image makeover that would make his wife, Victoria, proud.
He is to travel three times to China during the course of the recently started Chinese Super League in its 10th anniversary year.
Starting with a week-long visit at the end of this month, he will attend matches and visit clubs to help promote the game to children. For an end-of-season finale, he will captain a foreign XI to play a domestic team in November.
Most importantly for the mainland government, he will talk up the Chinese game on the international stage and try to convince the world - as well as the long suffering Chinese football fans - that the sport is on the mend and preparing to break into the big time.
The state-run Chinese Football Association and state broadcaster CCTV helped broker the deal with global sports, fashion and media conglomerate IMG Worldwide, which has Beckham on its books.
Top officials including the new president and avid football fan Xi Jinping are hoping Beckham's magic dust will fall in bucket loads and blow enlightenment into the seedy shadows of the country's most watched sport. It is the latest initiative in a three-year push by the government to chisel out corruption and restore faith in the game, but so deep and widespread is the rot and so disbelieving are fans of government promises and policies, the CFA clearly believes only outside assistance can bring credibility.
Beckham's status as one of the most admired sportsmen and iconic figures in the world is undeniable.
Yet his appointment is being junked by cynics in China and elsewhere as just another Brand Beckham marketing exercise designed to make him and all those riding the bandwagon handsome profits. It has failed to impress football fans and pundits.
Even Xinhua waded in, asking: "He is coming to sell his image instead of actually playing. How can he represent the league? Do we need him?"
Professor of sports public relations and communications at Beijing Sport University, Bi Xuemei, told the media not to expect too much. "It's just a drop in the ocean. It's a positive step, but it won't do much to save the broken face of Chinese soccer as effectively as some people think," he warned.
A football fan on Sina Weibo asked the million-dollar question: "What exactly is he going to do?"
Repeated attempts to ask Beckham personally about his plans were stonewalled by his "people".
"He's too busy settling into PSG. He will hopefully take some questions at a press conference when he travels to China on his first trip," his publicist, Simon Oliveira, told the .
Beckham's presence will not be enough to wipe the cynicism ingrained in fans, claimed Rowan Simons, who has spent two decades attempting to promote grass-roots football in China.
"The appointment seems like a sweetener for the league's new sponsor, Samsung. I have been working in Chinese football for over 20 years and still cannot predict what ridiculous policy will be introduced next," he said.
Simons, who wrote a book, about his few triumphs and many failures, added: "What is more likely? That David Beckham will transform the image of Chinese football for the better or that Chinese football will transform the image of David Beckham for the worse? I know where my money lies and that is why his involvement is not likely to include anything original. His aversion to public speaking also makes him the perfect candidate."
Many fans believe the CFA has taken the softest possible option and thrown money at Beckham to divert attention from their failings - money which Simons said could be better spent on grass-roots development.
Estimates of Beckham's fee have ranged from £1.7 million (HK$19.9 million, according to a CSL spokesman quoted in ) to £50 million (according to a report in Italian sports daily ).
Taking the lowest figure, that's £566,000 for each weekly trip, double the amount Manchester United star Wayne Rooney receives.
IMG confirmed Beckham, whose next worth is estimated at US$175 million, was being paid for his ambassadorship, "but I can categorically tell you that the numbers that have been quoted are nowhere near [the mark] ... This is not about money, this is about a guy that loves football," said Jeff Slack, the firm's senior vice-president and head of global football development.
Beckham is donating his £800,000 a month PSG salary to a children's charity. Will he also donate his Chinese wage?
Publicist Oliveira refused to say, but insisted: "I can tell you he is not doing it for the money. David has taken this role because he wants to promote the sport he loves in China."
Whatever the true amount, Beckham's wage is being paid by a "partner company of IMG", according to the CSL. The understands this to be state broadcaster CCTV.
IMG's Slack said the cynics should "take their hat off to Beckham" and not begrudge him some financial gain.
"In the middle of his season he is heading off to China. If the consequence down the road is for commercial opportunities, I think he's earned that. We don't have a particular budget for Beckham as we are focusing on a long-term plan for the CSL," he said.
IMG has guaranteed the CFA and the CSL "a sum of money each year", said Slack.
"We have a 10-year commitment with the two partners which is not insignificant. The goal is to bring global best practices. We think the CSL has extraordinary potential. The government and political leaders recognise the importance of football.
"People can be cynical but would you rather he's not coming? The country is dying for an aspirational figure for this extremely popular sport in which the Chinese haven't been extraordinarily successful."
Beckham can expect to be feted like a head of state when he does arrive, added Slack.
"There isn't that Michael Jordan figure in Chinese football. I think the government has recognised that so Beckham's arrival has become almost a state visit," he said. "I don't think there's a better football icon in the world than David Beckham. He wants to know more about China and expose himself to the Chinese marketplace. We saw it as a perfect marriage.
"He's got some time on his hands as he's towards the end of his career. You couldn't get Lionel Messi to go three times a year. Few athletes would.
"You'll see him spending a lot of time at the grass roots, with kids, to get people excited about football. This is a guy that knows he can bring kids into the game and inspire people."
Whether Beckham can bend the image of Chinese soccer like one of his trademark free kicks and score a goal for the government remains to be seen. But Slack claims to already know the score. "If you sat down in this office five years from now, you'd be saying Beckham's ambassadorship was the moment the Chinese league really took off."
This article appeared in the South China Morning Post print edition as: Mend it like Beckham