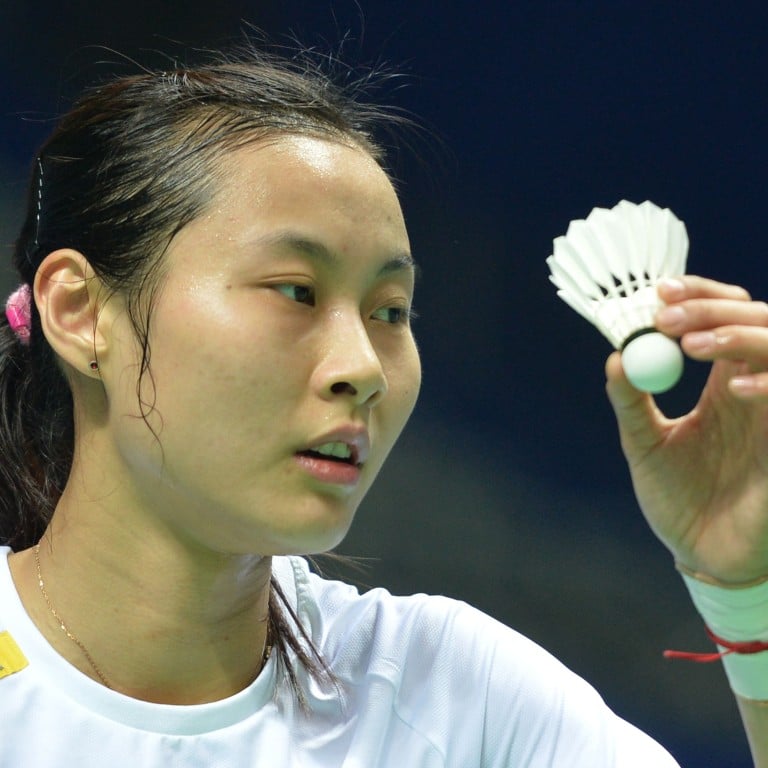 Top two seeds stunned at Hong Kong Open
Wang Yihan and Wang Shixian's exits mean Liu Xin is only Chinese woman left in singles
Unheralded Tee Jing Yi of Malaysia pulled off a big surprise in the Yonex-Sunrise Hong Kong Open after sending defending champion and second seed Wang Yihan of China out of the US$350,000 tournament.
It was a bad day for the mainlanders as top seed Wang Shixian also crashed out after a three-game defeat by compatriot Liu Xin. Liu, the world number 11, prevailed 21-16, 9-21, 21-15 after three games.
The world number 34 won the second round tie against the world number three in three games 21-19, 14-21, 21-15 after a 51-minute match at Hong Kong Coliseum in Hung Hom.
"I have never expected to beat Wang as she is such a high ranking player," said Tee. "This was our first encounter and I had little pressure against her. But I can tell she was not in her best form as she made a number of mistakes when attacking while at the same I was able to deliver my game."
Wang, who has already clinched two Superseries titles this year in South Korea and Singapore, blamed herself for the defeat, saying she would evaluate her own performance after returning home.
"I did not handle the match well and of course my form was also not very good," said Wang, who suffered a fever in last week's China Open before losing in the third round. "On the day if you cannot perform your best, you will lose the game. In fact, this is the third time I lost in a major this year and there is nothing special."
Despite losing the top two seeds, Chen Long, the men's number one seed, remained confident in his fellow teammates. "Chinese women have proved they are the best in the world and losing one or two matches means nothing," said Chen, who reached the quarter-finals after overcoming Rajiv Ouseph of England 19-21, 21-10, 21-14 in his men's singles second round tie.
"Sometimes it is good to have some defeats after winning so many games so that you can identify your weakness and become even stronger for the future. The season is coming to an end after the Hong Kong Open and in fact many players are exhausted, physically and mentally. It is normal when some of the top shuttlers were caught out of guards during these period."
Joining Chen into the men's singles quarter-finals is fellow Chinese player Wang Zhengming, who thrashed Boonsak Ponsana of Thailand 21-10, 21-5. Viktor Axelsen of Denmark is also in the last eight after his 21-7, 21-14 victory over Brice Leverdez of France. Axelsen overcame fourth seed Kenichi Tago of Japan in the first round.
Liu is now the only surviving Chinese woman in the singles.
"I was also the only Chinese player to remain in the women's singles semi-finals in China Open last week," said Liu, who once reached the world number five in 2012 but is now working hard to regain her best.
"There are more and more players who are keen to challenge Chinese shuttlers these days, but if we can keep our own standard, we are still the best," said Liu.
Reigning world champion Carolina Marin of Spain made no mistake in her second round tie with an easy 21-10, 21-10 win over Lydia Cheah Li Ya of Malaysia. She will now meet Tee in the next stage.
"I won't look back on my World Championships success as it is over now," said the young Spaniard, who is the fifth seed. "I just focus on tomorrow's match and see how far I can go here in the Hong Kong Open."
India's Saina Nehwal, who won the China Open in Fuzhou on Sunday, Nozomi Okuhara of Japan and Tai Tzu-ying of Taiwan went through to the last eight. Tai beat Hong Kong's Cheung Ngan-yi 21-17, 20-22, 21-14.
Hong Kong's Wei Nan, who won a bronze medal at Incheon, reached the quarter-finals of the men's singles by beating Hans-Kristian Vittinghus of Denmark 8-21, 21-17, 21-16.