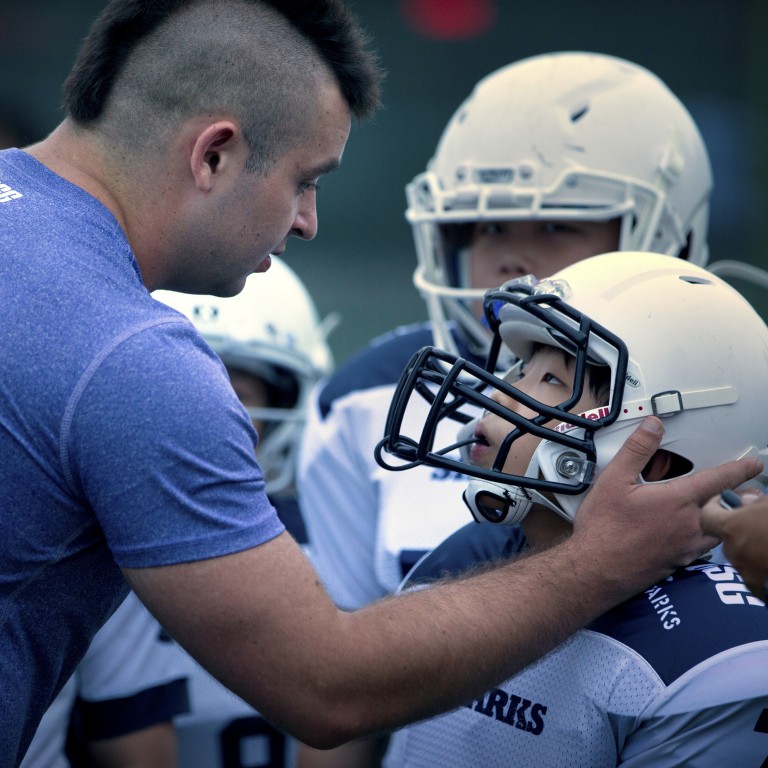 American football gains popularity in China as younger generation embraces US culture
The scene could be from any US suburb: two teams of youngsters in football helmets, cleats and pads; referees in pinstripes; parents snapping photos and cheering from the sidelines. But the clipboard-toting coaches call out plays in Chinese and the field is at a park in Beijing.
China's capital might seem an unlikely place to find American football, but interest among China's youth is growing, according to Shen Yu, marketing director for Great Stone Gridiron. The private football club was Beijing's first when it was founded three years ago. Around 500 children participate, including about 150 in tackle football programmes .
Part of the game's appeal is its outsider status and its association with American culture. Also, it's popular with kids who are big for their age, or who haven't excelled in the Olympic sports that China's sports programmes  focus on.
"Because it's not part of that system, it gives the chance for ordinary people to play," said Wes de Kirby, 25, an American coach with Great Stone Gridiron.
Liu Jiayou, 9, said his mother showed him some NFL games on television and he was attracted by the heavy contact of the sport.
"I like the running, the pushing, and the hitting," Liu said.
Great Stone uses a mixture of Chinese and foreign coaches, such as the mohawk-sporting de Kirby, who was a high school football player in California before an injury derailed his dreams of playing in college. 
He and the other coaches often have to start at a very basic level when working with their players. 
"You have to teach them what a touchdown is," de Kirby said. "They start with no knowledge whatsoever."
Few of the players dream of playing professionally as adults. Most players give up the sport around age 12, when they enter middle school and abandon extracurricular activities to focus on studying for China's relentlessly competitive high school and college entrance exams.
On a recent night, players from the Vipers and the Sharks squared off in northern Beijing on a field nestled between a bus parking lot and elevated rail tracks. Subway trains rumbled by on the other side of a fence just beyond the end zone. 
De Kirby, head coach of the Sharks, prowled the sidelines shouting instructions in fluent Chinese, but his team ultimately lost to the Vipers, 35-28.