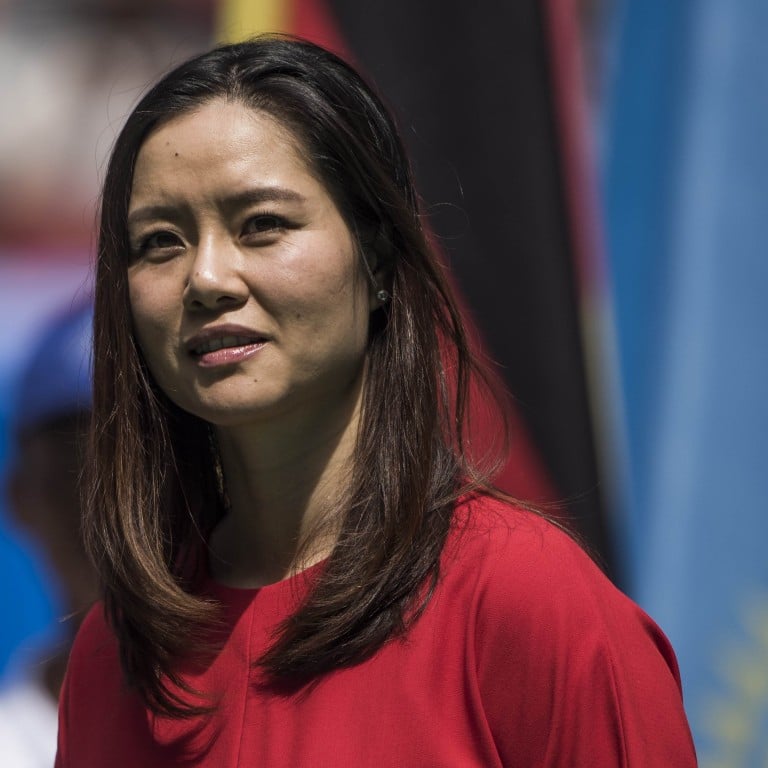 China's retired tennis star Li Na makes rare public appearance at Wuhan stadium opening
Two-time grand slam winner does the honours at 15,000-seat venue as the crowd raises the roof with cheers
China's two-time grand slam winner Li Na opened a new 15,000-seat stadium at the Wuhan Open in central China on Sunday to huge cheers from her hometown fans.
The new stadium has been built on the back of Li's career success – she was the first Asian to win a grand slam singles – that saw the popularity of tennis surge in China.
Huge applause echoed through the stadium as Li, now retired, stepped onto the court wearing a red dress and was joined by the tournament's defending champion Petra Kvitova to open the new stadium officially.
Similar in capacity to Wimbledon's centre court, the new stadium is dwarfed only by the US Open's Arthur Ashe stadium, which has a capacity of 23,000. It has a retractable roof and a metal and glass structure reminiscent of the iconic "Bird's Nest" stadium in Beijing, the centrepiece of the 2008 Olympics.
Czech player Kvitova, the world number four, won the inaugural Women's Tennis Association (WTA) Wuhan Open last year, and is joined for the this year edition by 18 of the world's top 20.
"I am very happy to be here again and the stadium looks wonderful and I will try my best to fight for the title," Kvitova said.
She added that Li, who was a close friend when they were both on the circuit, has promised to let her meet her new daughter Alisa, who was born in June. Mention of the baby's name prompted more excited applause from the crowd.
Li, who has rarely appeared in public since retiring and giving birth, said: "One year ago, I came here for the farewell ceremony, now one year later, I'm standing on this court as mother."
During her career, Li famously opted out of China's state sports system and has previously been accused of a lack of patriotism during a sometimes rocky relationship with the domestic press.
But in her home city of Wuhan she is a local hero and has been influential in the WTA tour's growth in Asia.
Li now has plans to open her own tennis academy. "Now it's under preparation, so please be patient," she told the crowd.
The WTA first opened an office in Beijing in 2008, when there were only two events in mainland China.
This year there were 10 professional women's tournaments in China, and 23 in the Asia-Pacific region, nearly half of the WTA's 55 annual events.
The Wuhan Open with a US$2.4 million purse, is the penultimate qualifying tournament before the WTA Finals in Singapore.
Day one of matches saw China's only two players in the tournaments knocked out.
Zheng Saisai, China's top ranked player at 66th, crashed out against American Varvara Lepchenko, 6-4, 6-0, while Liu Fangzhou also lost her first round match to Romanian Monica Niculescu in two sets.
"Maybe it is because I had high expectations for the tournament. And this time I didn't actually see the match very well. I didn't perform well," Zheng said of her performance.
Elina Svitolina of Ukraine, semi-finalist at last year's Wuhan Open, sailed into the second round with a 6-4, 6-4 win over wild card entrant Daniela Hantuchova of Slovakia.
Former world number one Victoria Azarenka of Belarus knocked out US youngster Lauren Davis 6-2, 7-6 (7-4).