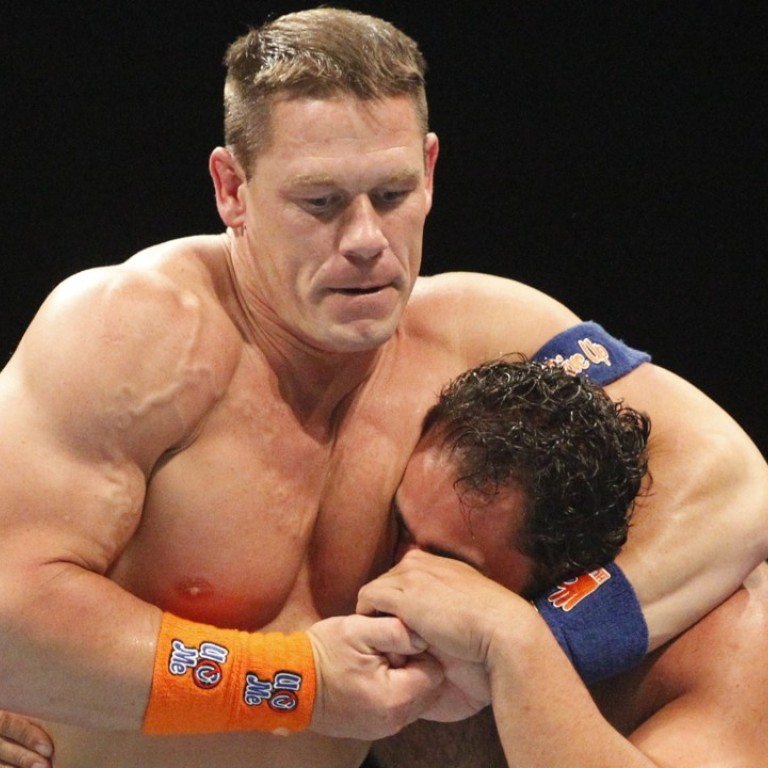 WWE star John Cena bets on WrestleMania coming to China as he flexes his Mandarin for Shenzhen show
Legendary 16-time champion Cena clears time out of his hectic schedule to jet in and steal the show at WWE's live event in Shenzhen
John Cena could have been lounging around a Hollywood film set at the weekend rather than taking a long-haul flight to China.
As the global face of American professional wrestling giants World Wrestling Entertainment for over 15 years, Cena has begun the process of winding down his career in the ring.
The 40-year-old has become a part-time star in WWE while pursuing acting roles in Hollywood, including Transformers' spin-off Bumblebee which is currently filming.
"I will literally spend more time in a fuselage than I will on the ground here, that's how important this trip was to me," Cena said at Mission Hills Golf Club in Shenzhen on Sunday.
Cena, a 16-time WWE champion, is usually a main-event fixture on any show but his match at the Shenzhen Civic Centre was staged early so he could fly back to California for WWE's flagship "Raw" television programme on Monday night.
"I was initially supposed to miss this event, and I bent time to be here," he said. "This is taking priority above a lot of things, including me being in the air the entire day on Monday, so you can do the maths to see how important this is."
The company's Raw brand was actually touring Australia over the weekend, but Cena joined the separate group of stars that make up the roster for Tuesday night television show "SmackDown Live" to travel to Shenzhen.
He just had to be there – this was the man who took it upon himself to learn Mandarin as WWE began stepping up its presence in China after its debut at the 2010 Expo in Shanghai.
"I remember the first time we went to China, we were just a footnote in the Expo," said Cena.
"But we were off to a good start and we were welcomed by the loyal Chinese fan base which got us another event, another event, another event.
"And now all these years later the culture is catching up with what we do."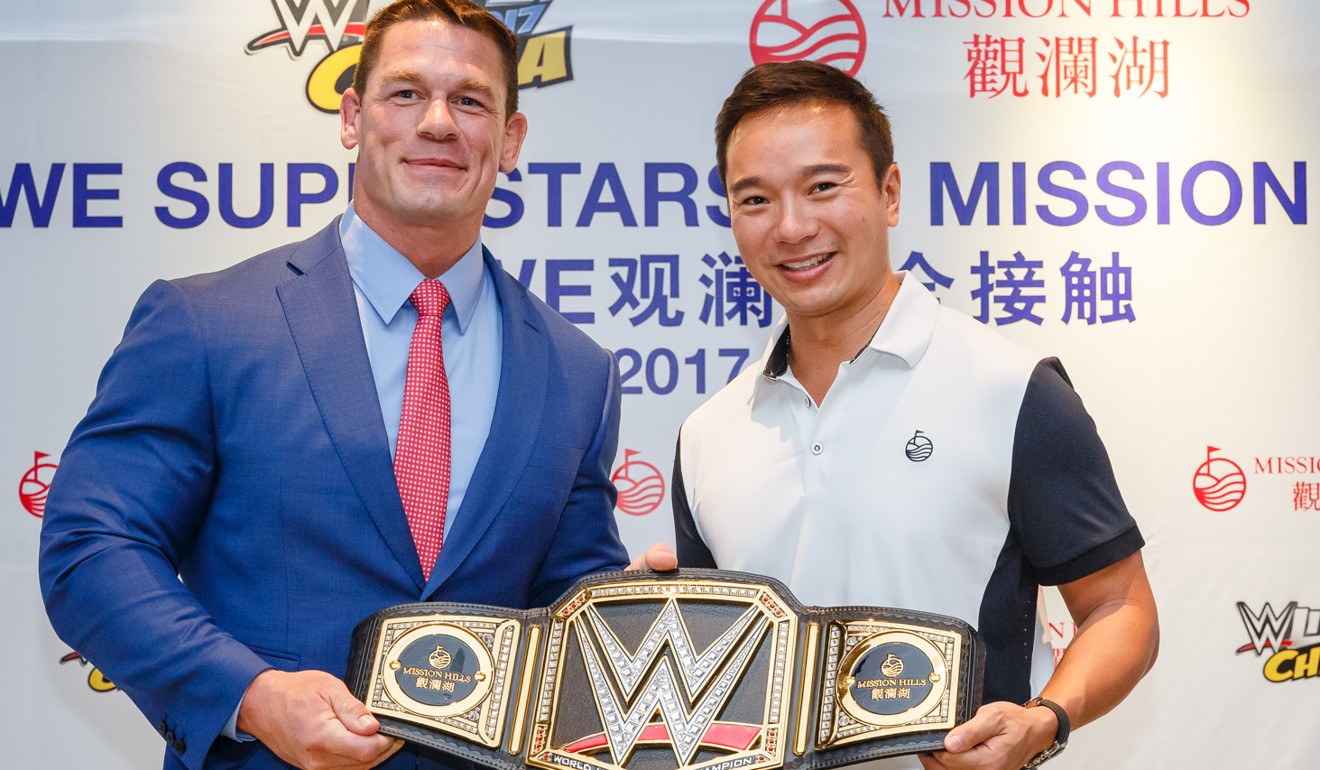 Last month WWE launched its subscription-based digital service, the WWE Network, in the region in partnership with Chinese video streaming website PPTV.
Their biggest annual show, "WrestleMania", was also broadcast in China with Mandarin commentary for the first time earlier this year.
"I think a lot of people try to 'quote unquote' crack the Chinese code, because they see prosperity," said Cena. "Our focus is very different.
"Everybody is trying to make a film that is trying to appeal to all regions of the world and that's a bit of a tough puzzle to solve. But somehow, WWE transcends global language, and that's why we can go anywhere.
"It's the basic, general stripping down of the story of good versus evil. Anyone can understand that. It's just a matter of encouraging the audience to be proactive. So I think, one event at a time, hopefully we'll get to where we can be all over China."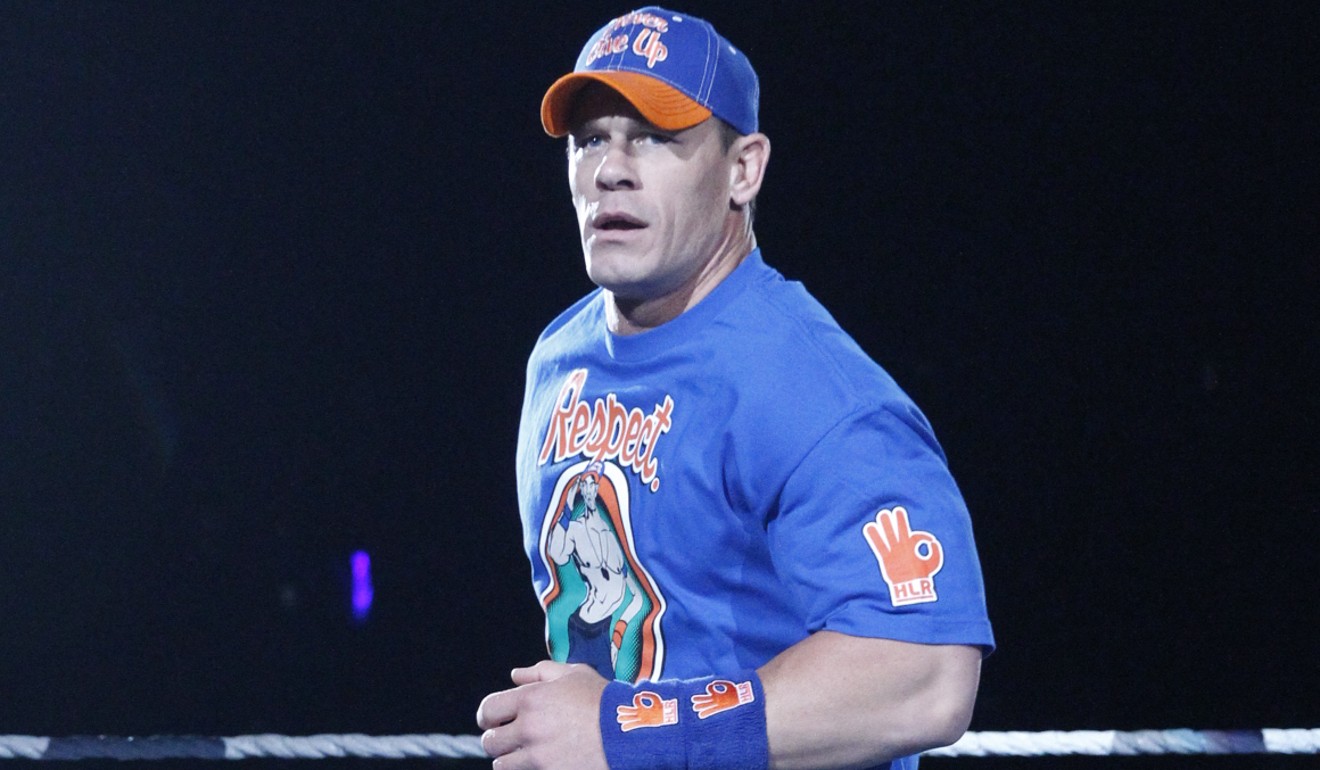 WWE has also been trying to make similar strides in other regions, even making Indo-Canadian superstar Jinder Mahal their WWE champion earlier this year in a bid to increase their following in India.
"We brand ourselves as a global company, and we do that not only with live event presence and digital and media presence, but we also have superstars from all over the world," said Cena.
"It's fantastic we have representatives from as many cultures as we can, that's to appeal to a worldwide audience.
"Certainly looking at my character dynamic, I know you cannot please everyone. The more variety we have, the more outreach we can get. It's the best move our company has ever made.
"I truly feel WWE is entertainment like no other, and that it's a necessity for us to be here for our global brand. We offer something that everybody else doesn't."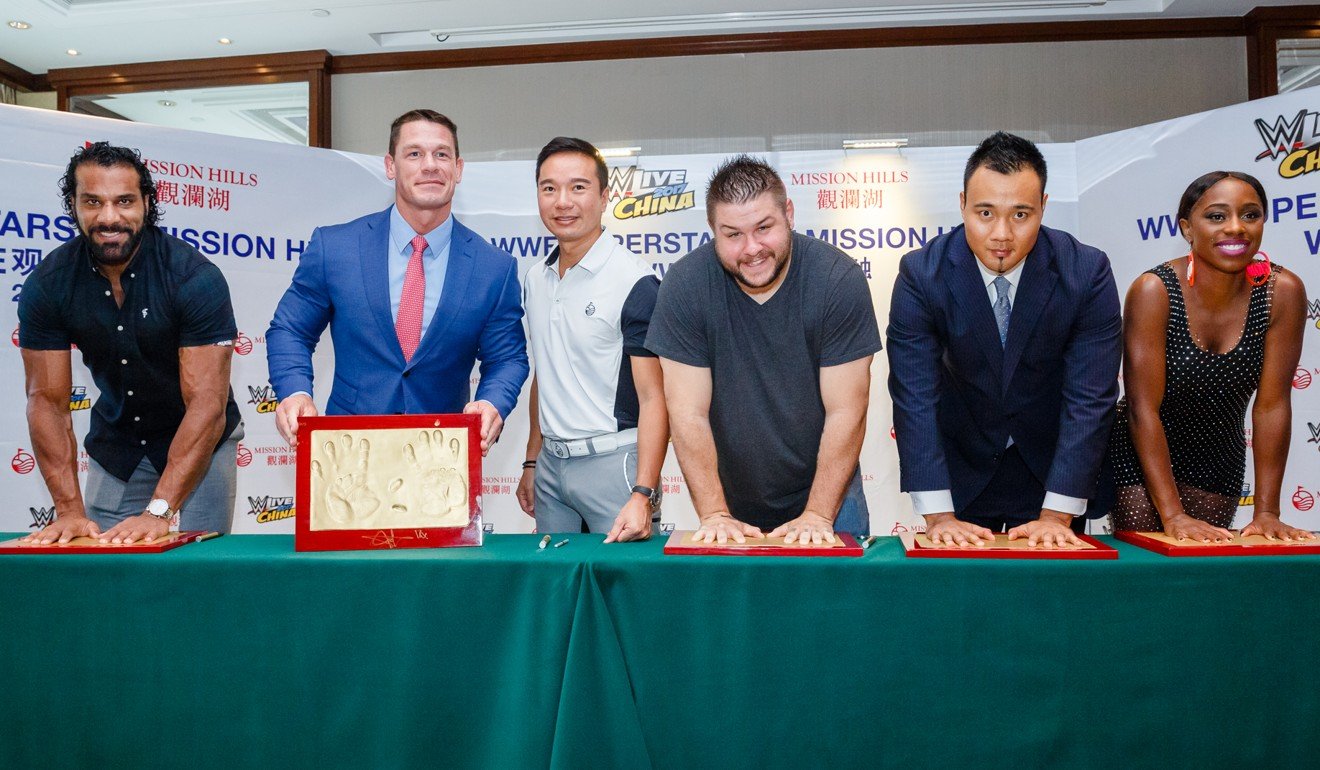 WWE has seven Chinese trainees at their performance centre in Florida hoping to become the next WWE superstar. Two two of them, Tian Bing and Boa, were in Shenzhen on Sunday.
"I think the possibilities are endless. Absolutely endless," said Cena.
"Not only do I see potential success for Chinese superstars to move through the ranks, I envision a world where we do television broadcasts from over here. I envision a world where we do WrestleMania from here.
"So I would love to create a culture in China surrounding WWE, that's with a strong developmental system for our superstars and hopefully a greater and greater live event presence.
"We encourage our audience to be in it and involved as they want.
"That culture is what really is going to drive our increased presence here. I hope I can encourage the crowd here to be ... respectfully excited."
Cena received the biggest reaction of the night from a loud Shenzhen crowd that was largely made up of families.
He shouted Mandarin phrases as he began his energetic charge down to the ring, with the crowd chanting his name.
After beating his Bulgarian nemesis Rusev, Cena bowed to and high-fived fans before heading back to the curtain.
Cena has long been a pantomime villain to a large part of WWE's fan base, but he is beloved by just as many people. He was brought to tears when some of his biggest fans presented him with written letters about how much he had inspired them to overcome adversity.
The "Never give up" catchphrase that is plastered all over his merchandise from T-shirts to towels is more than just a marketing ploy.
"It's not something that I try to force people to understand," said Cena. "Those three words are led by example and led by action.
"It's a great feeling to be able to check in and go to work and aside from calling it your job, to be able to affect people's lives. If I can do both, I'm a super happy dude.
"I think the more fans in China that resonate with the WWE product, the more will like me and the more won't like me. It's the same everywhere."
This article appeared in the South China Morning Post print edition as: Cena bets on WrestleMania in China