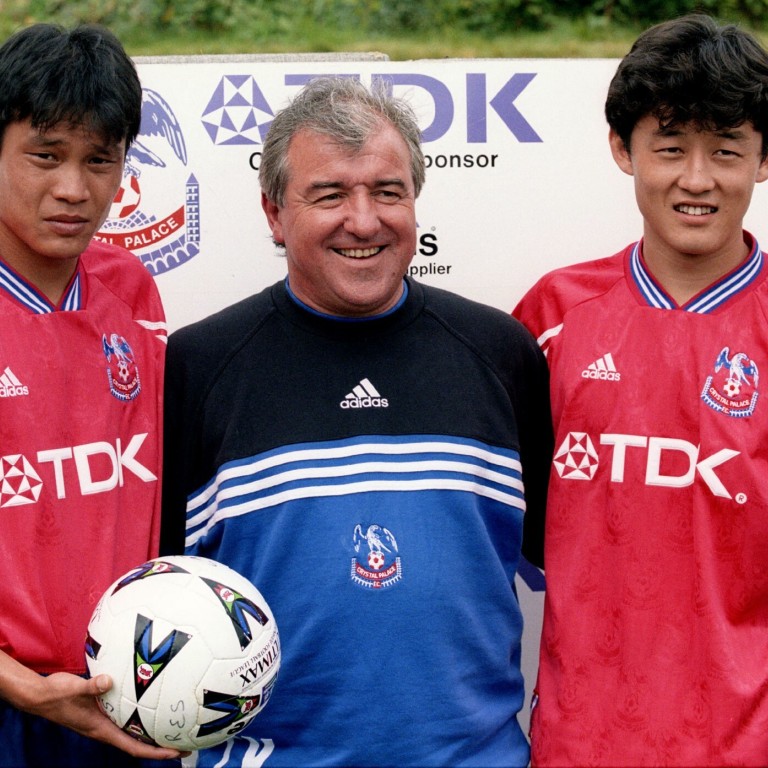 Fan Zhiyi, Sun Jihai and 'when 300 million Chinese watched Crystal Palace'
First China internationals to play in England were signed by Terry Venables in summer of 1998
'General Fan' would go on to become first Chinese player in Scotland while both would take their country to only Fifa World Cup in 2002
History was made on October 17, 1998 with Chinese footballers Fan Zhiyi and Sun Jihai at Crystal Palace as the pair both started an English Football League game for the first time.
It would arguably prove a turning point in the popularity of English football in China and the beginning of the reported viewing figures that have driven clubs to expand into China over the years since.
Crystal Palace taking on Norwich City at Selhurst Park in the English second tier saw 18,100 inside the ground but was said to be watched by 300 million people in China.
That is what the match programme predicted but no matter how many really tuned in, they were amply rewarded with a win for the Chinese pair on Sun's league debut.
Norwich had opened the scoring through Iwan Roberts before the Eagles ran riot. Goals from Nicky Rizzo, Mathias Svensson, Attillio Lombardo and a Matt Jansen brace saw them romp to a 5-1 win.
Roberts remembers the game at Selhurst Park for a very different reason. "We were battered there 5-1 on October 17, 1998 and after the game Bryan Hamilton gave us the biggest rollicking ever – dressed in just his shoes and socks. Mind you, I'd done my job that day as I did get our consolation goal!" the former Norwich City striker told The Pink Un website in 2019.
The Chinese duo had actually arrived in the summer but were allowed time to bed in to life in South London.
"General Fan" had been on Venables' radar since England played against China in May 1996, in the lead-up to the European Championships, with Sun also being recommended.
It was not until a cold night in Bury on September 15 that they would get their first taste of English football, starting in the League Cup.
Sun lasted only 18 minutes against the Shakers before going off injured in a game that Palace went on to lose 3-0.
The Crystal Palace website recalled his club debut: "Sun arrived from Dalian Shide and made his debut in a League Cup tie against Bury with only 3,000 present, but a reported 100 million or more watched the game live in China."
Fan scored his first goal in the return leg at Selhurst Park and was soon firmly in Venables' starting line-up. Sun would have to shake off his injury before the pair lined up to make history against Norwich.
The rest of the season saw Palace struggle on and off the pitch. Despite the hundreds of millions of fans in China, the club went into administration.
Venables, who had arrived in the summer before his China internationals would resign and former boss Steve Coppell would return. The club would finish the season in 14th, just above Tranmere Rovers and Stockport County.
After 25 games for the Eagles, Sun would be recalled by Dalian Shide that May as they were struggling in the Chinese top flight.
He would go on to bigger and better things with Manchester City and later Sheffield United in the English Premier League.
Fan would stay on at Palace and become a cult figure. "He would play 102 times during his time at Selhurst Park, scoring six goals, and finished off his final campaign by winning the club's Player of the Year and helping China reach the 2002 World Cup," the official Crystal Palace website wrote of him in 2017.
He also turned down the chance to play in the Premier League, he told AFP earlier this year.
First of all there was a trial at Tottenham Hotspur, a year before he joined Palace, but he was injured. Then Liverpool tried to sign him after a stand-out performance against them for the Eagles and another time he turned down Newcastle United.
Sun nearly returned to Palace in early 2001 according to reports at the time.
"Sun is coming to London this week and we have already signed a £2m deal with his club Dalian," club chairman Simon Jordan was quoted as saying.
"It looks like we're going to settle the deal once and for all. Palace fans know already what a superb player he is from his first spell." It never happened, with conflicting reports suggesting it never could.
At the same time the club were also linked with Li Ming, another Dalian player, but there were reports that the Chinese Football Association did not want their players moving abroad ahead of the Fifa World Cup in 2002.
While Sun was not returning to Palace, Fan was soon on his way out as the club and the Chinese FA were at odds over the player's release for international duty amid a relegation battle.
That October he became the first Chinese player in Scotland when he moved to Dundee, making his mark with a red card against Dundee United on his debut.
Sun was named vice-chairman of the Xinjiang FA last year and returned to the news this year with his plans for Manchester City-style academies in the restive region.
A local club, Xinjiang Snowland Future, of which Sun is part-owner, pushed the message of the Chinese Communist Party.
"It will also inspire in the coaches and players love and patriotism of the party and country, inspire the team to work hard, win glory for Xinjiang and the motherland, and strive to realise the Chinese dream of the great rejuvenation of the Chinese nation!" they wrote on Weibo this June.
Fan, who would also play for Welsh side Cardiff City, has also been in the news this year – and not just for his revelations of turning down Liverpool – commenting on the national team that he used to captain.
"Li Tie has said that naturalisation is not the saviour of Chinese soccer," the former international told domestic media in March ahead of what should have been World Cup qualifiers before they were called off amid the coronavirus pandemic. The team are now managed by his former teammate Li Tie, who would also follow in his footsteps to England with Everton after China's World Cup appearance.
"That also shows our young domestic talent that they need to work hard to earn their spot or it will be taken by naturalised players."