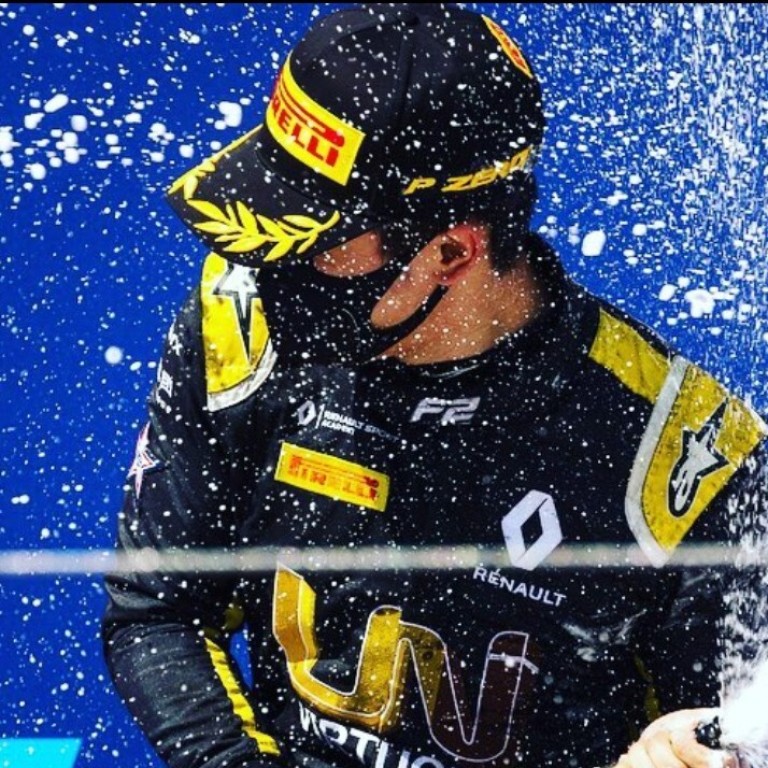 Chinese F1 hope Zhou Guanyu keeps up F3 Asia title fight
Formula 2 driver closing gap on series leader Pierre-Louis Chovet, with all-important Super Licence points on offer
The 21-year-old has been described as 'a once in a generational project' by Alpine Academy director
Chinese Formula 1 hope Zhou Guanyu kept up his quest for a Formula 3 Asian Championship title and the all-important Super Licence points with a second-place finish in Dubai on Saturday.
Zhou, racing for Abu Dhabi Racing by Prema, finished between winner Patrik Pasma and series leader Pierre-Louis Chovet to move into second after 11 of the 15 races. He also finished second, behind Chovet, in Friday's race.
"My main focus was to make sure Chovet was staying behind," Zhou said after the race. "Obviously he passed me lap one."
Zhou managed to get back ahead of the French driver. "The main key is to keep him behind," he said. He also avoided a crash. "I saw that crash coming before they entered the corners."
The 21-year-old was happy with the race. "Really happy to pick up P2 here it's good for the points at the end."
Dubai Autodome hosts the final race of the weekend on Sunday before the season concludes with three races in Abu Dhabi next weekend.
Zhou, who has 177 points, is 19 points behind Chovet in top spot on 196. Third placed Jehan Daruvala, who finished 12th on Saturday, is on 156 points.
The winner of the series gets 18 Super Licence points and second place 14 points, both of which would mean that Zhou could reach the 40-point mark needed to apply for the F1-enabling licence this season.
Zhou will drive again for UNI-Virtuosi Racing this season, his third in F2, which is set to start in Bahrain at the end of March. He won his first race last season in Russia.
Zhou spoke of his desire to make it to Formula 1 at the Alpine Academy media conference this week, with his focus on winning the F2 title.
"If I can get the title, it's definitely [a sign that] I can be an F1 driver, that I'm ready to be driving an F1 car and that's exactly the target for this year, to try to win the title or be a title contender."
Alpine Academy was known last year as the Renault Sport Academy,
"We saw in the past that drivers finishing top three in the Formula 2 championship, they're in Formula 1 the following year," he said. "It's a high-level championship to show your potential, to be fighting for the title and if [I can], I think I will have the chance to be stepping up.
"The Super Licence points are definitely the target this year, as well as trying to win the title and to be finishing top three will be enough for my Super Licence points. Once I have that, we will see what door is open and I'm pretty confident that if I can do a great season, or show my full potential of what I'm capable of doing, I think I will have a good chance [to move on to F1].
"But obviously F1 seats, we don't have many spare seats per year, so you have to really have a look at what door is open. But right now, I'm just really focused on myself. I'm trying to show everyone that I'm available, that I'm good enough to be going up."
The Alpine Academy, which was known last year as Renault Sport Academy, will offer Zhou a chance in F1 cars with the Alpine F1 testing team.
"To be honest, I can't tell you exactly what's the role," said Zhou, when asked about his F1 programme for 2021. "But I can say that I will be continuing my F1 team role with Alpine F1 Team, and you will find out definitely more at the Formula 1 car launch."
Zhou has long been tipped to be the first Chinese Formula 1 driver, with the Alpine Academy director Mia Sharizman saying that he has a once in a generation chance as there are few Chinese drivers coming up.
"It was a once in a generational project," Sharizman said.
"We will never see another Chinese driver [with Zhou's prospects] for the next 15-20 years, whether in Formula 3 or Formula 4 or Formula 2.
"And I think that is something that from the team itself, the Renault Group, the Alpine F1 team, we are more committed than ever to make sure that happens in the future."