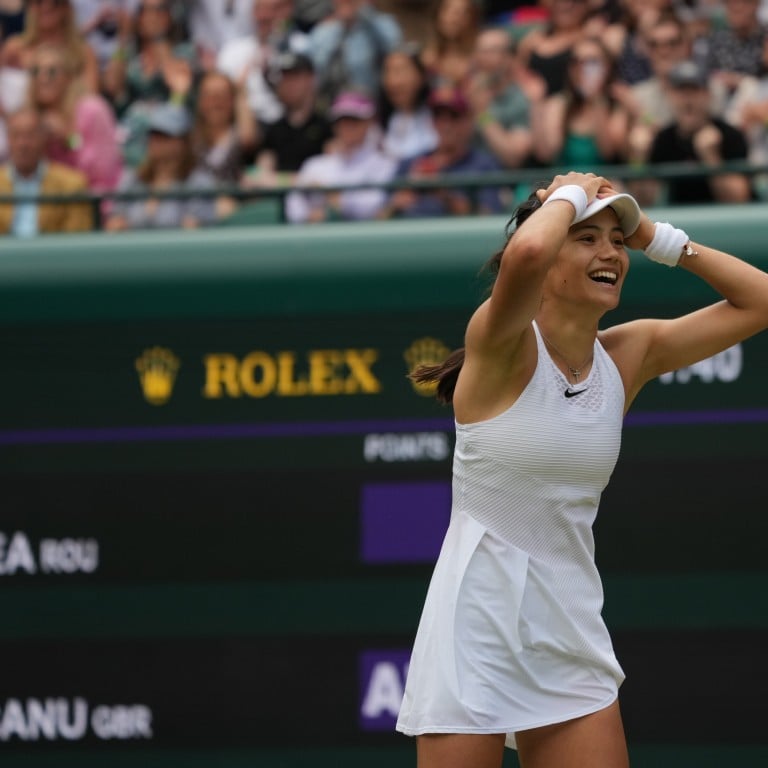 Profile

|
Emma Raducanu – Who is Britain's Chinese-Romanian teen tennis star?
'London, Toronto, Bucharest, Shenyang' writes Canada-born 18-year-old Li Na and Simona Halep fan Raducanu on social media descriptor
Breakout Wimbledon wild card has become a star just weeks after making WTA Tour debut, and marching into fourth round at SW19
Teen tennis sensation Emma Raducanu has lit up
Wimbledon
and the front pages of the British press with her performances at The All-England Club in the last week – but the Briton is striking up interest around the world and is tipped to become a star off the court.
Raducanu, who is coached by Andy Murray's father-in-law Nigel Sears, is no stranger to Wimbledon, having twice reached the quarter-finals as a junior.
Even so, it is fair to say that the wild card's debut in the singles draw has gone better than anyone – even her parents – could have expected.
"It's funny because when I was packing to come into the bubble, my parents were like, 'Aren't you packing too many sets of match kit?' So I think I am going to have to do some laundry tonight," she told the fans after her third round victory on Saturday.
On Sunday, the day after beating Romania's Sorana Cirstea 6-3, 7-5 she watched the Formula 1 to relax ahead of Monday's match.
There was added interest in Romania when world No 338 Raducanu took on their top player, world No 45 Cirstea.
The Briton's father Ian is Romanian, while her mother Renee is Chinese. The pair are both reported to work in finance.
Raducanu has been full of praise for her parents. "On my mum, she's always instilled a lot of discipline and respect for other people into me," Raducanu said. "I think having parents like I do, they always push me. They have high expectations. I've always tried to live up to that. And I hope I did them proud this week."
The teenager was born in Toronto, Canada, with the family moving to London when she was two, settling on the capital's border with Kent.
"London, Toronto, Bucharest, Shenyang" is what Raducanu lists in her bio on Twitter and Instagram – her hometown, her birthplace and where her parents come from.
She is in touch with both sides of her heritage, and said that she ordinarily visits Bucharest twice a year with her grandma's cooking a highlight.
Raducanu is no stranger to China either. Videos taken years apart show her playing table tennis, while another post shows her in Nanjing she was at the Chinese Tennis Academy in Nanjing in 2018.
The fan of Taiwanese television shows also speaks Mandarin and tries to visit Shenyang annually, and she trained at the Shenyang tennis school too.
Raducanu's heritage also features in the players she listed as role models: China's Li Na and Romania's Simona Halep.
"I think it's definitely helped me, the mentality that both of them bring," Raducanu said. "They both come from very hard-working countries."
The role models may have rubbed off on the teenager's style.
"She certainly hits her backhand like someone who looked up to Halep and Li," as the WTA put it in their profile of the British teen.
Raducanu, who tried a number of sports as a child including motocross, would have played more than six junior slams but for injuries and school, she has said. Nothing is holding her back now.
"Radders", as she is known to friends, has been practising with former Wimbledon champ Garbine Muguruza.
She is guaranteed at least £181,000 for reaching the fourth round at Wimbledon and there's more where that came from if she stays the course. That is not to mention the potential endorsements along the line.
Her profile is rising rapidly. She gained 30,000 new followers on Instagram after her first round victory and she is up to 150,000 following the win over Cirstea.
She only made her WTA main tour debut as a wild card at the Viking Open in Nottingham last month and went out in the first round, but a run to the quarters at the ITF 100k in the same city a week later did enough to earn her a Wimbledon wild card.
"Honestly, I just wanted to make the most out of [the wild card], try to show that I earned it, try to make the most out of it," Raducanu said. "I'm really grateful for the All England Club's support in taking a chance on me."