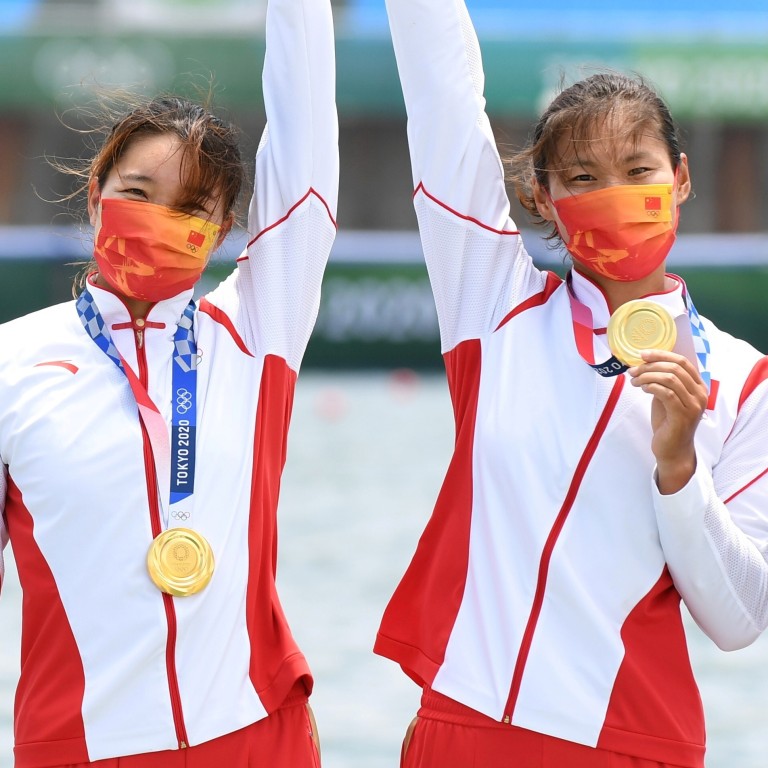 Tokyo Olympics: Steve Redgrave believes China's rowers can be best in world after hitting gold target
Women's quadruple sculls team win gold in world-record time, with another bronze in women's eight
Performance director Redgrave – five-time Olympic gold winner with Britain – thinks Tokyo Games 'just a stepping stone to Paris'
There was no medal for China's Jiang Yan in the single sculls final, but Steve Redgrave's Chinese rowers delivered on Friday morning with a gold in the women's quadruple sculls, and bronze in the women's eight.
Three years on from five-time Olympic champion Redgrave joining up with the Chinese Rowing Association, the team of Chen Yunxia, Zhang Ling, Lyu Yang and Cui Xiaotong won in 6:05.13 at the Sea Forest Waterway.
Their time was more than five seconds ahead of France in silver, setting a new world record, and British icon Redgrave feels his charges can become the very best.
"China has the athletes, has the resources, has some of the know-how to be the strongest rowing nation in the world," he said. "I was brought in to get them there. We're sixth in the table so we've still got a long way to go."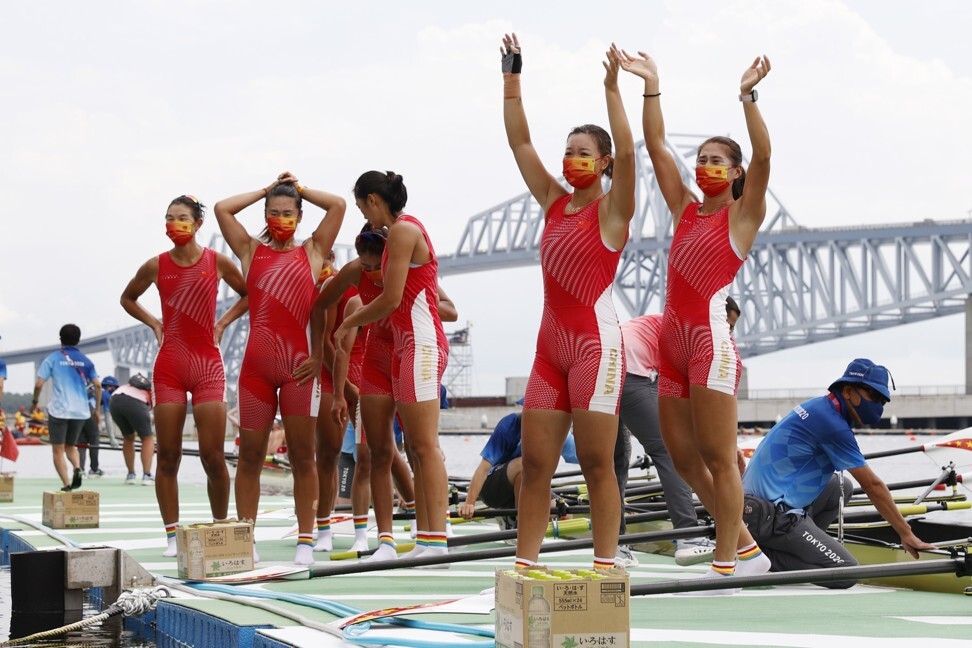 Redgrave believes the bronze medal won by the women's eight team – consisting of Wang Zifeng, Wang Yuwei, Xu Fei, Miao Tian, Zhang Min, Ju Rui, Li Jingjing, and Guo Linlin, with Zhang Dechang as the cox – will also help inspire more people to take up rowing in the China.
"That boosts their confidence so our team should go on from strength to strength," he said.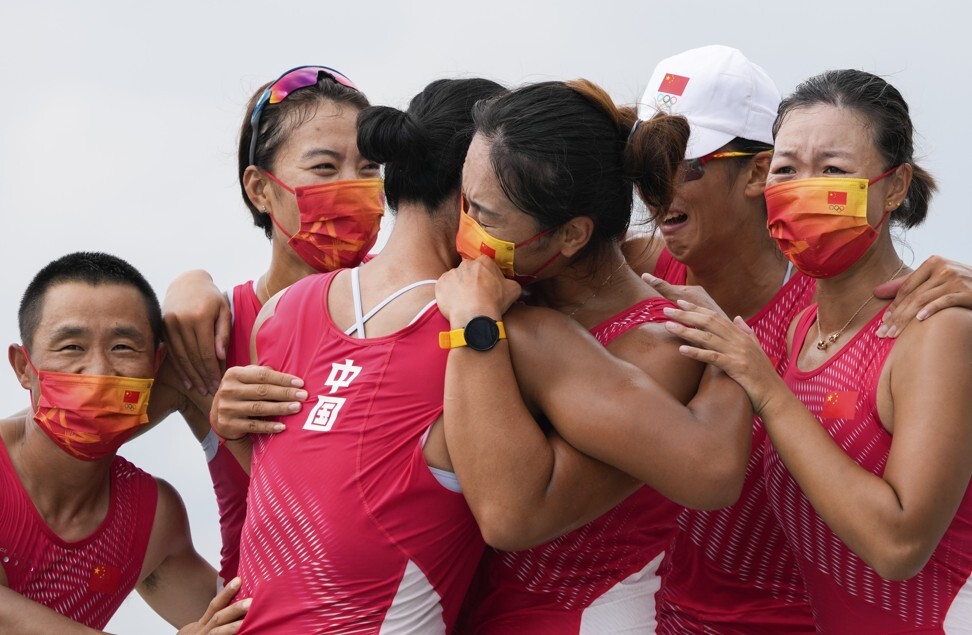 Redgrave will take China to the Paris 2024 Games, after which his contract expires, and he was tight-lipped about whether he could extend his stay with the team.
"I'll have to see," he said. "I have to assess if my bosses still want me, if I have a future and we'll have to see from there."
Jiang finished last in 7:21.33, well behind the gold-medal winning time of New Zealand's Emma Twigg, who was among the favourites for gold before the Games, but only just missing out on bronze.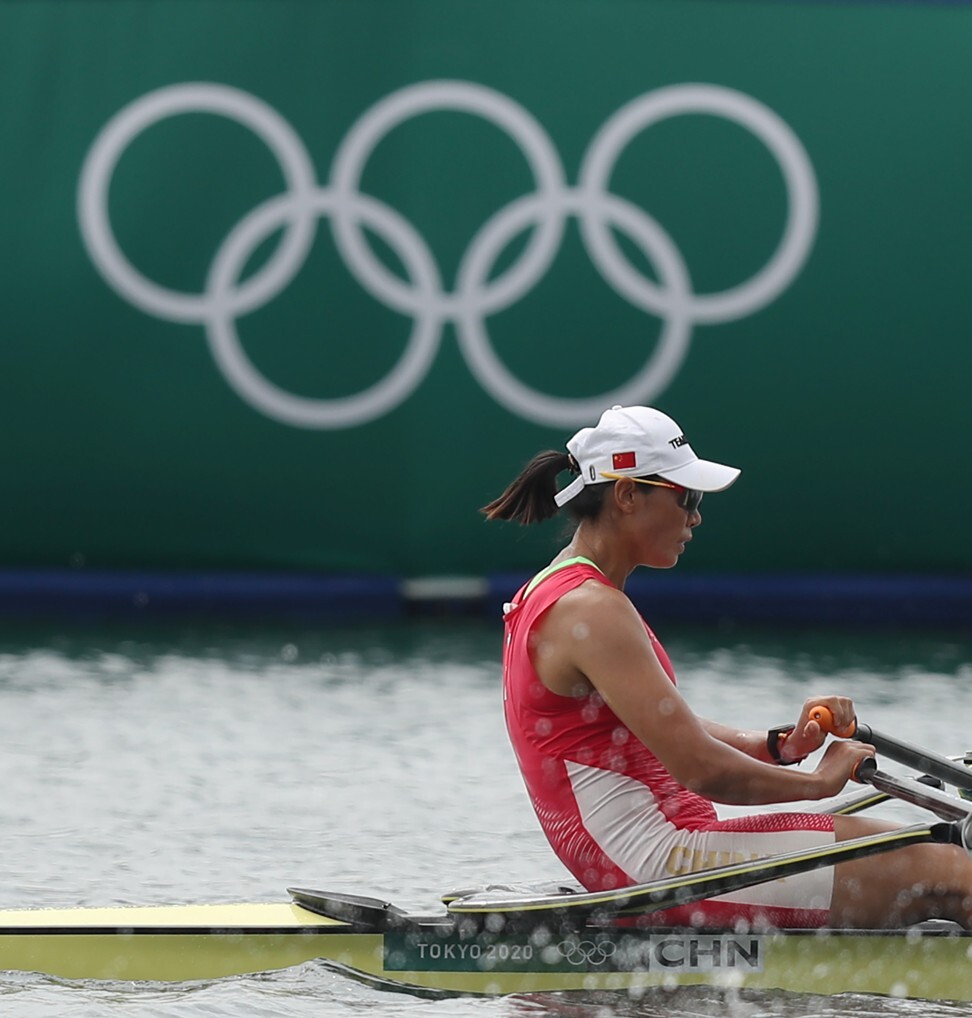 Russian Olympic Committee athlete Hanna Prakatsen, who had raced Jiang in the heats and semis, took silver in 7.17:39, ahead of Magdalena Lobnig of Austria in 7:19.72.
Jiang was unable to follow in the footsteps of Duan Jingli, who won bronze for China in this event at Rio 2016.
That was one of only two rowing medals for China in Brazil, both of them bronzes, with the other won by Huang Wenyi and Pan Feihong in the women's lightweight doubles sculls.
Four years earlier in London, China's Xu Dongxiang and Huang Wenyi had taken silver in that event, while Beijing 2008 had seen the hosts win gold in the women's quadruple sculls and silver in the women's coxless pair.
Bringing back the golden days of Beijing was the aim in Tokyo this summer and that is why five-time Olympic champion rower Steve Redgrave was brought in.
Redgrave, whose last gold came in Sydney in 2000, was signed up as the director of high level performance at the Beijing rowing base in 2018. He was one of 30 foreign coaches and technical staff that China hired to help their efforts in these Olympics.
03:54
More Olympic medal hopes for Hong Kong as swimmer Siobhan Haughey storms into 100m freestyle final
More Olympic medal hopes for Hong Kong as swimmer Siobhan Haughey storms into 100m freestyle final
"We are now a good team going to Tokyo," Redgrave told the Chinese media ahead of the team setting off, explaining how much improvement he had seen in his short time involved.
"We've got chances of good medals, hopefully gold medals," he added and he was proved right.
Redgrave also talked up the men's double sculls, who were seen as favourites for gold but came away with bronze on Wednesday, ahead of the British.
However, the longer term plan was to get one gold in Tokyo and target two in Paris, something that has been mentioned by Redgrave since 2019 and reiterated ahead of these Games.
"The plan is to get stronger for Paris 2024, so Tokyo is just a stepping stone," he said.
If Redgrave is proved right then there are those back in Britain who will wonder why he is helping China.
Britain's run of five straight golds in the men's coxless fours, which dated back to Redgrave's final race in Sydney, came to a shock end in Tokyo Bay.
"I had been offered a job by the British rowing team before the Chinese Rowing Association came to me, but I got along with the visionary Chinese Rowing Association. Since Olympic love is forever, why not continue my rowing career in a new place?" Redgrave told media when asked about his move to China, the Global Times reported.
This article appeared in the South China Morning Post print edition as: China crews can be best in world, Redgrave says