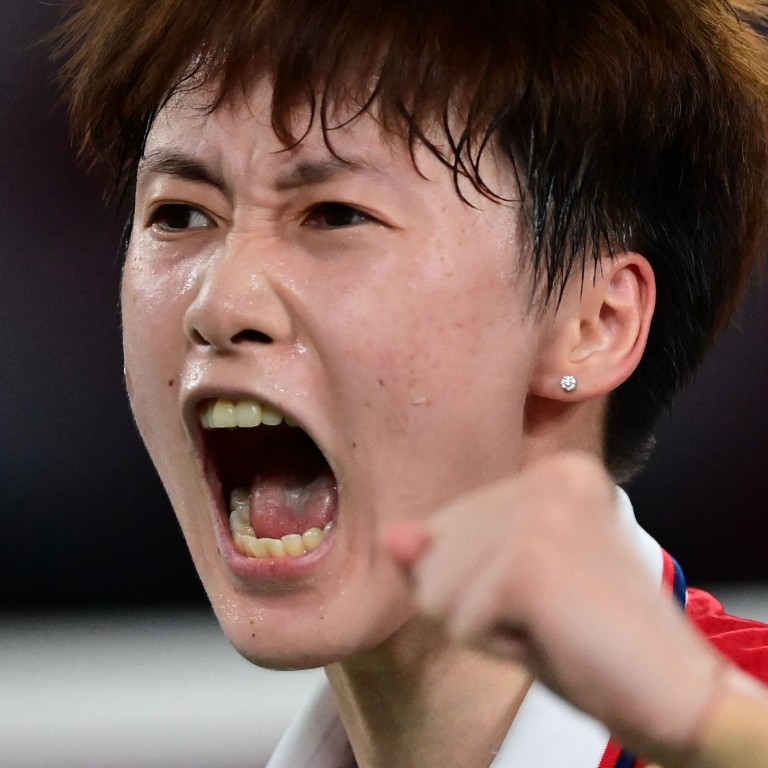 Tokyo champ Chen Yufei's National Games shoe injury sees fans call out Li-Ning
Tokyo 2020 badminton gold medal winner changes shoes mid-game after injury with fans calling on Li-Ning to respond
Manufacturers, who express 'extreme concern' on social media saying they reached out to star, fell foul of CBA players in past
Olympic gold medal winning women's singles badminton star Chen Yufei's
China National Games
have become a sore point after images of her bloodied socks following an injury emerged, urging fans to call on shoe manufacturer Li-Ning to take action.
Chen, who was competing for Zhejiang province in Xian, beat Han Yue of Fujian 2-1 (16-21, 21-19, 21-14) on Thursday but the match was disrupted by the Olympic gold medal winner seeking a medical stoppage for a foot injury and then changing her footwear.
Han won the first game 21-16 before Chen called a medical timeout at 10-8 in the second game. A doctor applied a bandage on her right foot before she won the game 21-19. In the third game Chen had changed her shoes.
The World Badminton Federation (BWF) posted images on China's Twitter-like Weibo of a bloodied sock and a cut to the big toe of the right foot, along with a quote from Chen when she spoke to media after the match.
"In the first game … something like steel wire or thread cut my foot apart. That thing kept scratching my toes, so I changed to the previous pair of shoes, which is somewhat better than the previous one."
The news was reported by a number of domestic media outlets and gained traction on Weibo where fans called on shoe manufacturer Li-Ning to respond.
Li-Ning did so on Friday via its Li-Ning Badminton account on Weibo.
"Knowing that Chen Yufei was injured in the National Games badminton competition, Li Ning Badminton was extremely concerned about Chen Yufei's situation," they wrote.
"Professional sports protection has always been the focus of Li Ning's badminton. We immediately contacted the Zhejiang team and Chen Yufei herself to further follow up on the injury and situation."
Li-Ning's shoes have been caught up in controversy before, notably in basketball.
In the opening 2016-17 Chinese Basketball Association season, Wang Zhelin of the Fujian Sturgeons and Zhou Qi of the
Xinjiang
Flying Tigers were fined for refusing to wear the brand's footwear, which was league-mandated as part of a sponsorship deal.
"I was told on court that if I don't wear the sponsor's shoes, I will be ruled a technical foul and banned from the match. Why am I deprived of the right to wear my own shoes and who shall be responsible if I get injured? I just want my foot to be protected," Zhou wrote on Weibo at the time.
Former NBA player Yi Jianlian also refused to wear Li-Ning shoes when he returned to the CBA that season
In his first game back for the Guangdong Southern Tigers he took off his Li-Ning shoes and changed to Nike footwear, later apologising on Weibo for his behaviour but blaming it on the shoes.
"The discomfort and pain in the feet at the time made me feel emotionally ups and downs."
Li-Ning has seen huge growth in recent years with their latest midyear results, released last month, showing a 65 per cent year on year rise in revenue to US$1.57 billion and net profit up 187 per cent to US$302.56 million.