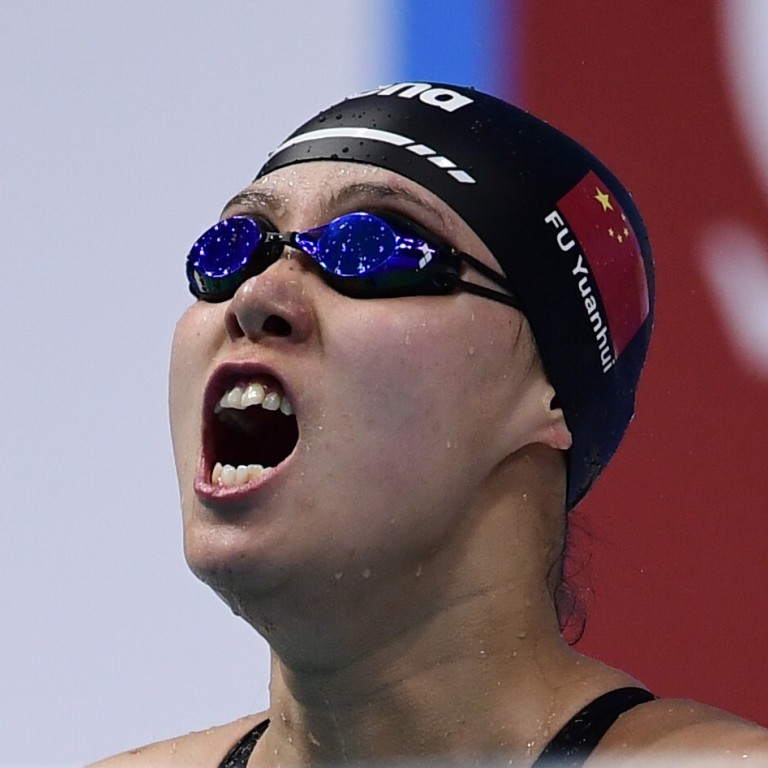 National Games: 'prehistoric' Fu Yuanhui advances to the semi-finals of 100m backstroke
The 25-year-old Fu makes fun of her age after winning her qualifying heat in the 100m backstroke
Fu Yuanhui re-emerged at the
National Games of China
on Monday to cruise into the semi-finals of her preferred 100-metre backstroke event, but revealed she has no expectation of medalling at the Olympic Sports Centre in Xian.
Fu, a bronze medallist in the 100m back at the Rio Games in 2016 was a surprise absentee from the China team for the
Tokyo 2020
Games – she was disqualified in the semi-final of the Olympic qualifiers in May, and failed to show up to compete at a last-ditch qualifier event a few weeks later.
She qualified for tonight's semi-final in a time of one minute, 0.66 seconds, just over a second outside her national record personal best of 58.72.
Fu, a Hangzhou native, revealed she is determined to qualify to represent China at next year's Asian Games, which will be held in her hometown.
After her heat, Fu poked fun at her age as she revealed she has no target at the National Games, her fourth, and possibly final, outing.
"I don't have any goal in mind here. It's good to just focus on participating. I'm too old! This is the fourth time I have participated at the National Games. I feel old," said the 25-year-old. "I first participated at the National Games when I was 13 years old.
"(The power of the prehistoric) is gone. I am getting older and older. I feel that I have lived through the changing of time and witnessed changes in history. It should be my last National Games. I think at 29 years old, I won't participate in the (next) National Games," Fu added.