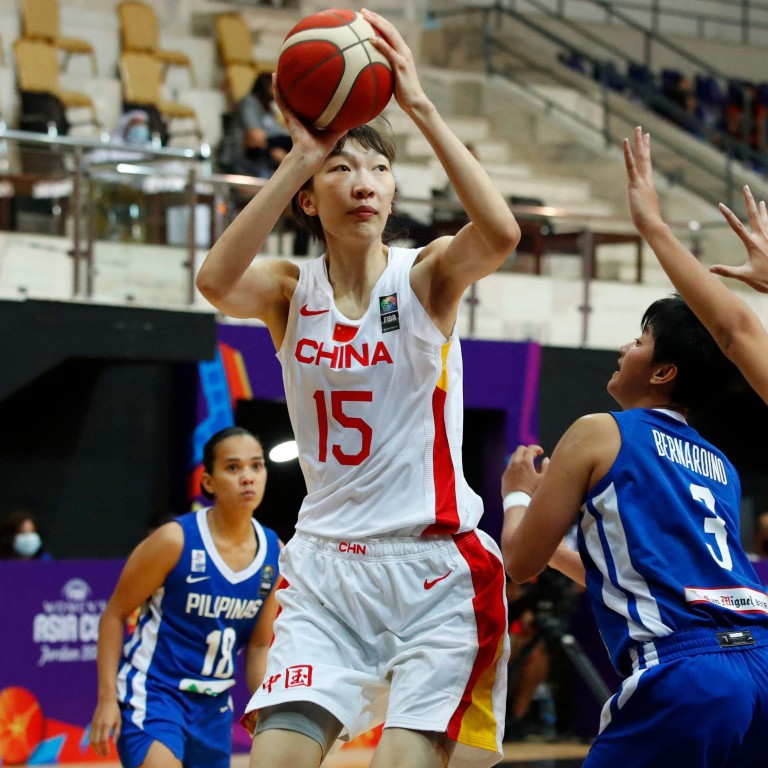 China beat Philippines by 91 points in 2021 FIBA Women's Asian Cup opener
Favourites send message to four-time defending champions Japan, who beat India by 90 points
Yang Liwei leads Chinese scoring with 21 points as eight of the 11 players score in double figures in blowout
China beat the Philippines by 91 points in their opening game of the 2021 FIBA Women's Asian Cup in Amman, Jordan.
It ended 143-52 in the group B meeting with Yang Liwei leading the way for China with 21 points while Wang Siyu dropped seven assists.
The last time that the teams met in the Asian Cup in 2019, China won by 47 points and this time it was even more one-sided with China leading by 40 at half-time.
That lead was 70 at the end of the third quarter and 91 by the buzzer as China did not relent, following four-time defending champions Japan opening the tournament with a 90-point win over India.
China have made some changes since a disappointing Tokyo 2020 Olympic Games this summer where they were shocked by Serbia in the quarter-finals.
Players such as Shao Ting and Sun Mengran have gone to be replaced by Li Yifan and Yang Hengyu. While Li Meng did not travel, leaving China with an 11-player squad.
All 11 players got court time in the win over the Philippines with eight players scoring double figures. Li Yueru scored 18 points and Han Xu scored 17 to support top-scorer Yang.
Regional rivals Japan – who won Olympics silver – and Australia have both been forced into bigger changes from their Tokyo squads.
Despite the changes, defending champions Japan thrashed 136-46 in their group A opener.
Australia, who are in the same group as China, beat Taiwan 76-65. China play Taiwan on Tuesday before meeting Australia on Wednesday.
China's women finished second to Japan in the 2019 edition and this year marks a decade since they last won the tournament.
The tournament, which was originally set to be held in India before moving to Jordan over Covid-19 concerns, acts as a qualifier for next year's FIBA World Cup in Australia.