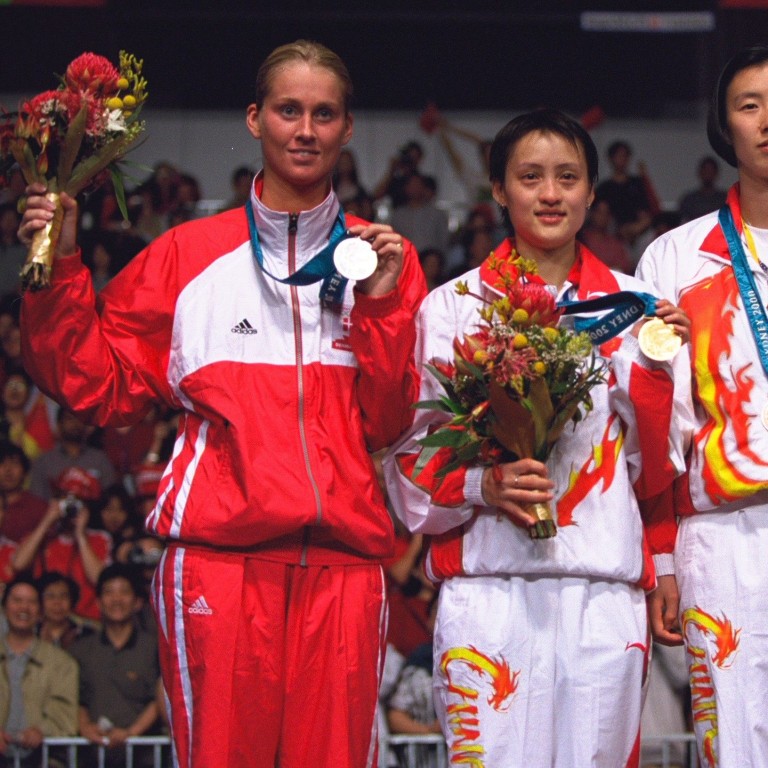 Chinese badminton star's Olympic match-fixing claim: footage appears to show coach admitting to plan
Footage from Chinese state broadcaster CCTV shows controversial coach Li Yongbo appearing to admit to ordering Ye Zhaoying to throw Olympic semi-final
'We did make a decision. After much discussion and careful consideration, it was to mobilise Ye Zhaoying to concede,' he says in footage
A bombshell claim by former badminton world No 1 Ye Zhaoying that she was
ordered to throw
her 2000 Olympics semi-final has sparked fresh interest in old footage of her former China coach Li Yongbo appearing to admit to match-fixing.
Footage has resurfaced on YouTube of an old but undated programme broadcast by Chinese state media network CCTV, reporting that an internal meeting was held within the national badminton team at the Sydney Games, during which "a deliberate discussion of match-fixing for the semi-final was launched".
The programme, posted on YouTube in 2018, has attracted a fresh flurry of comments since Ye made her claim to Danish television last week.
The then-badminton world champion Ye lost the match in question in straight sets to compatriot Gong Zhichao, who went on to beat Denmark's Camilla Martin to win the gold medal in the final.
"The match results from the second half of 1998 and the entire year of 1995 were analysed," Li said in the CCTV interview. "In the matches against Camilla Martin, Yu Zhaoying is more likely to lose the game. But Gong Zhichao rarely lost a match against Martin.
"And in media coverage or interviews, Martin has clearly said that she didn't like playing against Gong Zhichao. She found it difficult to break Gong's defence. On the other hand, she never had the same feeling after her matches against Ye Zhaoying."
"In all my years of coaching, I don't agree with match fixing," Li added in the video. "I really didn't, because there is always someone getting hurt. I feel bad having to ask someone to lose a match deliberately. But in China, as you know, our ultimate goal is the interest of the country.
"For the semi-final between Ye Zhaoying and Gong Zhichao, we did make a decision. After much discussion and careful consideration, it was to mobilise Ye Zhaoying to concede.
"Meanwhile, we also promised and guaranteed Ye that if Gong Zhichao wins, we will give Ye the same treatment as the Olympic champion."
After her unexpected loss to Kim Ji-hyun in the quarter-finals of the 1996 Atlanta Games, former world No 1 Ye gave an interview expressing her hopes of winning the Olympic title – the one major honour to elude her in her career – in Australia.
"It's a pity to lose this match," she said in 1996. "But I think I still have other chances because there will be the next Olympic Games. In four years, I will be 26 years old. I don't think I will be too old to play."
Ye carved out a stunning career after joining the national team in 1989 at the age of 15. She won the World Championships twice, the World Cup and Asian Cup once each, the mixed team Sudirman Cup twice, and the women's team Uber Cup for China three times.
She also won the women's team gold medal at the Asian Games, and was an Asian Cup champion and a five-time winner of the Asian Championships.
"Ye Zhaoying is also a great athlete," Li said in the video. "It's hard for any athlete to do that. She was in tears. She was not willing to give up her chance. Despite everything, she agreed with tears in her eyes that she would respect the team's choice."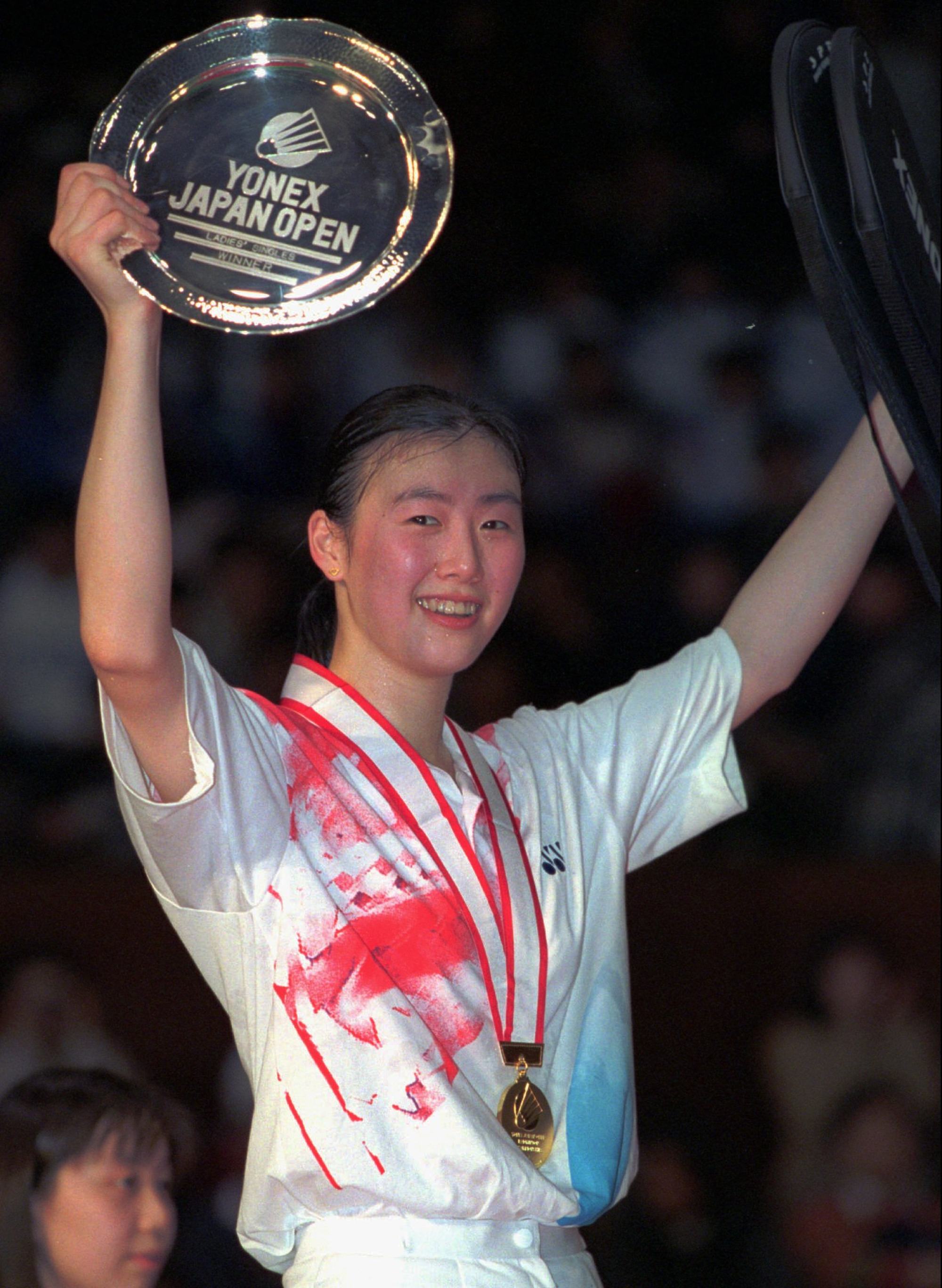 The CCTV programme reported that Ye did not accept any interviews after the 2000 match, and packed up her things and left in a hurry.
Ye made her claim about match-fixing last week in an interview with Danish television network TV2 from her home in Malaga, Spain, where she lives in exile with her husband, the former Chinese football star Haio Haidong.
The couple said in the interview that they had no hope of returning to China, after Hao's
strong criticism
of the Chinese authorities in 2020.
Their names have been censored from Chinese search engines and on social media platforms such as Weibo and WeChat.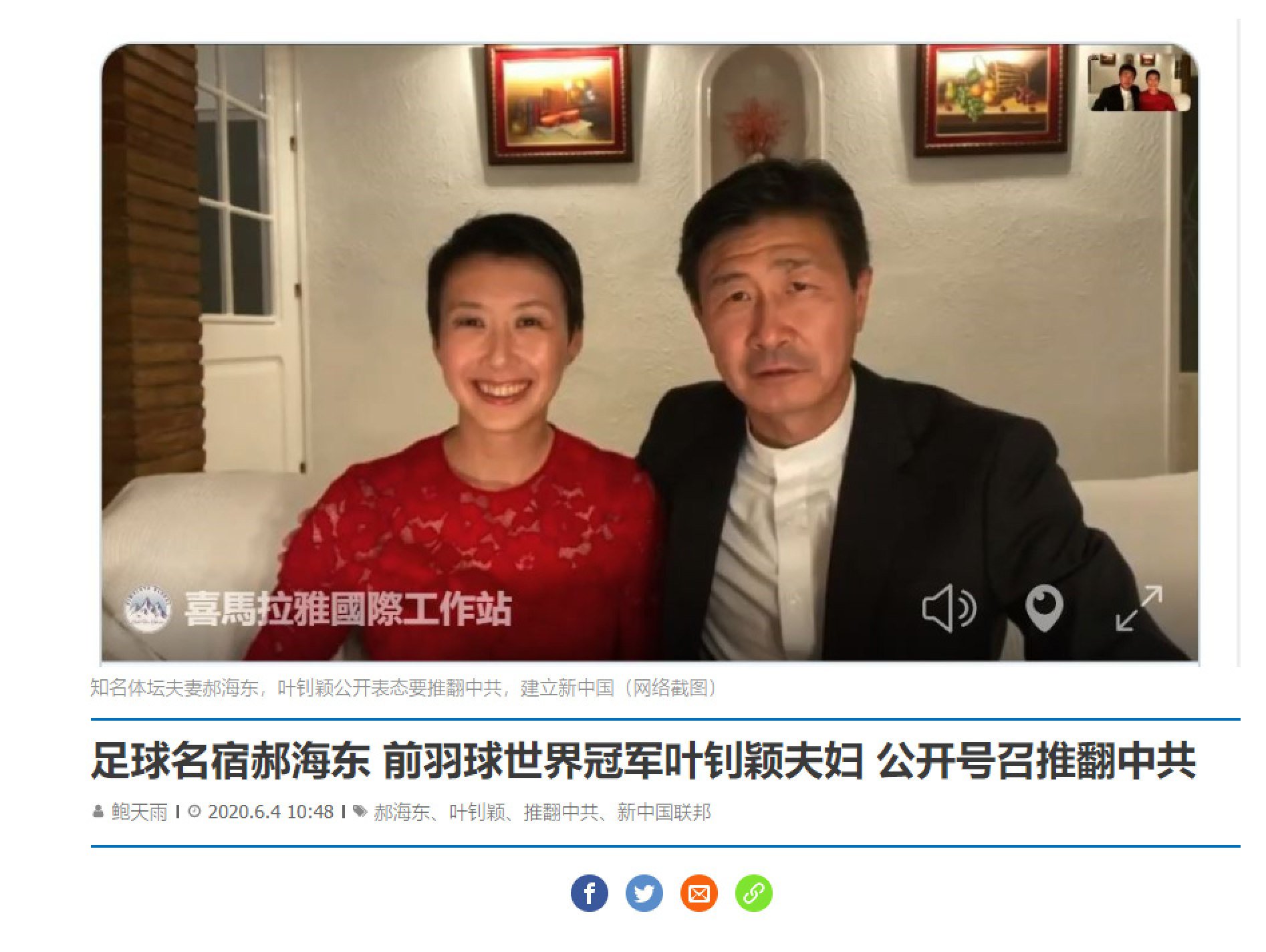 Badminton's governing body said in a statement that it "can't comment on specific details related to this historic incident" but that measures were in place to combat corruption.
Ye's claim was not the first time coach Li had been accused of match-fixing.
Former Chinese women's singles star Zhou Mi said in May 2021 that she was asked by Li to throw her semi-final at the 2004 Olympics in Athens against teammate Zhang Ning because she was four years younger than her opponent, in quotes reported by Chinese media platform Sohu.
Zhang went on to beat Indonesia's Mia Audina in the final and win the gold medal.
"The coach gave me instructions: 'We must put the honour of the country first,'" Zhou was quoted as saying. "I have never considered personal interests too much. Of course, I felt very wronged in my heart."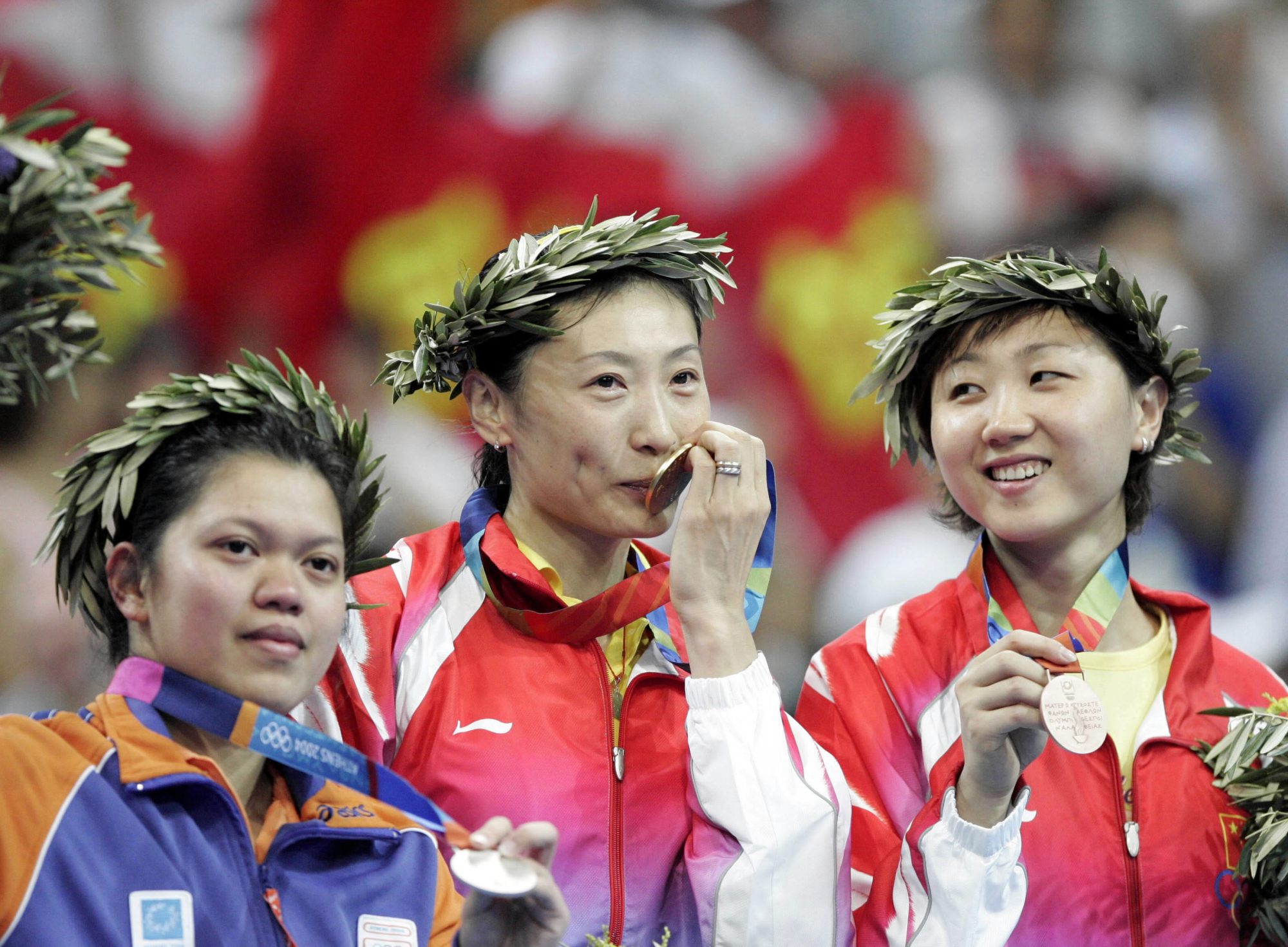 Zhou claimed she was also asked to throw the 2003 All England Championships final against the same opponent. She lost to Zhang Ning 11-8, 11-8.
"It was actually the coach who asked me to retire [in 2006]," said Zhou, who opted to switch to representing Hong Kong in 2007. "I followed the coach's instructions, and I retired. Actually, I didn't choose to retire."
Zhou received a two-year doping ban in 2010 for testing positive for clenbuterol. She maintained her innocence, and claimed she had consumed contaminated food.
Li also apologised at the 2012 London Olympics, after Chinese women's doubles pair Wang Xiaoli and Yu Yang were disqualified for throwing a match in the group stage, so as to secure a more favourable clash in the knockout stages.
"As the head coach, I owe an apology to the Chinese badminton supporters and the Chinese TV viewers," Li said at the time. "The Chinese players have failed to demonstrate the good traditions and fighting spirit of the national team. I'm the one to blame."