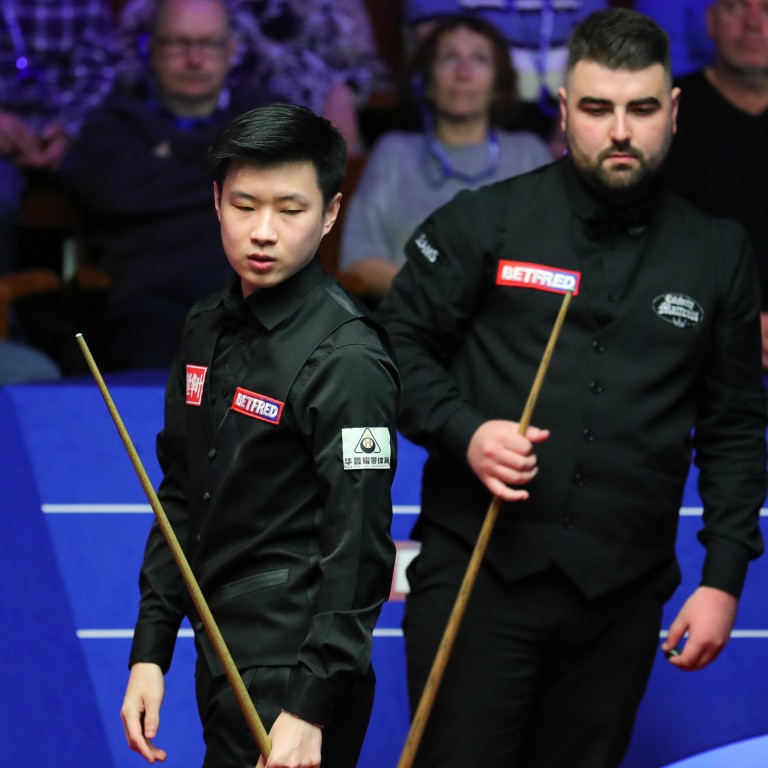 China's Zhao Xintong and Zhang Jiankang suspended in snooker match-fixing investigation
Former UK champion Zhao and compatriot Zhang have been banned from World Snooker Tour with immediate effect
10 Chinese players have now been suspended as part of the ongoing probe
Former UK champion Zhao Xintong and Zhang Jiankang have become the latest Chinese players to be suspended from the World Snooker Tour during an investigation into alleged match-fixing.
Zhao, who beat Luca Brecel to win the 2021 UK Championship title, and Zhang, the world number 82, have been banned from attending or competing on the Tour with immediate effect, with 10 Chinese players now suspended as part of an ongoing investigation.
Former Masters champion Yan Bingtao and seven other Chinese players had already been suspended by the World Professional Billiards and Snooker Association (WPBSA), the sport's global governing body.
A WPBSA statement issued on Tuesday said the decision was "part of an ongoing investigation into allegations of manipulating the outcome of matches for betting purposes in breach of the WPBSA conduct regulations".
The governing body said that both players had the right to appeal the move, but the suspensions would stay in place until the investigation had concluded "or any subsequent charges that may or may not be brought".
"The WPBSA can confirm that the wider investigation is now at an advanced stage, and it is anticipated will be completed shortly at which point any potential charges will be considered," the statement said.
"No further comment will be made at this time, except in the event of any significant further developments."
Lu Ning, Li Hang, Zhao Jianbo, Bai Langning, Chang Bingyu, Yan Bingtao and Chen Zifan were all suspended in December after world number 56 Liang Wenbo became the first Chinese player to be suspended as part of the investigation in October.