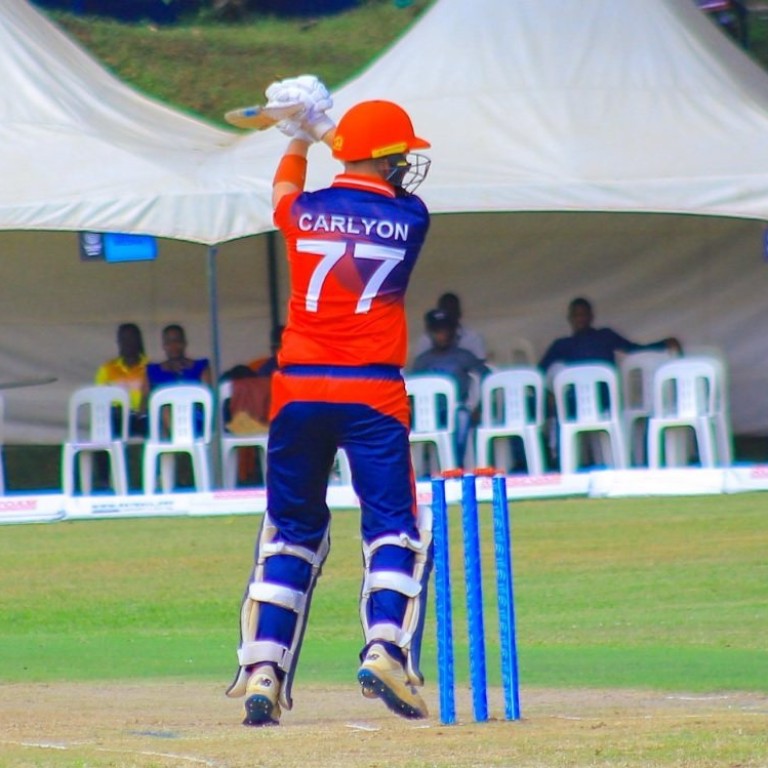 Jersey cricketer Harrison Carlyon found not guilty by ICC in connection with incident involving Hong Kong's Ehsan Khan
Top-order batsman was accused of being involved in an incident with Hong Kong player Ehsan Khan during a Challenge League B game in Uganda
ICC rules there is insufficient 'evidence available to find that the alleged offence had been committed'
Jersey cricketer Harrison Carlyon has been found not guilty of committing any offence in connection with an incident that occurred during his side's game against Hong Kong in the Challenge League B round in Uganda in June.
A hearing before ICC match referee Ranjan Madugalle cleared the top-order batsman of breaching a breaching Article 2.12 of the ICC Code of Conduct for Players and Player Support Personnel, which relates to "inappropriate physical contact with a player, player support personnel, umpire, match referee or any other person (including a spectator) during an international match".
Carlyon was initially accused by members of the Hong Kong squad of physically assaulting Ehsan Khan, something the Jersey player denied, towards the end of a bad-tempered game in Kampala on June 24 which Jersey won by 55 runs.
There is no doubt an incident took place. It is a matter of fact that Khan was carried off the pitch having been attended to by physio's from both teams, and the game delayed for between 15 and 20 minute. As one witness pointed out "he didn't fall over by himself".
Ultimately, after legal advice regarding the evidence available Cricket Hong Kong opted for a lesser Level 1 charge, having initially wanted to pursue it as Level 4 offence, the highest under the code of conduct.
In a statement, the ICC said that having heard from "respective parties" Madugalle "was not comfortably satisfied that there was sufficient evidence available to find that the alleged offence had been committed and thus returned a not guilty finding".
Khan was not present for the remote hearing, which was held last Thursday, more than a month after the game took place. Carlyon attended, as did Jersey Cricket's team manager and CHK's general manager Mark Farmer, plus the tournament referee.
As part of its evidence, CHK supplied video footage of the aftermath of the incident, showing Khan being helped and the television commentator at the timing speculating that he had been hit. There was no footage of the incident itself.
A source close to the hearing pointed to the fact that neither umpire present at the time, nor the match referee, had mentioned it in their official reports.
However, there is a suggestion that the ICC officials, and an anti-corruption officer at the ground at the time, failed to take any statements on the day, thereby delaying the inquiry for a significant period of time.
"Although we are disappointed with the outcome we respect the ICC's decision," CHK said in a statement. "The matter is now closed as the decision cannot be appealed."
Whether the matter is still closed between the two teams remains to be seen. Jersey are hosting the final round of the Challenge League B, which starts on Thursday, and will face Hong Kong in St Martin next Wednesday.