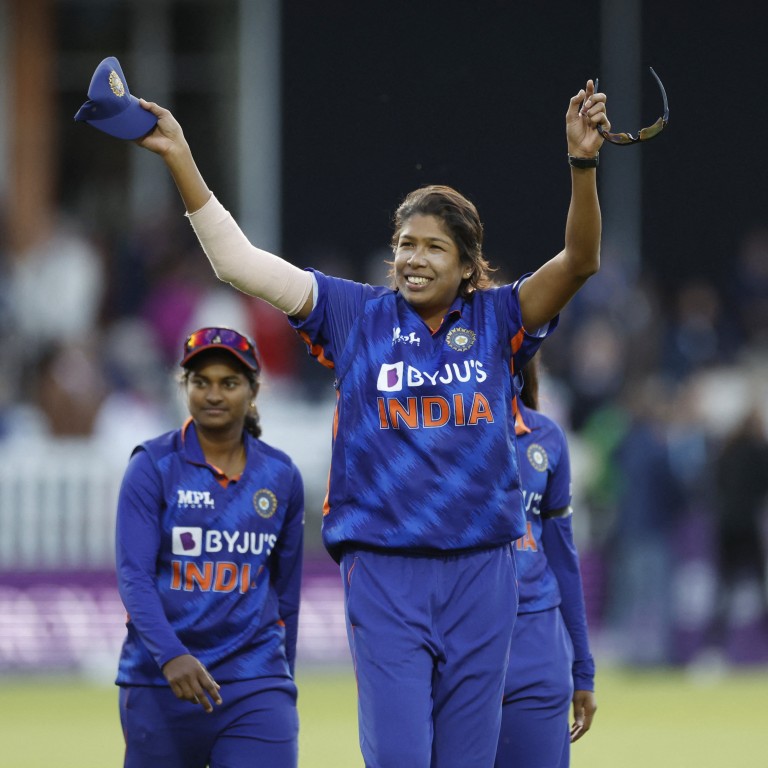 India's Jhulan Goswami leaves deep footprint after 20 years of great strides for women's fast bowling
Series win over England is an apt ending for the highest wicket-taker in women's international cricket as she bows out after 20 years at the top
From idolising Maradona to World Cup heroics of her own via testing teenage train rides, Goswami's journey has been lengthy, punishing and made at brisk pace
It's kind of funny to Indian cricketer Jhulan Goswami that she found her calling in fast bowling. Certainly, the thought occurred to her whenever she was injured.
"I felt it would have been better if I had not been a fast bowler … I would not have had so many injuries," she said in jest, recalling those stresses and strains, before her swansong at Lord's.
For the highest wicket-taker in women's international cricket to make this quip on the eve of her international retirement was no less funny either. But as she bid the game adieu on Saturday, after India's 3-0 one-day international (ODI) series sweep over England, the true essence of the 39-year-old's words were reflected in the chorus of tributes that poured in for her.
"Her longevity as a fast bowler in women's cricket is beyond belief," tweeted Mithali Raj, the legendary Indian batter and former captain who retired in June. "We have played together since our under-19 days, and [Goswami's] commitment to the game and her eternal optimism are lessons for all."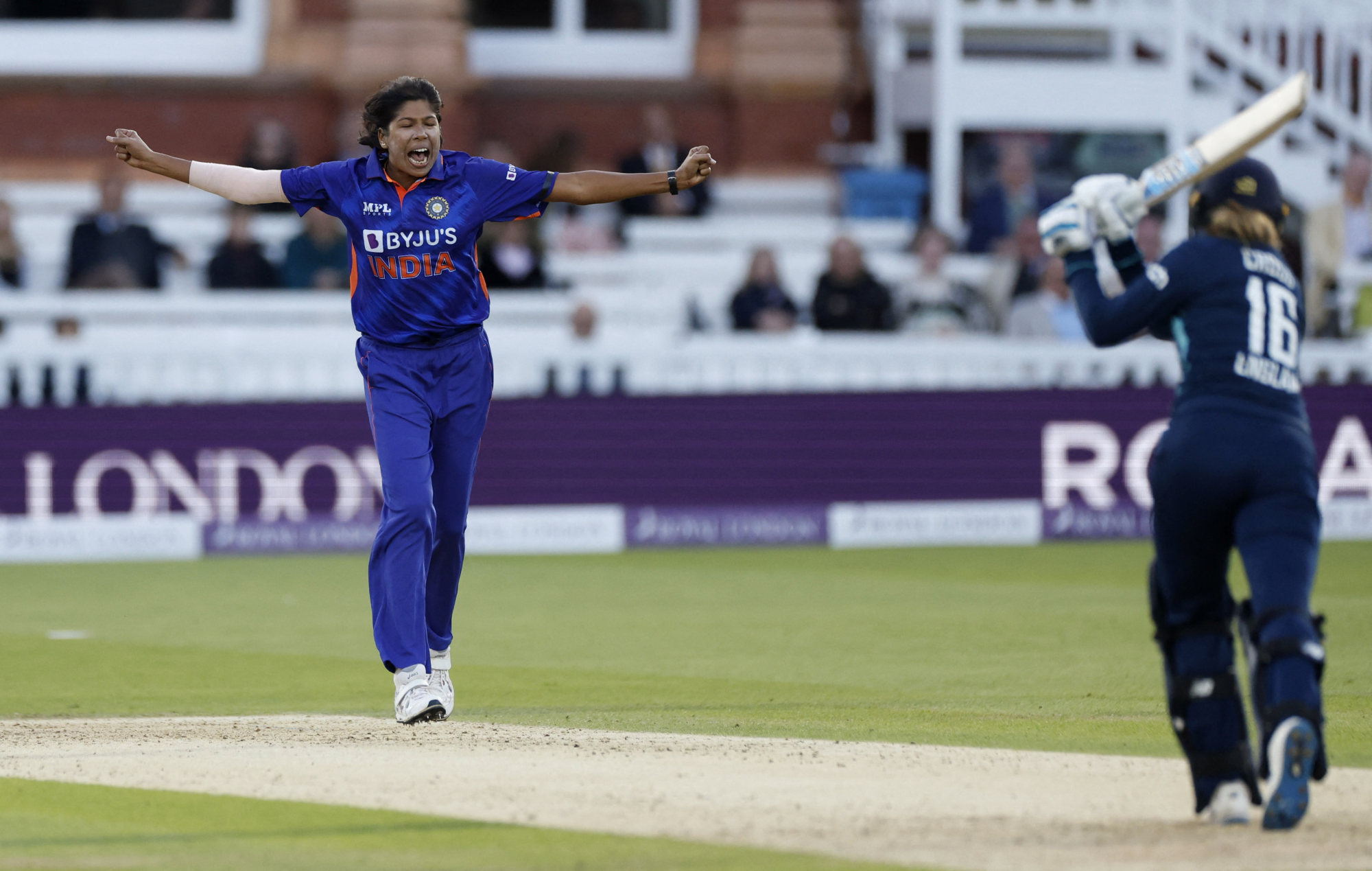 England batter Tammy Beaumont echoed Raj. "It's not just what she does on the pitch, she's an absolutely lovely human," Beaumont said. "She's been great for the game and she'll be a very big loss."
In a career spanning 20 years and 261 days – the second-longest of any woman to have played international cricket – Goswami picked up 355 wickets in the 284 matches she turned out in for India across the three formats. The only woman cricketer with 200-plus wickets in ODIs, she took 255 in the format, 64 more than the second-best on the chart.
All the while, the former India captain has remained a force in one of the most demanding disciplines of the sport. That fast bowling was her forte, having been born in India, made her career all the more extraordinary.
Not only have the pitches in the country, and the subcontinent at large, historically aided spinners, but – with women's cricket having long been an afterthought for administrators in India – the surfaces usually played on when Goswami took up the sport were far from ideal.
Hardly conducive to pace, the pitches offered little assistance, either, to quick bowlers in terms of movement off the surface. Even though Goswami held a natural edge by dint of her towering 5ft 11in frame, she couldn't rely on it too heavily.
To be a woman and dream of being a fast bowler in India was itself an act of rebellion. To do so in the 1990s and early 2000s, when young girls had few home-grown quick-bowling role models, made Goswami's choice of specialism even more unusual.
But at the heart of her love of the game lay a deep desire: to bowl fast, like her idols, Glenn McGrath and Cathryn Fitzpatrick.
"The 19-year-old Jhulan, when she debuted against England in 2002 in Chennai, that was a different Jhulan," Goswami said on Friday. "[She] just wanted to bowl fast.
"She just wanted to take one wicket because she didn't know [if] she will be able to continue or not, whether her performance will be maintained or not … And the desire to bowl fast has remained with me forever."
Cricket wasn't Goswami's first love. Her preferred sporting code was football.
An ardent fan of Diego Maradona, it was watching him well up after Argentina's loss in the 1990 World Cup final that drew her into sport. All of eight years old, she felt an instant connect with the Albiceleste superstar, and years later would pick his shirt number – 10 – for her jersey as an India cricketer.
That Goswami went on to pursue a career in cricket was down, in part, to fast bowlers. The images of India quick Kapil Dev and Pakistan pacer Imran Khan bowling during the 1992 men's World Cup got her hooked.
Five years later, Goswami would attend a women's match for the first time at a stadium, when the 1997 Women's ODI World Cup came to the Indian city of Kolkata. In the final of that tournament, between Australia and New Zealand, Goswami watched from near the boundary, as a ball girl.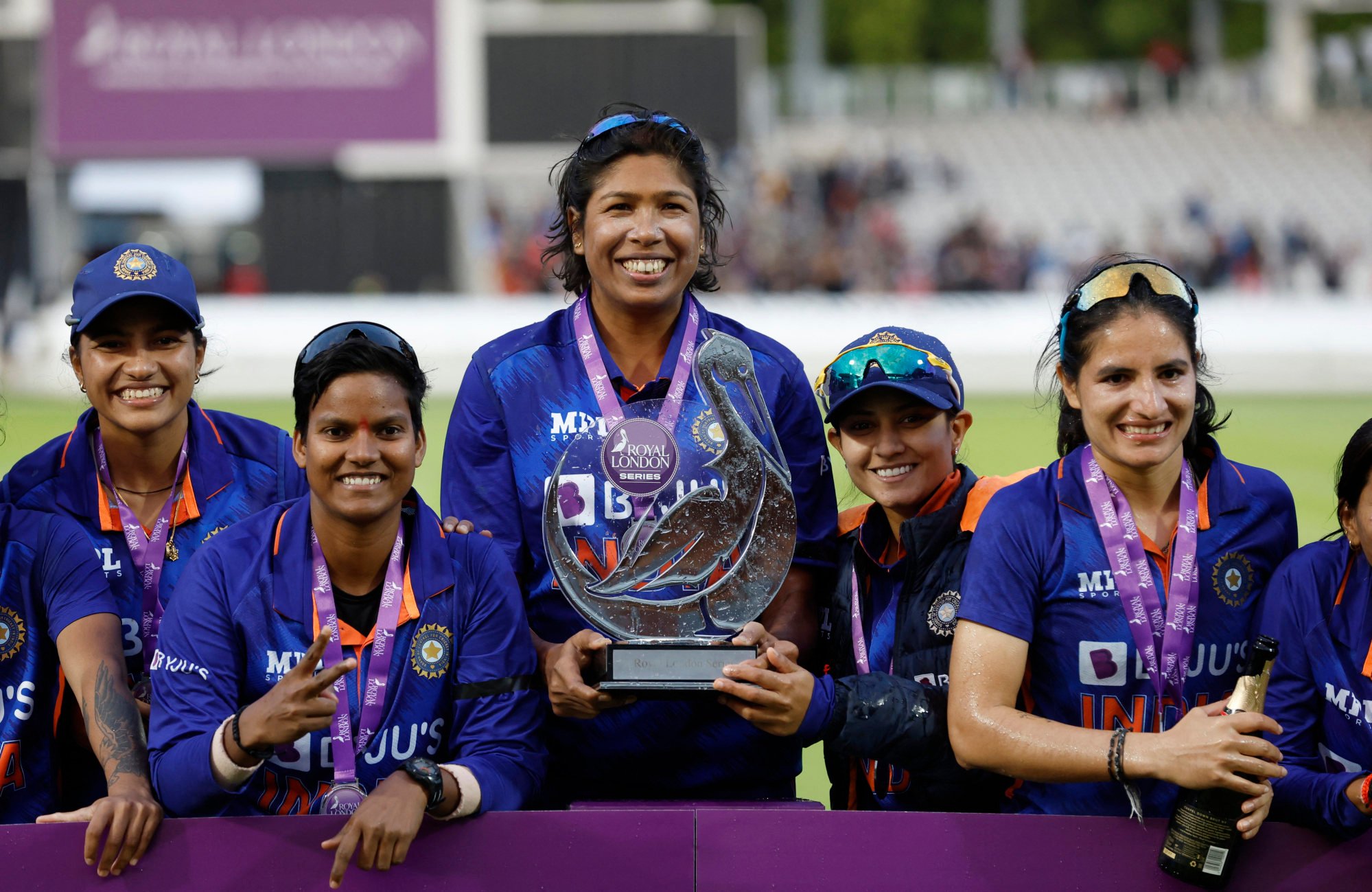 The pace and control of Fitzpatrick, the Australian seamer, wowed her. Captain Belinda Clark's victory lap left her thrilled. Surprised that women played cricket professionally, Goswami soon made up her mind to represent India one day.
Much of Goswami's journey, from Eden Gardens to Lord's, is about roads not taken and paths that were. At their crossroads has often been Swapan Sadhu, Goswami's personal coach, whom she first met through a friend.
Impressed with Goswami's natural high-arm action, Sadhu not only taught her the basics but was instrumental in convincing her middle-class, conservative Bengali family to let her try cricket.
That led the 15-year-old to start travelling 80km by train, bus and auto-rickshaw, by herself and with a heavy kitbag, from the small town of Chakdaha to Sadhu's academy in Vivekananda Park, Kolkata.
Those gruelling commutes, and the jibes from fellow passengers about being a girl and playing sport, became a foundational experience. Sadhu instilled self-confidence.
"I have been fortunate enough that I have had a coach like him who helped me in everything," Goswami said on Friday. "He has taught me important lessons in life. Thanks to him, because of him and whatever I've learned from him, I am here."
By the time of her fourth of five 50-over World Cup appearances, in 2017, it was Goswami in the position of role model as India made an unlikely run to the final.
"Nobody initially thought we would get to the final," she said during her farewell game at Lord's. "From there, women's cricket in India slowly, gradually picked up, and now we have our own path and we can motivate young girls to play sports and have a career in cricket."
India lost that final to England by a whisker, but not before a sensational spell of three for 23 by Goswami. The roles had been reversed by Saturday, when she brought the curtain down with a single-minded focus that had long been her hallmark.
"I have to [keep my emotions in check] because I can't come with emotion on the cricket field," she said after being invited to call at the toss. "My character is ruthless; you have to play hard cricket and give your best."
Defending a sub-par 169 with plenty of movement on offer, Goswami began her new-ball duties with a maiden over. She rounded off her career with a wicket in her 10th and final over – a maiden – a ball after she became the first woman to reach 10,000 deliveries in ODIs.
After a miserly two for 30, and India wrapping up the match and a memorable series win, she was chaired off by teammates, perched on the shoulder of fellow fast bowler Meghna Singh, who has long considered Goswami an inspiration.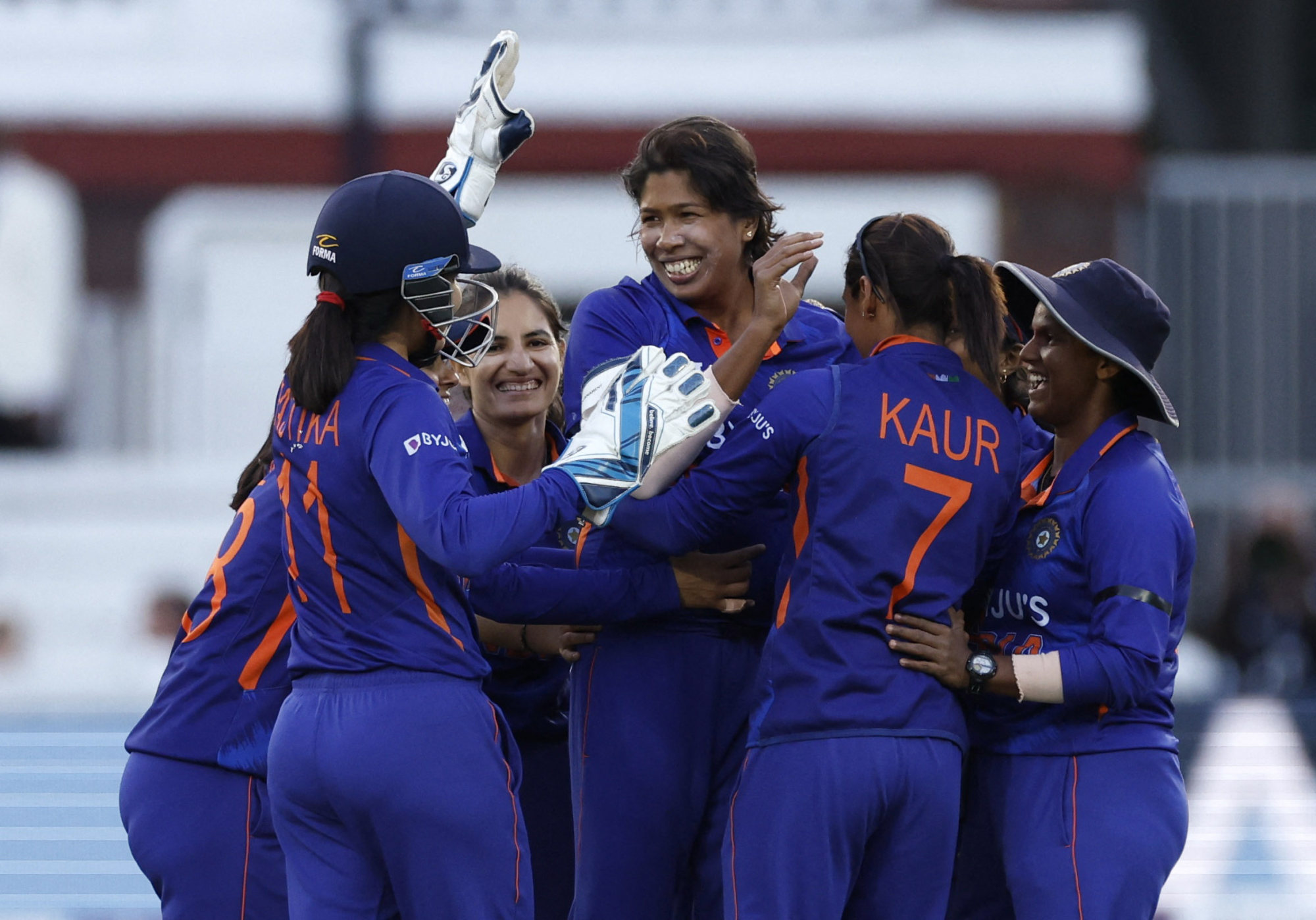 What retirement might look like is unknown. The Board of Control for Cricket in India is expected to launch a Women's Indian Premier League in March. "Let that announcement happen officially, and then I will decide," she said, when asked about featuring in it as a player.
More likely is coaching: since July, she has been mentoring all women's age groups for her state side, Bengal.
Fast bowling will replenish itself as new wannabes step into this most physically corroding of cricketing crafts. But the footprints of the teen who walked into Eden Gardens 25 summers ago, and has been making great strides ever since, will remain. Forever.