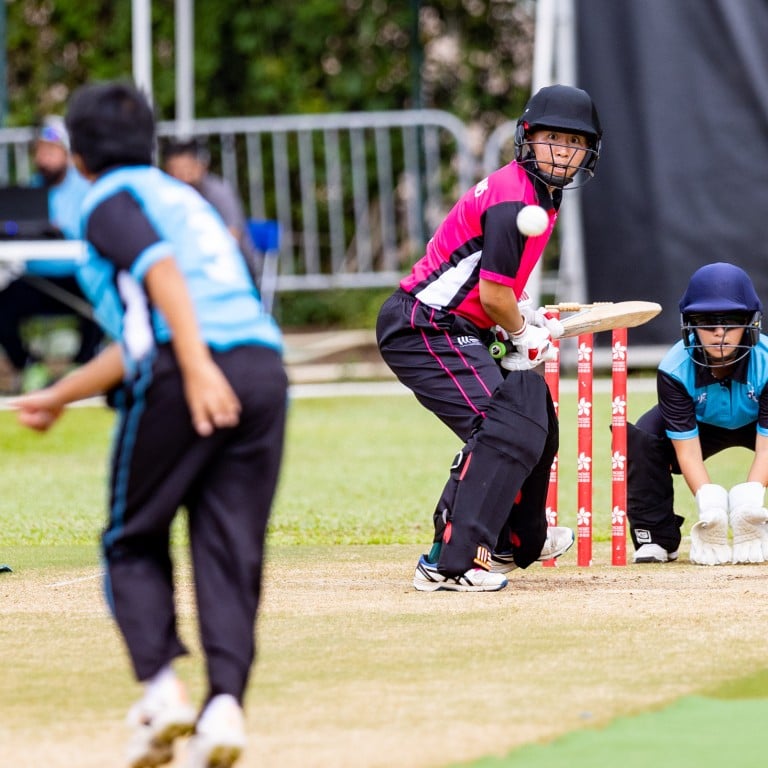 Hong Kong skipper Kary Chan scores century ahead of East Asia Cup, as teen rookie Bradley readies for debut
Chan top scores for Bauhinia Stars during Sunday's All Star game, smashing 122 of just 55 balls
Georgina Bradley will make her international T20 debut for Hong Kong in Japan this week
Georgina Bradley, a 16-year-old Island School pupil, will make her international debut for Hong Kong this week, when the city's women head to Japan for the East Asia Cup.
Bradley is part of the 14-player squad competing in the fourth edition of the T20 international league, which takes place in Kaizuka from October 26 to 31.
It's a rapid rise for the teenager, who took up cricket before the age of 10 and has risen through the ranks of Cricket Hong Kong's pathway programme to serve as vice-captain for Hong Kong Cricket Club's Willow Wielders.
On Sunday, Bradley made her debut in the All Stars league for Jade Jets, where the realities of graduating from domestic to national cricket quickly set in.
Bowling to Bauhinia Stars captain Kary Chan, Bradley's nervy opening over was merciless dealt with by Chan, who took 22 runs from it. To her credit, Bradley took the experience in her stride.
"I never thought in a million years I would be bowling against Kary Chan," Bradley said. "She may have smacked around me today, but she had every right to – my bowling was not so good. But it's not an opportunity you get everyday and I'm still developing as a cricketer."
Bradley, who started playing football at the age of seven before switching to cricket full time in 2016, said she was "really nervous and extremely excited" about her international T20 debut in Japan.
"There's no better opportunity," she said. "I never expected this, especially for it to come so quickly, but I love it. It's great."
Bradley described herself as a "bit of an anomaly" among her school friends, but said they understood that playing for Hong Kong was a big deal.
"Cricket just interests me more, even though it's more technical, it's a lot more challenging for me and it's something that I excelled in more than football.
"Some of my friends don't really understand what it really means, however there are a few of the boys who do play cricket and they understand – it's really nice to have their support."
This will be the first time since 2019 the East Asia Cup has taken place, having been halted by the coronavirus pandemic. This year's tournament will see both South Korea and China miss the event because of Covid-19 complications.
Hong Kong will go into the tournament ranked higher than Japan, but Chan, who will lead the women's squad as captain, said there was no room for complacency.
"We haven't played against Japan in a very long time, so we are not sure about their opposition," she said. "We will be playing on astroturf too, so we'll have no idea about the bounce and other things like the weather. We'll just do the best with what we can do.
"The last four to six months we've had more chances to play and keep busy, I think that has been very good for the team. We need to play against other national teams to improve our game and get our ranking higher."
During Sunday's All Star match, a fired-up Bauhinia Stars dominated the Jade Jets, thanks largely to Chan, who smashed 18 boundaries on her way to 122 runs from just 55 balls. Shanzeen Shahzad contributed a solid 50 runs as Bauhinia cruised to 127-run win.
Chan said it was healthy to see a mix of new and established players in the All Star league, and for younger players such as Bradley, it was an important step – even if it meant taking a beating.
"We don't have a choice but to smash bad balls," Chan said. "Even though she is my student, it's something you have to learn and I think Georgina had a big lesson today, but it doesn't matter – batters and bowlers all have bad days. I know she will come back stronger next time."
East Asia Cup squad: Kary Chan, Betty Chan, Emma Lai, Georgina Bradley, Iqra Sahar, Maryam Bibi, Mariko Hill, Natasha Miles, Ruchitha Venkatesh, Shanzeen Shahzad, Tammy Chu, Yasmin Daswani, Cindy Ho, Cheung Hiu-ying