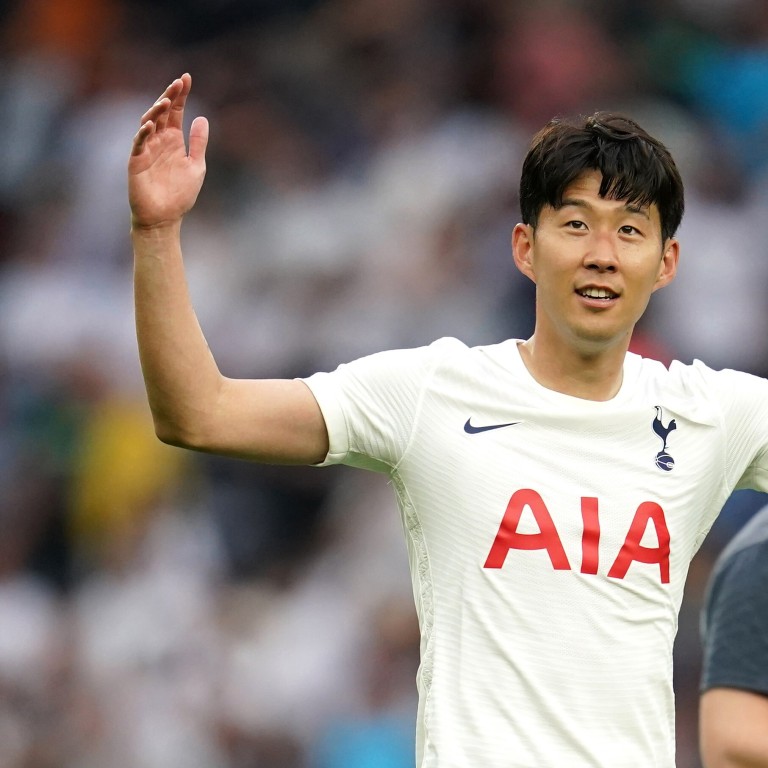 Squid Game? BTS? Son Heung-min should be atop the 'Korean Wave'
While he has fans back home and within the game, the Spurs star deserves to be more widely appreciated amid Korean boom
Son, who is worth US$1.8 billion to South Korean economy, feels overlooked despite his English Premier League record
It's safe to say that South Korea is having something of a moment.
Squid Game is set to smash records on Netflix, boy band BTS were the biggest selling artists of 2020, and Parasite won the Oscar for Best Picture last year.
Just this week, the Oxford English Dictionary got in on the "Korean wave" as it announced its new additions for September, including 26 Korean words.
"K-pop, K-drama, K-beauty, K-food, K-style – these days, everything seems to be getting prefixed with a K- as South Korea's popular culture continues to rise in international popularity," the OED wrote in a blog post on the update.
One of the words they added was "hallyu" which they defined as: "The increase in international interest in South Korea and its popular culture, represented by the global success of South Korean music, film, TV, fashion and food."
If you're looking for examples of South Korean success then footballer Son Heung-min should be at the top of the list but as we've seen with the 2021 Ballon d'Or nominees, overlooking Son seems all too easy.
Despite scoring a career-best 17 goals in the English Premier League for Spurs last season Son missed the cut for the 30-player longlist – even though he made it for the most recent award in 2019.
How, with the global eye on all things Korean, is the country's greatest footballer somehow underappreciated?
Maybe he is not by those that matter.
BTS showed Sonny some love other day when the boy band and the footballer-with-the-boy band-good-looks collaborated on social media and there has long been a love-in between the Spurs No 7 praised the singing septet.
"I think they're also national heroes," Son said in an interview with British rapper Chunkz for football store Pro Direct Soccer last month. "I think it's incredible, you know, what they do is for Korean people, [it] makes us really proud and really happy."
This week BTS called Son "world class" – and they are right.
The success of BTS today is a decade or so from the first global success of K-pop artists and it is fitting that Son's has come a decade or so on from the footballer who was an idol to him and so many other South Koreans: Park Ji-sung.
Son might be the South Korean footballer 2.0 that the world needs but as Park pointed out this week maybe football is not quite as ready as the wider world to embrace the "Korean wave".
Park asked fans of his former club Manchester United to stop singing a song about him that makes reference to South Koreans eating dog meat. The chant was aired at Wolverhampton Wanderers when the teams met in August and the hosts unveiled new signing Hwang Hee-chan.
Disappointing, just as it has been to see so-called football fans racially abuse Son on social media over the years, most recently when Spurs played Manchester United last season.
Still Son is loved by those within the game, if not those who watch it.
Then Spurs boss Jose Mourinho called him "Sonaldo" after he scored 2020's Fifa Puskas Award-winning goal reminiscent of the original Brazilian Ronaldo did for Barcelona back in December 2019. It came the same day as Son was named The Best Footballer in Asia award for the fourth consecutive year, with the award handed to him by his idol Park.
Last week Aston Villa boss Dean Smith said Son was "the difference" between the two sides after Spurs won their English Premier League match 2-1.
Son assisted both Spurs strikes and with his strike partner Harry Kane yet to score in the league this season, it has once more fallen on the South Korean to deliver.
Come midweek, Son was scoring a last minute winner for South Korea against Syria in the Fifa World Cup qualifier – the three points another step toward qualifying for Qatar 2022.
This was the same week FIFPRO announced that Son was among the footballers to rack up the most miles travelling to matches over the last three season – his 223,000km more than five times round the world.
Little wonder he is so beloved back home.
In April, Forbes Korea named him at No 4 on the 2021 Korea Power Celebrity 40 list, which rank South Koreans on media exposure, broadcast appearance, income and social media.
Son was behind BTS, Blackpink and Toronto Blue Jays star pitcher Ryu Hyun-jin overall but ranked No 1 for media exposure.
The South Korean government certainly appreciate him – last year they announced that his financial effect is worth some US$1.8 billion to the country – but what will it take for the rest of the world to catch up?
Son has to be a certainty for the English Premier League Hall of Fame, having recently passed inaugural inductee Eric Cantona's goal total earlier this season. Maybe that will do it?
Arguably the £22 million he cost from Bayer Leverkusen makes him Spurs best signing ever and any doubt would be eradicated were he to see out the contract he signed this summer, which would take him to 2025 and a decade at the club.
Should he leave Spurs before then it can only be for one of the biggest clubs in the world – and deservedly so. Maybe that would let us all finally appreciate Son?
If either football or the "Korean wave" were Squid Game then the Spurs and South Korea No 7 should be the winner.