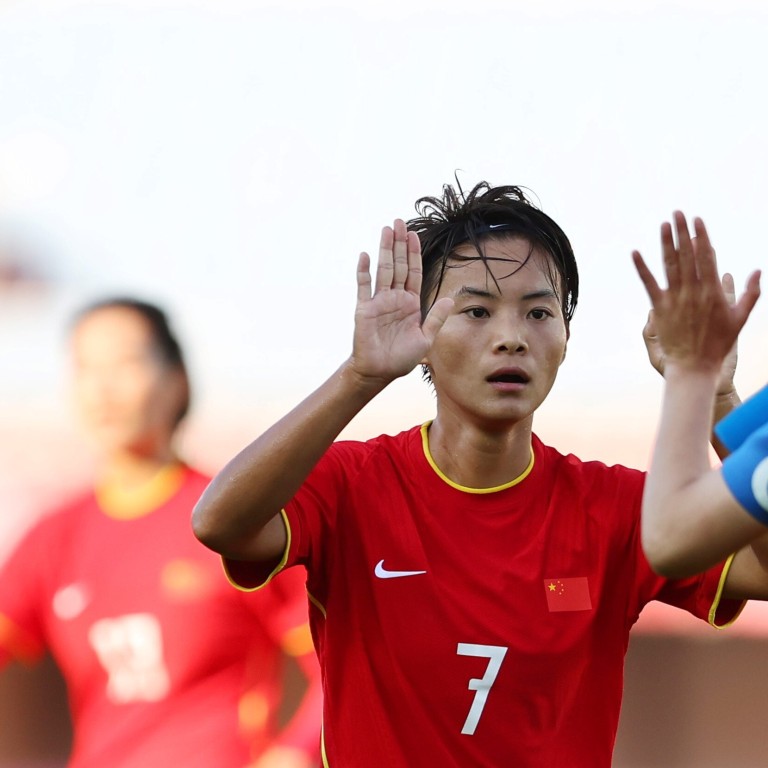 Opinion
The East Stand
by Jonathan White
The East Stand
by Jonathan White
Tottenham's Tang Jiali and Celtic's Shen Mengyu offer Chinese football pathway to better future
Tang Jiali scores first goal for Spurs while Shen Mengyu has hit the ground running at Celtic to give hope for Chinese women's football
After woeful Tokyo 2020 Olympics, the Chinese FA has to choose new coach and get star player Wang Shuang back with game's best
It is more than two months since one of the darkest hours of Chinese women's football when the Steel Roses lost 8-1 to the Netherlands at the Tokyo 2020 Olympic Games.
China's Olympics were poor before that – a 5-0 defeat to Brazil was followed by an embarrassing 4-4 draw with world No 104 Zambia – but the greatest humiliation was saved for last.
The Netherlands ran riot in Yokohama and it prompted the kind of hand-wringing and head-scratching normally reserved for the men's football team and its catalogue of catastrophes.
Fans called for coach Jia Xiuquan to go, telling him to "get out of class" as Chinese football supporters say, and criticising his choices.
Some of the biggest names in the women's game missed out as he picked an inexperienced squad and football fans were enraged by those who did not get the nod for the Summer Games.
Ma Jun and Lou Jiahui were among those to miss out as were Shen Mengyu and injured striker Tang Jiali.
While Jia's China were making headlines for all the wrong reasons, the latter two made them for making moves overseas.
Tang became the first Chinese player to sign for an English Women's Super League side when she joined Spurs in the summer while Shen signed for Scottish giants Celtic.
Tang, who was one of the 10 candidates for the Asian Football Confederation's (AFC) Best Women's Player award last year, is on a season-long loan from Chinese Women's Super League side Shanghai Shengli.
Both have been in fine form since arriving in the UK with Tang scoring her first goal for Spurs this week.
The 26-year-old scored the winner in their 1-0 win over Charlton Athletic in the The FA Women's Continental Tyres League Cup and was named player of the match after, while Shen has one goal and five assists to her name for Celtic.
While those two are thriving, back home, Chinese women's football is at a crossroads.
The fans have got their wish on Jia, though the departing coach has not been sacked but his contract expired and will not be renewed. The Chinese Football Association are searching for his replacement ahead of the AFC Women's Asian Cup in India next January.
Who they decide to replace him will give an indication of the health of the Chinese women's game and its immediate future.
Former Eastern coach Chan Yuen-ting, the coach of China's women's under-16s, is reportedly among the names to replace Jia, as are former Steel Roses coach Zhang Haitao, Shaanxi women's coach Liu Huana, CWSL winning Wuhan coach Liu Lin and China under-20 women's coach.
All are experienced coaches and offer hope of a brighter future though fans have expressed their dismay at another name on the list, former men's international Zhao Junzhe, who has no such coaching experience.
Appointing Zhao would be another backwards step.
One notable absentee is Shui Qingxia who just coached the women's Olympic team to victory at the China National Games but has since returned to Shanghai.
Shui was a member of the Steel Roses side that won the Olympic silver medal at Atlanta in 1996, the high point of the Chinese game – men's or women's.
While men's football looks as hopeless as their chances of qualifying for the Qatar 2022 Fifa World Cup, the women's team can make up the ground that it has lost since the '90s with a new coach and more players going overseas.
Tang's goal was the first by a Chinese player in one of Europe's elite women's competition since her international teammate Wang Shuang in 2019.
Wang, who scored all four goals in the 4-4 draw with Zambia in Japan, played for Paris Saint-Germain before returning to China as they prepared for their Olympic qualifiers.
Now Chinese players are being encouraged to go overseas again, as 19-year-old Shen Menglu who joined Sporting Lisbon in Portugal this summer told Shanghai news outlet The Paper this week.
That's an encouraging and sensible development for Chinese football, which for so long been its own worst enemy.
If the Steel Roses are to make up the ground that they have lost on other women's teams after being among the world's best in the 1990s then sending players abroad is the way to do it.
Get star player Wang back to where she belongs, challenging for the Uefa Champions League and playing with and against the best players in the game – and then send more of her China teammates behind her.
That can only benefit Chinese football in the long term and with it increase the chances that the Steel Roses are not limited to past glories.
If only the solution were that simple for the men's team.