Did you know they play American football in Hong Kong? No, we didn't either, so we went to take a look
It's been nine years since Ken Wong and his friends took their passion for American football from watching games online to starting a team in Hong Kong
The city's three full contact gridiron teams have build a solid foundation for the sport, which before Covid was competing head-to-head with China's top American football teams
It is a Sunday in June and an unlikely group of about 50 people have gathered at Happy Valley Recreation Ground in Hong Kong to see if they have what it takes to make it in the rough and tumble world of American football.
They are put through their paces, with formations and drills. There are a few inevitable big hits, but most are there for fun. Heck, after being cooped up for months, it is also a chance to blow off some steam and try something new. Some will come back, but most will simply go home with a few bruises never to return.
Welcome to the preseason tryouts, Hong Kong-style, where size is not particularly important, but a love for the game and an appreciation for American culture has seen the sport develop a small, but dedicated grass-roots following.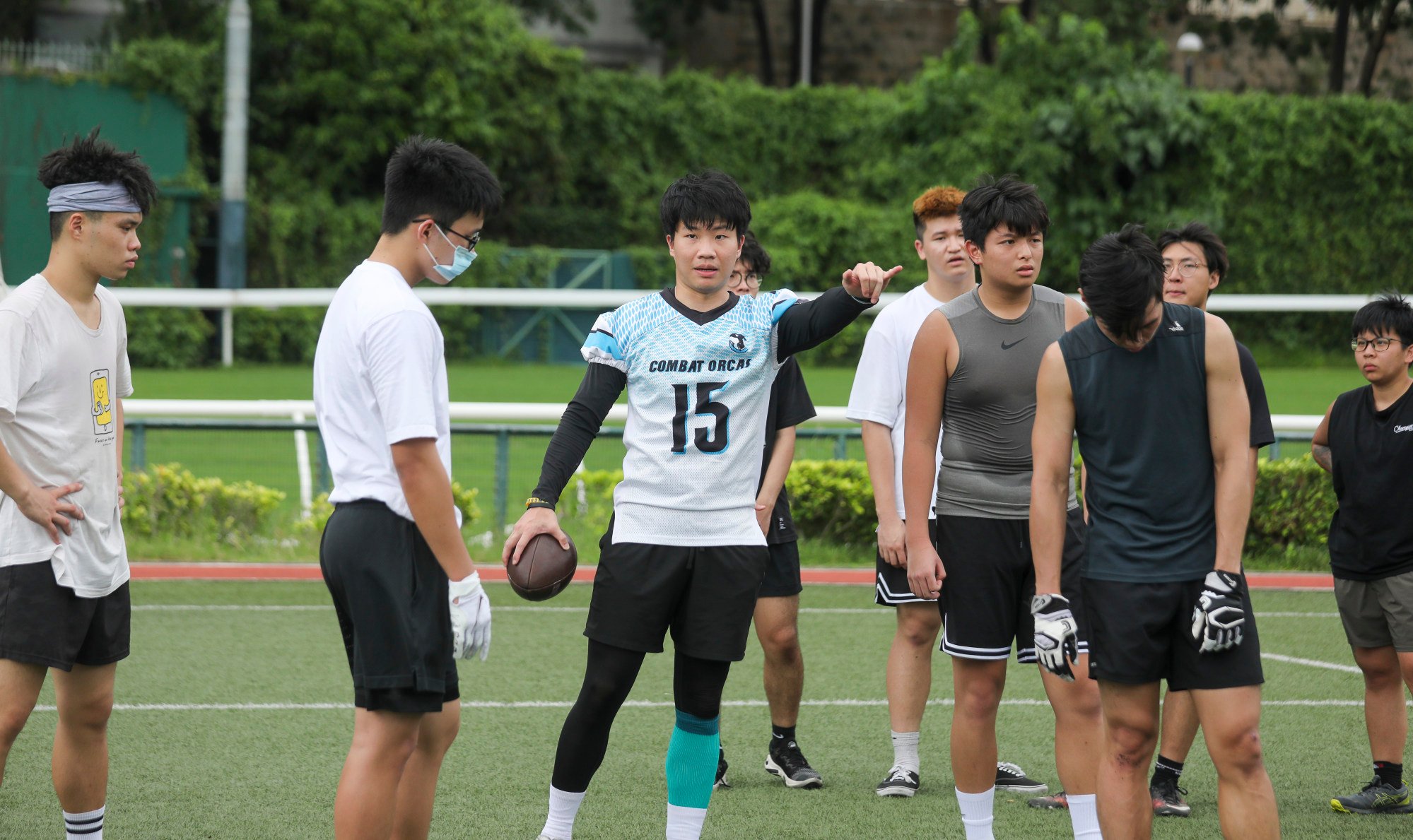 "A lot of people in Hong Kong don't really know what American football is," Ken Wong, co-founder of Combat Orcas, one of three full-contact teams in Hong Kong, said.
"Most people just play soccer or basketball and don't really get into contact sports. I've been watching American football since I was a secondary year student. I watched NFL and NCAA football on the internet and after a few years I got the chance to play with a group of friends from an online forum and we formed our own team, which was Combat Orcas."
It has been nine years since Wong and his friends took their passion for American football from merely watching games and chatting online to starting a team, developing an amateur league and building the foundations of a sport that has unearthed some loyal followers across the city.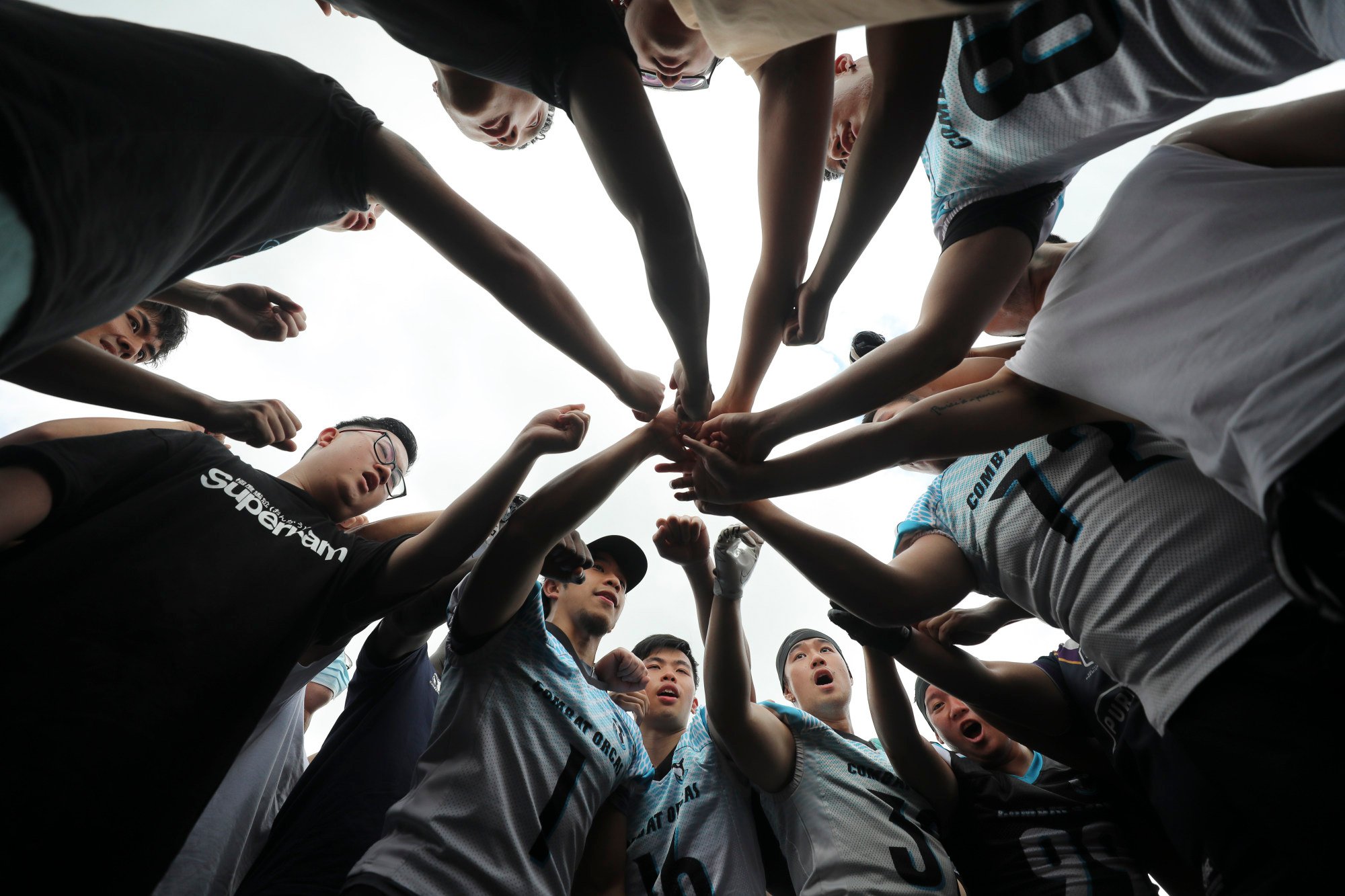 The Combat Orcas, along with Warhawks and Hong Kong Cobras can play up to seven games in a regular season, more should they make the play-offs.
Before Covid-19, the sport was on a roll and had worked its way into the Chinese National Football League where Hong Kong teams competed in the South Division against sides from Guangdong province.
Their first friendly match took place in the nearby city of Zhuhai in October 2014, with subsequent games in Shenzhen, Guangzhou and even Taiwan. Three years ago Wong and his team competed in the South China Bowl – an annual single-elimination tournament where all three Hong Kong teams, the Shenzhen Buffaloes and Guangzhou Apaches did battle.
At their peak, Combat Orcas boasted more than 100 players. Wong reckons the total number of players in Hong Kong exceeded 150. Since Covid-19 those numbers have dwindled significantly, as has competition from across the border. But with things starting to loosen up in Hong Kong, and annual tryouts back, Wong is hopeful things will rebound.
"Recruiting is difficult for us right now," he said. "We don't have enough players, even though each team holds their own training camps. We still can't get enough teams and athletes to join. Some guys have retired or left Hong Kong. We have around 50 active players right now."
The biggest obstacle for many simply comes down to cost. There is a HK$4,000 commitment needed to invest in pads and safety equipment, which not everyone is willing to do.
"I think this is one of the main reasons," Wong said. "This is a sport that cannot be played casually. You need the safety equipment to train. There's also a lot of teamwork and study you need to do to play well."
Then there are the misconceptions surrounding American football and the issues of safety. Wong adds that many also confuse the game with rugby, a more popular sport in Hong Kong.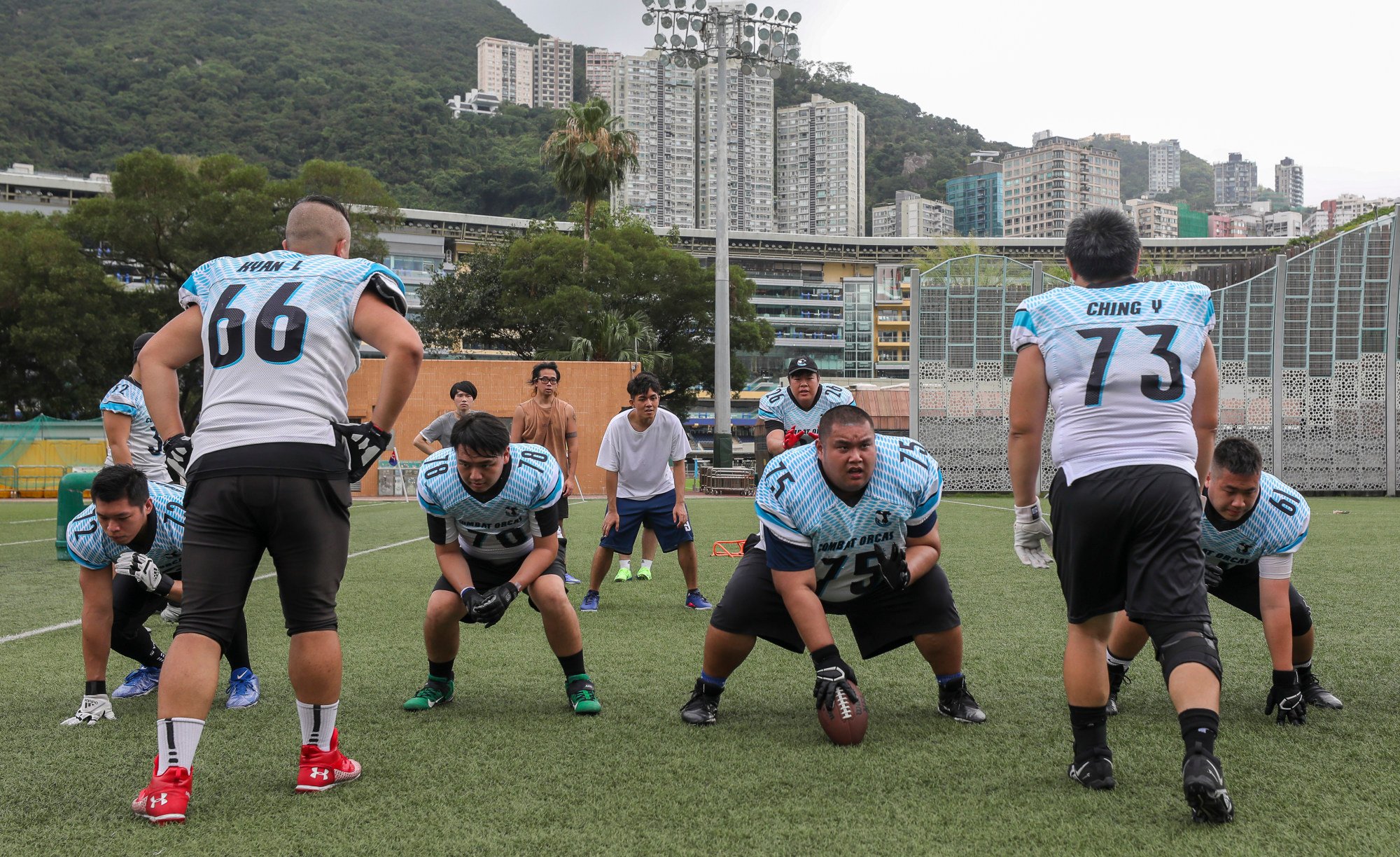 "American football is safe, but there are some misconceptions we are trying to change. We have our own rules and our own style of play. American football is played with protective equipment like shoulder pads and a helmet.
"The general population think we're the same as rugby. We look similar, both sports have similar moves and tackles, we also have a similar oval shaped ball, but actually we're a totally different sport."
Still, Wong, a former graphic designer who now works as a part-time strength and conditioning coach, in addition to his position as running back, Orcas captain and coach, social media manager and head recruiter, is a big believer in its future.
"I love this sport so much, on and off the field," he said. "That's the reason I keep pushing myself to learn something new. I want to be a better athlete for myself, and a better coach for my team and take Combat Orcas to another level, that is my goal."
Like Wong, 19-year-old aircraft engineering student Bobby Cheung Hiu-lok shares a similar passion for the sport. Cheung, who only took up the game last year, was initially drawn to it after watching on television with his dad, but after seeing some of his friends were playing, found the courage to contact the team and has not looked back.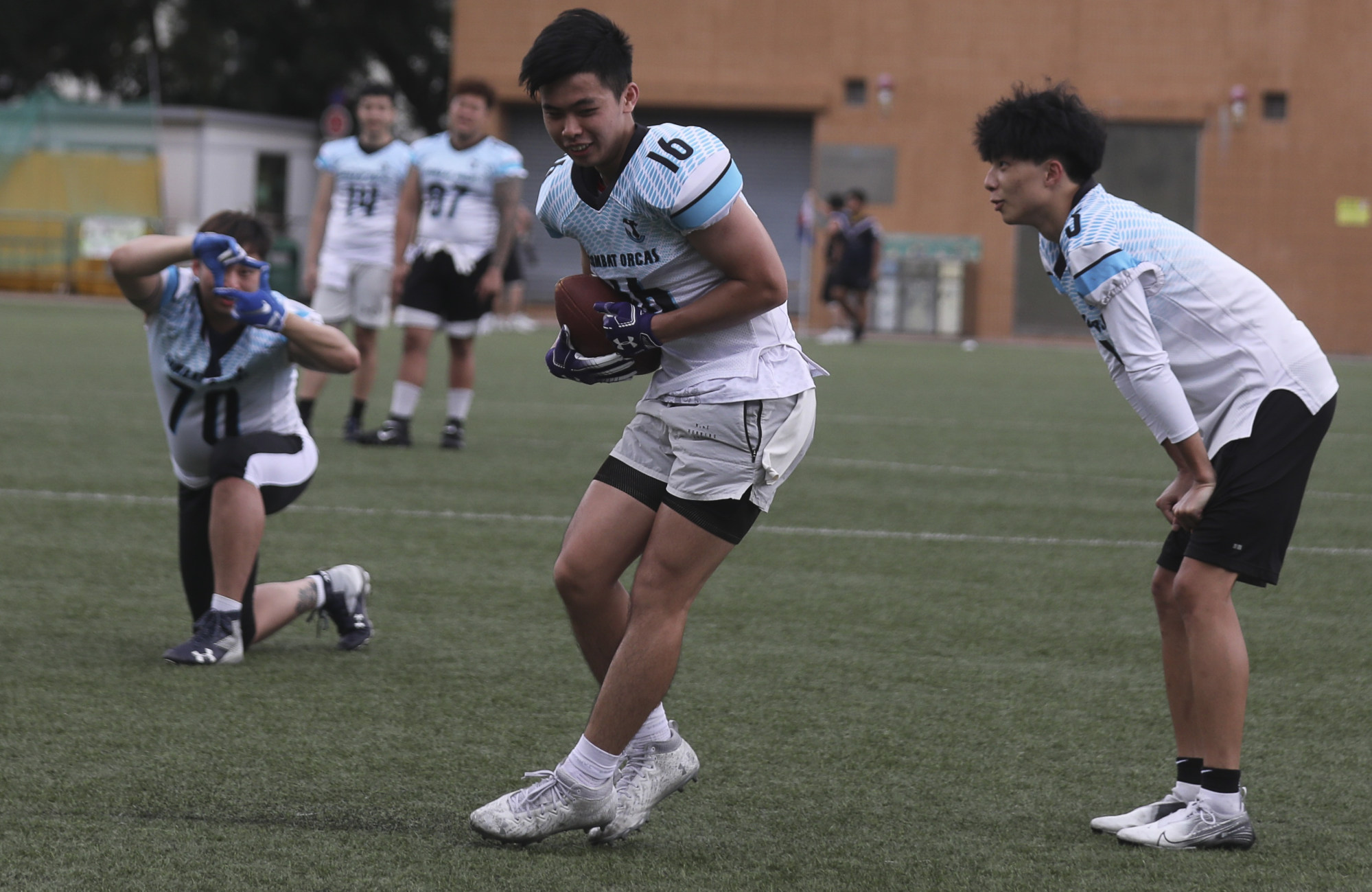 "I really enjoy it, my teammates are like brothers to me. We have a very good bond," Cheung said.
But it is also a lot more than just sport. "I can learn a lot of English by watching the games on YouTube. It means a lot to me that I can play."
Growing up, Cheung dabbled in football, basketball and badminton, but has been drawn to American football for the camaraderie, the culture and competition.
After some four months of keeping himself fit at home by doing push-ups and studying the finer details of the game, he hopes gridiron can get back on track and find its true potential.
"It's very popular in the US and I saw that it's also popular in Japan and other Asian countries. I believe it can be popular in Hong Kong too," he said.
Established player Daniel Cheong Zheng-jie also believes in the potential of the sport to grow, but said unlike many other sports, American football required a much higher level of commitment.
"One wrong step and you can get hurt. It's serious out there, you have to give it 100 per cent every time," Cheong said. "If you slack off on the field you'll get hurt. Most of the team takes it really seriously, we don't want to just go through the motions."
Cheong is also itching to get back to competition after an extended lay-off amid Covid-19.
"As long as Covid calms down, I'm pretty sure we can get back on track," he said. "The team works really hard, but we need to have some games. Our play has to be smooth – every second matters in gridiron."
Cheong is unique among his circle of friends in that he is the only one who plays, despite some efforts to convert them.
"I've tried to recruit them, but they think it's too aggressive," he said. "It's a really unique culture, but it doesn't have the exposure here. It's only a small community. It does have the potential to be as popular as it is in Japan."
Like Cheong, Jerry Law, a wide receiver with Hong Kong Cobras, was initially put off by the thought of playing – given the reputation that gridiron carries as an aggressive sport. Those initial thoughts quickly faded.
"I've been playing with the Cobras since I was 16," the 21-year-old said. "After five years of football, I realised that it was much safer than what I thought it would be – the helmets and pads were really effective in preventing injury.
"I initially thought that football was more about brawn than brains – but with more experience, I discovered that my mentality and efforts were more important.
"Knowing the playbook and having a competitive mindset really helped me overcome my physical limitations on the field.
"It's not like basketball where you can have one-man teams. Every play demands perfect chemistry and execution from all 11 players, and there's absolutely no room for hero ball."
So what does the future hold for American football in Hong Kong? Wong said in 10 years he would like to see the sport reach new heights both locally and within the South Division. He believes a national Hong Kong team is also not out of the question.
"We planned a lot before Covid. We wanted a more regular league in Hong Kong and want to make it more formal to attract new players," he said.
"We need to scale up, every team needs to put in more work, not just with their training, but with their promotions and social media. We also need more qualified coaches to develop a system in Hong Kong and run it like an academy."
A critical third part of Wong's plan is to expand the sport to universities and secondary schools to nurture the next generation of athletes in Hong Kong.
The timing, he said, could not be better, with games set to resume in October and November.