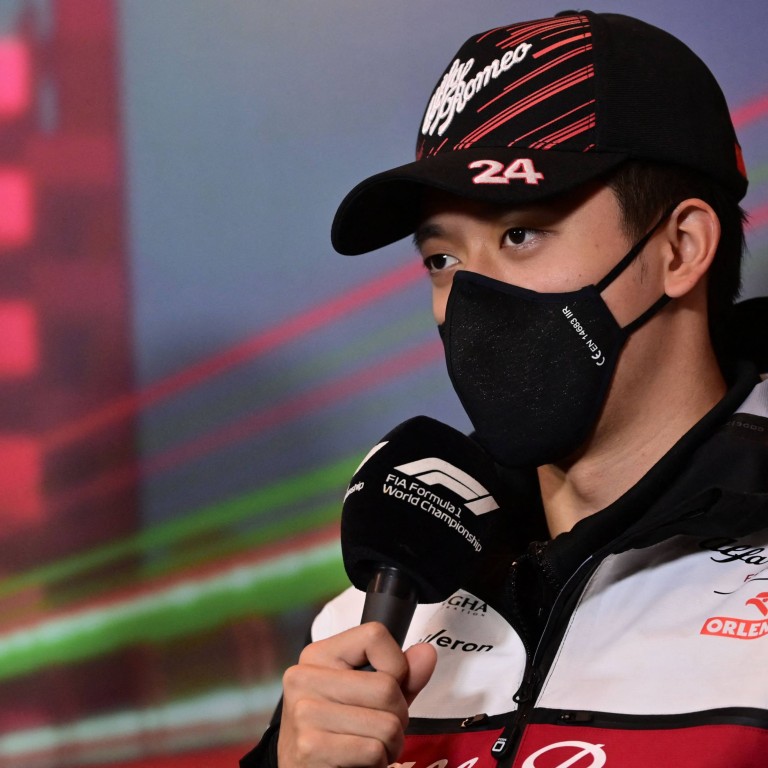 Formula 1: Zhou Guanyu's fame grows in China and London, but the cap seems to fit
Blazing a trail in F1 for Chinese drivers, the Shanghai native starts the sixth race of his debut season in Sunday's Spanish Grand Prix in Barcelona
The Alfa Romeo driver finds the toughest part is mental – 'you have to do it every single week' in F1, and it's '40 per cent driving, 60 per cent other stuff'
Zhou Guanyu loves visiting Chinatown in his adopted city of London, but it comes at a price: it's hard to maintain a low profile. "I have to wear a cap because people keep recognising me," he says, although he adds: "It's great to have this kind of thing."
Happy to make time for those eager to engage with China's first
Formula 1
star, the Alfa Romeo driver is getting a taste in the UK of what he can expect when he finally returns to his native Shanghai. The pandemic has kept him away for two years, and with the city's Chinese Grand Prix cancelled again this season, he will have to wait a while longer.
He has heard from his father that his star is rising. "I think I'll be getting recognised very easily," he says. "It's fine. The main thing is I'm really looking forward to going back."
"Once you get to F1, it's more like 40 per cent driving and 60 per cent other stuff, like team briefings, commercial commitments, meeting people," he says. "Your life is non-stop, super-busy.
"Also, I've travelled quite a lot before, but not this much. In Formula 3 it would be maybe 10 weekends a year. It was the same in Formula 2: one race, then a two-month break. In F1, you have to do it every single week. That's the most challenging part for me. In a way it's good to always be driving, but mentally it's not the easiest."
Zhou's odyssey from indoor karting to becoming China's first-ever F1 racer – a feat that test driver Ma Qinghua, the only other Chinese to take part in an F1 weekend, never quite managed – is stirring stuff.
He caught the racing bug at the age of five when he attended Shanghai's inaugural grand prix in 2004, cheering on his hero Fernando Alonso. Within three years he had started karting, and his adventurous streak and commitment singled him out.
Aged 12, he moved to England with his family to pursue his motorsport ambitions. They settled in the northern city of Sheffield, famous for its steel, and the newcomer showed this in abundance while karting in the colours of local outfit Strawberry Racing.
He never looked back. Signed by Ferrari for their driver academy in 2014, the next year brought a second-place finish in the Italian F4 Championship. This was followed by three years in the F3 European Championship, his final season highlighted by a maiden victory in that class.
Switching to Renault's academy in 2019, his upwards trajectory continued through three seasons of F2, the final one of those bringing four race wins and a career-best third-place finish in the championship. Alfa Romeo team principal Fred Vasseur came calling and offered Zhou a seat for the 2022 F1 season alongside Finnish veteran Valtteri Bottas, previously teammate of seven-time world champion Lewis Hamilton at Mercedes.
Zhou is aware of his history-making role as China's first fully fledged F1 driver. "It feels very special," he says. "Obviously it's a big honour to make that breakthrough and be the first one for your country. It's quite tough for me because our background in China is completely different to that of the drivers from, say, Europe or Brazil where they have a great racing tradition.
"Every step you're taking, you're opening a new chapter for yourself and you don't know what's going to happen in the future, whether you took the right step or not. To finally be reaching this level and seeing a lot of people back home following you and supporting you is obviously a great reward. But the key thing is to not just settle for being in F1 but to keep trying to improve.
"I felt that if there was one Chinese driver who could make it, that would be me. I always thought it could happen. Now I'm here in F1, of course I'm very proud, but this is the top level, the toughest competition, and you know you have to keep exploring and improving your driving skills to deliver results."
Even a customer as cool as this one felt the pressure two months ago as he prepared for his F1 debut in Bahrain – a race in which he surprised many by finishing 10th, having climbed through the field from 15th on the grid. His father had remained in China on business but his mother travelled to the Middle East to see her son's big moment.
"I don't know about her but I was very nervous," he says. "It's your first grand prix and it's a special feeling to be standing on the grid with the other 19 drivers as the national anthems are played. Normally I would be watching on TV or looking on from the garage, but then you realise you're actually part of it, standing on the start-finish line."
Teammate Bottas, who finished sixth that day and has since amassed 30 points to stand eighth in the drivers' championship, brings some serious F1 kudos to Alfa Romeo. The ex-Mercedes driver has 67 podium finishes, including 10 victories, in his 183 races.
What is Zhou learning from him? "How to drink coffee!" he says. It is a standing joke in the paddock that Bottas goes through a tankful every race weekend. "I've always enjoyed bubble tea, which is a traditional drink back home of course, but I started drinking coffee that first weekend in Bahrain. I'm more into it now.
"Life is much busier and there are more early starts, so it helps keep me awake. I also find it useful just before a race, it helps me relax. So I'm starting to do that all the time, similar to Valtteri but not as much as him!"
It is a similar story on the track. "It's definitely not easy, adapting to be up to speed like him," Zhou says. "He will be more exploring the car potential whereas I'm still learning and trying to close the gap. I'm definitely closing it step by step. There is clear improvement from Bahrain to the last two races."
If that continues, he won't be able to go anywhere without his cap.
Matthew Marsh hosts the GoF1 Show, providing race analysis and interviews with Formula 1 personalities. GoF1 videos can be watched on the SCMP website.